'Payer Tolay Mati Nai' wins award at World Film Festival Kolkata
Bangladeshi film "Payer Tolay Mati Nai" won the Fipresci-India Critics Award for the 'Best Debut Feature Film' at the first edition of World Film Festival Kolkata. The festival commenced on September 20 and ran till September 25, at Nandan Cultural Centre in Kolkata.
Out of the 11 films from different countries, four films were chosen for the Critics award. Mohammad Rabby Mridha's "Payer Tolay Mati Nai" was selected as the winner in the coveted category.
On the closing day, Bangladesh actress Jyotika Jyoti accepted the award on behalf of the director, Mohammad Rabby Mridha and its producer Abu Shahed Emon.
Just recently, the film received uncut clearance from the Bangladesh Film Censor Board.  The film "Payer Tolay Mati Nai" has already been showcased in Busan (Korea), Bengaluru, Pune, Sri Lanka, Japan, Nepal, Austria and London. It has also been screened at 14 prestigious film festivals around the world, including Canada and Australia.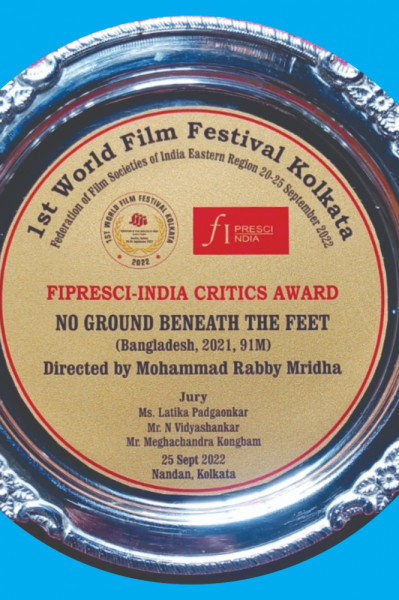 The festival was organised by the Federation of Film Societies of India (Eastern Region) in collaboration with the International Federation of Film Societies (IFFS) (Asia-Pacific region) and showcased 29 films from all over the world. Jaya Ahsan was present as the chief guest at the event.  
To pay tribute to 50 Years of the Liberation War of Bangladesh, the World Film Festival Kolkata presented Bangladesh as the Country Focus showcasing the films "Payer Tolay Mati Nai", "Rickshaw Girl" directed by Amitabh Reza Chowdhury, "Laal Moroger Jhuti" directed by Nurul Alam Atique, "Maya - The Lost Mother" directed by Masud Pathik and "Ripples" directed by Senjutee Suborna Tushee for the first time in Kolkata.