As new parents, this film is a blessing for us: Pori Moni, Siam Ahmed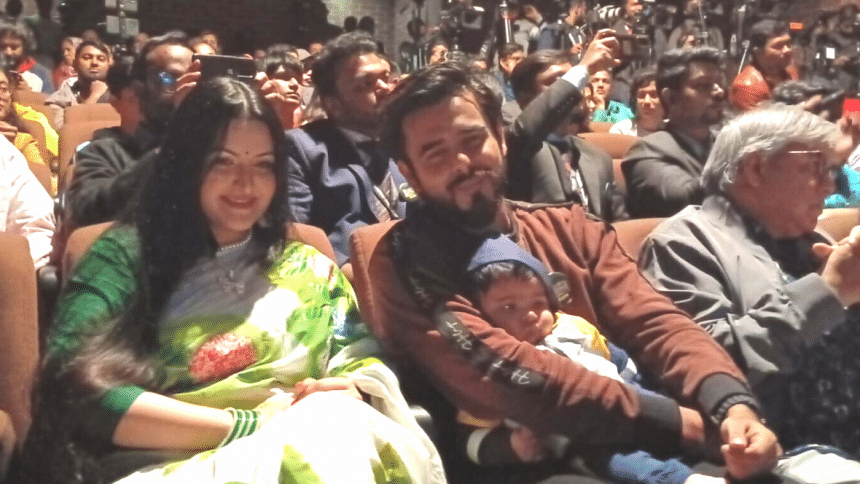 Yesterday, the official trailer and poster for Pori Moni and Siam Ahmed starrer, "Adventure of Sundarban", was released during a ceremony at the Bangladesh Mohila Samity. The film has been directed by Abu Raihan Jewel.
Present at the event were the cast and crew members of the film, along with Muhammad Zafar Iqbal, to share their experiences and expectations from the film. 
"I played the character Tisha in the film. I brought my son Rajya to the event. When he grows up, I want this film to be a gift for him. When the movie was shot during the COVID lockdown, we didn't think it would eventually make it to the release. However, finally the film will see its release, this is the greatest achievement for us," shared Pori Moni. 
"I have known Ratul, the character I will be playing, since my childhood. I never thought that I would get to play him, so this is like a dream come true for me. When we initially began filming 'Adventure of Sundarban', neither of us were parents. Now, we are both parents to two wonderful boys. That is why this film really does feel like a blessing for us," said Siam. 
The government-granted film, "Adventure of Sundarban", is based on Dr Muhammad Zafar Iqbal's novel, "Ratuler Raat, Ratuler Din". 
"Adventure of Sundarban" also features Shahidul Alam Sachchu, Azad Abul Kalam, Monira Mithu, Kochi Khandakar, and Ashish Khandakar, among others.
The film will hit theatres on January 20, 2023.