My sense of humour is God-gifted: Omar Sani
Omar Sani is undoubtedly one of the most popular actors in Bangladeshi film Industry, who has entertained audiences with many successful films. Presently, he is preparing for two upcoming films. Additionally, he has been elected as the president of the Bangladesh Film Club.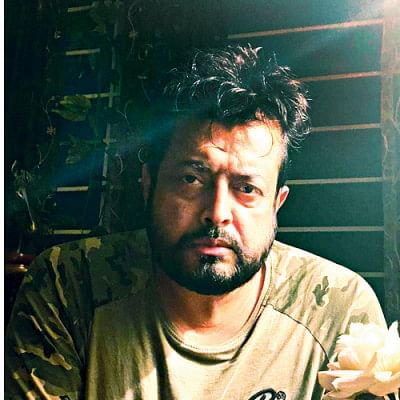 In a conversation with The Daily Star, Omar Sani spoke about his current engagements, and more.
You have starred in many films and established yourself as a successful actor. Tell us something about your future plans.
I have played lead roles before and now, I want to experiment with my characters. I want to take up some good projects, and I hope that I will be able to do justice to the characters that I will play. Similar to other artistes, I have my dreams and aspirations. I want to keep entertaining people with my work.
What do you think about the current state of our film industry?
We have always functioned as a family in our film fraternity. If all artistes of the industry work collectively, hopefully, our situation will improve.
You are the President of the Bangladesh Film Club, have you thought about competing in the next election of Bangladesh Film Artistes Association?
I am not planning to compete in the upcoming election of the Bangladesh Film Artistes Association. However, I am looking forward to trying for the next election of Bangladesh Film Club. I have been elected as the president amidst the coronavirus crisis, and I sincerely hope to continue serving the club.  
What are your current engagements?
I am currently working on "Shonar Chor" with Moushumi. This film has an intriguing story. I also looking forward to begin shooting for another film named "Jagoron". 
You and Moushumi are one of the most beloved celebrity couples. What is the secret behind your happy conjugal life?
Both Moushumi and I respect, love, and trust each other dearly. We are very supportive of each other and our family. We have two wonderful children, and recently, our son got married. In short, I think mutual respect for each other is the secret behind our happy life.
You are very active on social media and like to share funny statuses on Facebook. Where do you find such delightful ideas?
Globalisation has brought the world much closer to us and we can connect with everyone with our cell phones. We all should use this privilege positively, and I myself try to do the same. My sense of humour is God-gifted, and by the grace of the Almighty, I am able to showcase my creativity on numerous social platforms. Especially, I have enjoyed appearing on TikTok videos.    
You were once a very busy actor. Do you miss those days?
I miss being busy and the golden days of our film industry. However, I am grateful for everything and I thank the Almighty for this. I have always tried to stay honest and sincere towards my work, and I love what I do.
Translated by Ayman Anika