'Misha has no significant contributions to Bangladeshi films': Ananta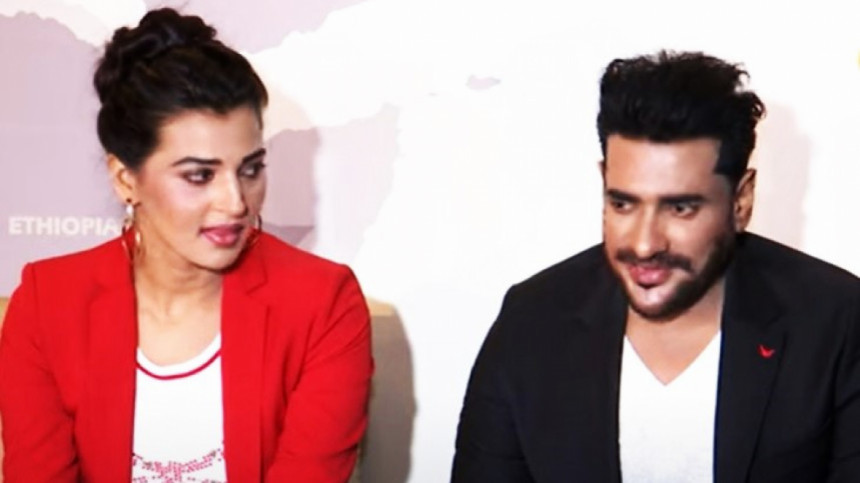 Veteran actor Misha Sawdagar's recent comment on Ananta Jalil's mega-budget film "Din - The Day" did not please Ananta or Barsha. The well-known villain had recently remarked that "the Bangladeshi film industry has not benefited from Ananta Jalil's 100 crore film". This statement went viral all over social media.
In a press conference on Saturday, Ananta Jalil and Barsha strongly contested the statement made by Sawdagar.
"Misha is neither a producer nor is he a creative person. He has not made any significant contributions to the Bangladeshi film industry," said Ananta Jalil, adding, "How can someone with zero investment in cinema bring about change in this industry?"
"He should think twice before making such absurd statements. If 'Misha shaheb' has such 'high caliber', then why can't he produce a film like 'Din - The Day'? If he was able to make a high-budget movie like mine, then I would believe his statement," concluded the actor.
Actress Barsha also expressed her disappointment at Misha's comment.
"Misha bhai used to address me as his 'sister', he never once called me by name. I used to respect him as my older brother. I cannot comprehend why he would make such a crude remark about us," said Barsha.
"Perhaps Misha bhai was hurt that we didn't take him as a villain for our upcoming film 'Netri: The Leader'. This could be the reason behind him passing such mean comments about us," added the actress.