'I will clarify everything in due time': Bubly on alleged 'baby bump' pictures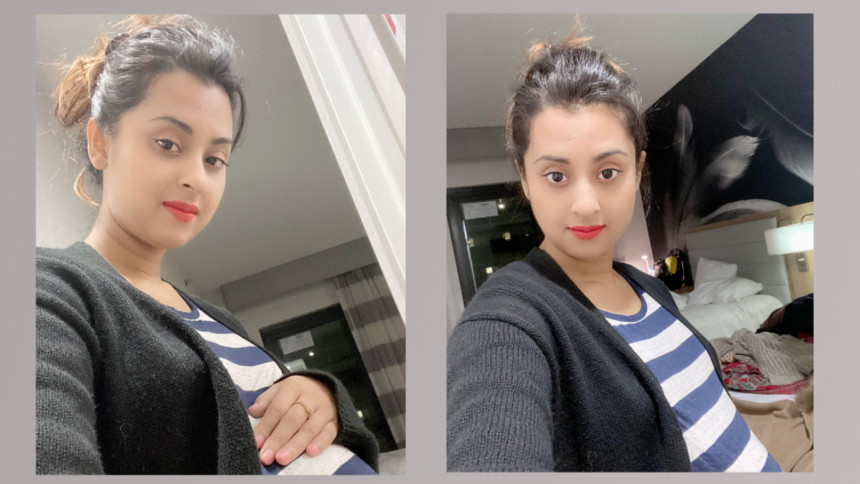 Shobnom Bubly took social media by storm, when she posted pictures of her 'baby bump'. Earlier today, the actress posted a couple of pictures, "Me with my life. Throwback to America," she wrote.
This created curiosity amongst netizens, who wondered if the actress is actually announcing her pregnancy. Bubly has been unreachable, since the post was made. Her fans have been congratulating her on the post.
However, the entire story has been shrouded in mystery. Earlier in 2019, there were speculations surrounding Bubly's alleged 'relationship' with Shakib Khan. She refuted all the rumours, saying that she went to the USA to study in film.
Bubly is currently shooting for the movie "Chador", in a hospital at Dhaka. A few minutes ago, Bubly confronted the media on the sets. "Please do not spread any rumours without verification", said the actress. "When the time comes, I will clarify everything. I am a Muslim girl. Kindly do not ask me anything on the sets of the film."
Notably, today was also the birthday of Shakib Khan and Apu Biswas' son, Abraham Khan Joy.
Shobnom Bubly began her career as a news anchor. She made her acting debut in 2016, with "Bossgiri" co-starring with Shakib Khan. Since then, they have collaborated in multiple movies.