I was overwhelmed by this kind of turnout: Shakib Khan on returning home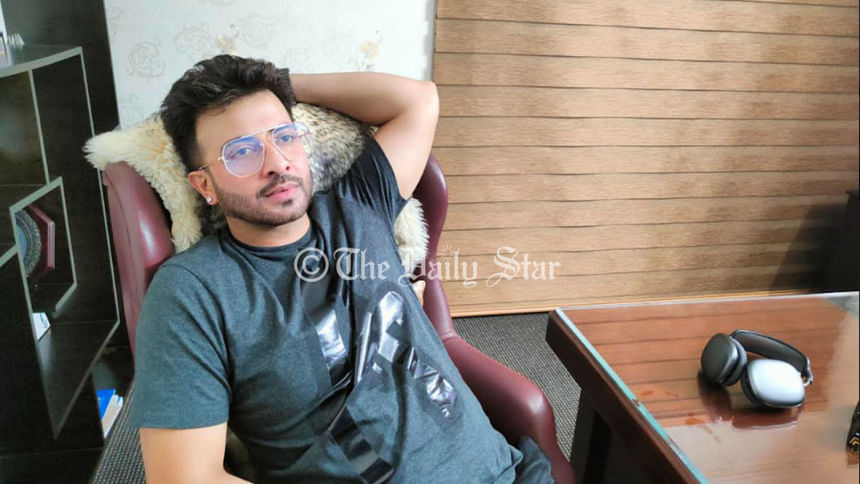 Shakib Khan, one of Dhallywood's biggest superstars, returned to Bangladesh on Wednesday after spending nearly nine months in the US. Upon his return, he was greeted by droves of his fans, who presented him with flowers. The actor also got the opportunity to speak with journalists who were waiting at the VIP gate of the airport.
Some of the police officers on duty, during Shakib's arrival, said that they had never seen such a grand reception for an actor before.
After spending quite some time with his fans, Shakib finally reached his home in Gulshan around 3 pm. There, he got to sit down and speak with The Daily Star.
How did it feel to set foot on country's soil after such a long time?
When I was only seven hours away from landing in Bangladesh, each hour started to feel like an entire day. I kept asking again and again 'are we there yet?' and 'have we reached Bangladesh'? I really cannot put my feelings into words, all I can say is that I am incredibly happy to be back home. The love and appreciation that I have seen from the people of our country and the fans have impressed me.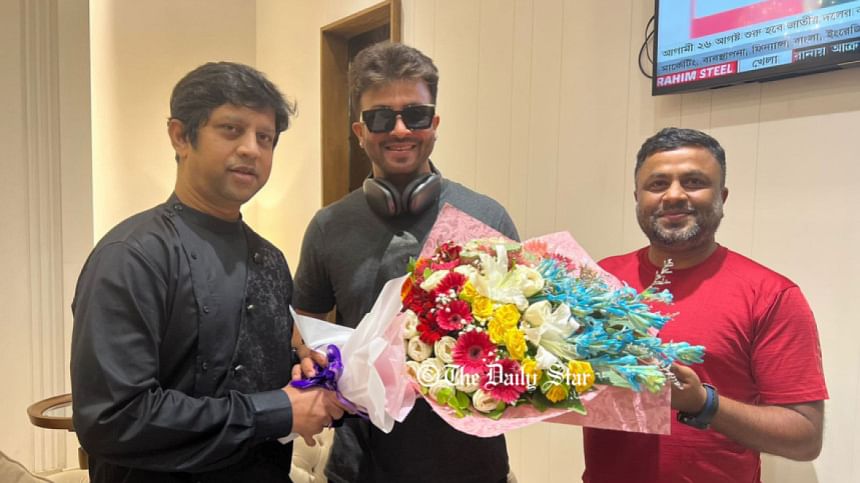 Fans from all over the country rushed to the airport to greet you upon your return. Just how much did you enjoy this reception?
I was overwhelmed to see this kind of turnout from fans. Just as they are excited to see me, I am excited to see them as well. They are like my second family, and where I am today is thanks to them. And I have missed my fans in the same way they have missed me too.
You returned to your own home after a long time. What did you miss about not being in your own house?
What I missed the most was the gym in my house, where I spend a lot of my waking hours. I also missed my own office when I was abroad.
What was the first thing you did after entering your house?
Upon entering my house, I first greeted my parents and hugged them. I can't put into words the feeling of meeting my parents after so long. Then, I talked to the journalists present. When I was in the US, I would normally be sleeping around this time. So, I am feeling slightly drowsy. However, everything will be fine. I'll be resting for the next couple of days and then I will get back to work.
During your nine months in the US, what were you working on?
I mainly thought about how we can take the country's commercial cinemas to the international arena. I also read some scripts that I was offered. Mainly, there was work to be done about my green card. All in all, I had to stay there for quite some time.
When will we see you in a new project?
I have been having talks about some prospective projects, both in Bangladesh and abroad. Recently, I have been paying more attention to films outside the country. You'll know in the next couple of days what I will be working on. Good news will be coming from outside of the country.
A few days ago, we heard rumours about your marriage. When will you be getting married?
I will get married with the blessings of my family. When I get married, I will not keep it a secret. I will let everyone know and have grand celebrations to mark the occasion.