I support Brazil for Pele: Asaduzzaman Noor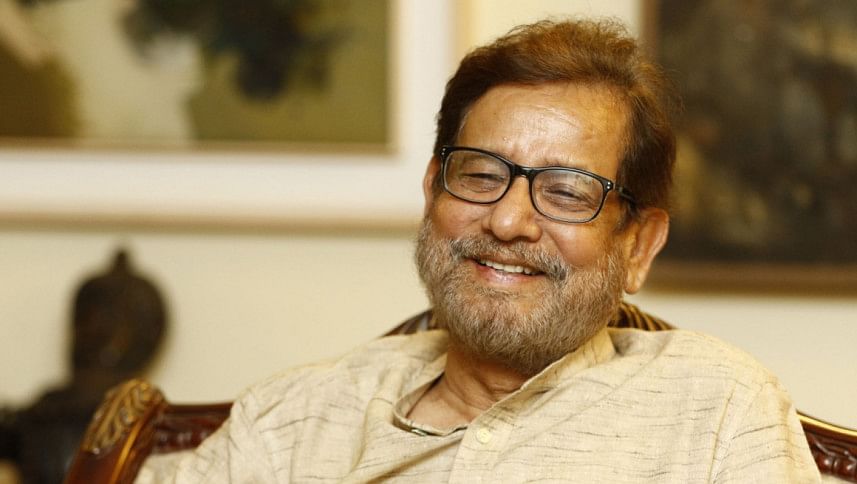 Eminent actor and Member of Parliament Asaduzzaman Noor is an avid fan of football and this World Cup, he is cheering for the five-time world champion Brazil to take home the golden trophy. The renowned actor is all set to watch his favorite team Brazil face off against Serbia at midnight.
In a conversation with The Daily Star, the actor spoke about his love for Brazil and how Pele's riveting sportsmanship inspired him to give his heart to the fan-favourite team.
"I support Brazil, all because of my admiration for Pele. Television wasn't that prominent at that time, and thus, we had to rely on newspapers to read about the World Cup. Pele's name was ingrained in my heart as I was completely enchanted by his magical game at the tournament. His playing inspired me to become the biggest fan of Brazil and to date, my passion remains indomitable," said the actor.
The "Kothao Keu Nei" actor also shared beautiful memories of football.
"I have many fond memories associated with football. I remember that prior to our independence, I would often go to Dhaka stadium to watch the games. Pakistani players would also come to take part in the matches as well. Famous players of our country would also take part in the friendly matches. These wonderful memories still float fresh in my mind as if they happened yesterday," added the actor.
Asaduzzaman Noor became nostalgic while remembering the golden memories of football in our country.
"After the Independence, we had two wonderful teams- Abahani and Mohammedan, who brimmed up the stadium with sheer excitement- millions of fans would gather around to watch their exhilarating game. I was also a huge fan of both the team as I used to make time to watch their games religiously," said Asaduzzaman Noor.
However, our favourite Baker bhai felt a sense of disappointment as the power of football in Bangladesh started to decrease with time.
"The glorious sport of football that reigned over for years in our country simply fizzled out with time. Cricket has become the dominant sport while football has taken a back seat. However, there is still a silver lining for football as our brave girls have made us proud in the international arena with their brilliant sportsmanship," added the actor.
Asaduzzaman Noor is excited about watching the game with his family and friends. He is hopeful that Brazil will give a tough fight. Apart from being an ardent supporter of Brazil, he also watches matches of other teams as well.
"This year the underdogs have been performing exceptionally well at World Cup. I was thrilled to watch Japan's exhilarating goals against Germany and also loved Saudi Arabia's successful win against Argentina," said the actor.
 The cultural personality and successful politician Asaduzzaman Noor used to play football during his childhood.
"Football lives and breathes into the hearts of Bangladeshi people. I don't think anyone from our time wasn't drawn to the beautiful sport. I really had a wonderful time kicking balls toward the opposition's goalpost," said the actor.
When asked about how he takes the craziness around the football during World Cup. The noted actor replied that it's alright to celebrate your individual teams with full-on fervor but as a nation, we should always be on the lookout to improve our own home-ground football so that in the future we too can dream big for our Bangladeshi team.