I don't want to talk about it: Apu Biswas on Shakib-Bubly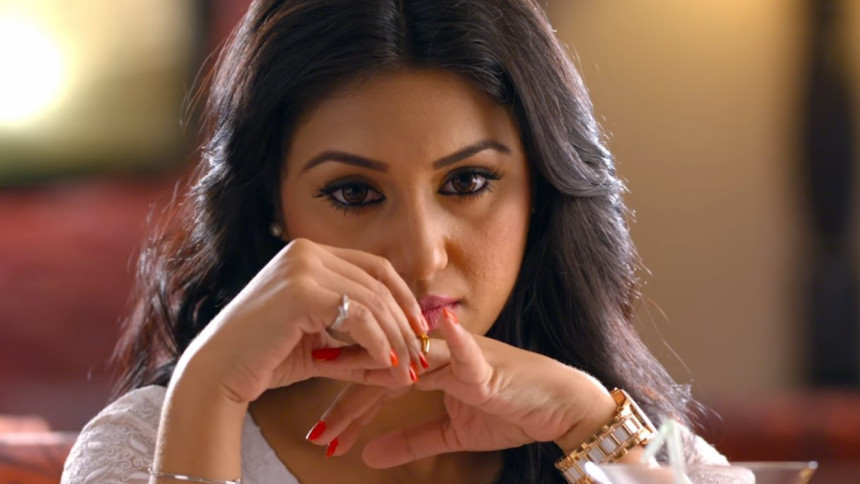 The showbiz industry is buzzing about the revelation of Shakib Khan and Bubly's two-year-old son, Shehzad Khan Bir. Many have tried to reach out to Apu Biswas, whose name is unwillingly being linked to this news. The actress, who recently went to Kolkata with her and Shakib's son, Abraham Khan Joy, talked to The Daily Star, about her upcoming projects and work. However, she refuses to open up about recent events.
Did you go to Kolkata to celebrate Puja?
Yes, I am here with my son Joy and my sister – we are staying at my aunt's house. We are spending a wonderful time here, even though we did not have the time to meet all our relatives.
How are you spending the holidays there?
We went to many places for sightseeing and shopping. There is a place called Rajbari, where one of the most beautiful and elaborate Puja mandaps are made. I went there this time.
Kolkata, at this time of the year, is absolutely beautiful. The decorations, the music, the smell of vegetarian food – they all resonate in a splendid manner.
Do you go to Kolkata every year for Puja?
Not really, we have come here after many years. Usually, I spend time in Bangladesh with friends and family.
When I was little, I used to come here with my parents. My father used to tell me to hold his hand, or else I would get lost! His words still ring in my ears.
Tell us about your latest film, "Isha Khan".
"Isha Khan" is a historical film, and it was just released this week. We have worked really hard on it, and I would have been there for promotions if I was in the country. I am urging everyone to see this film, and support it.
You have surely heard of the events that happened in Bangladesh, regarding Shakib Khan and Bubly.
Please, I don't want to talk about it. My life goes on with my son Joy, and all I want is to see him grow into a good human being. So, no comments on this.