European Film Festival commences in Bangladesh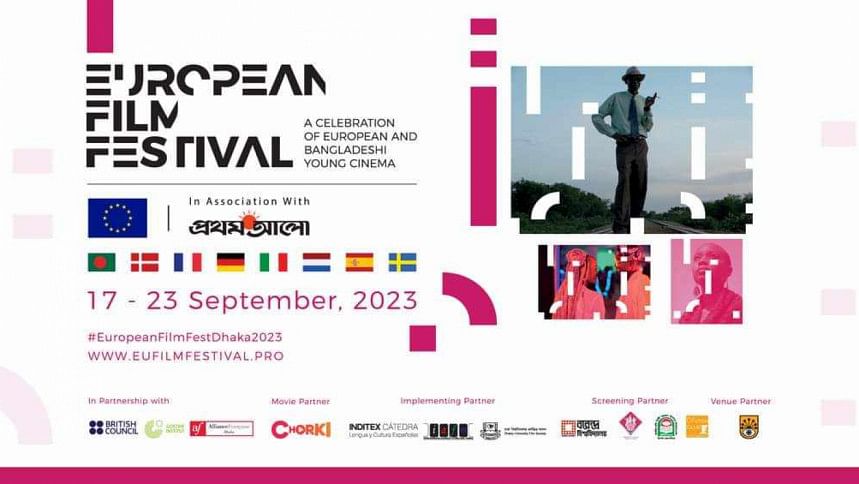 A seven-day European Film Festival has begun encompassing films from Bangladesh and Europe. The festival commenced with the screening of the Dutch movie "Mally Can Fly" at Bangladesh Shilpakala Academy's National Theater in Dhaka, yesterday evening.
Film screenings will take place at Alliance Française, Shilpakala Academy, Institute of Modern Languages (IML) of Dhaka University and Dutch Club, until September 23. 
Outside Dhaka, exhibitions are also being held at Khulna University, Varendra University (VU) in Rajshahi and Jatiya Kabi Kazi Nazrul Islam University in Mymensingh.
The festival has been organised in association with the European Union in Bangladesh and Prothom Alo.
At the opening ceremony, Prothom Alo editor Matiur Rahman in his speech said, "I express my gratitude to the European Union Embassy in Bangladesh for organizing this film festival. I also want to thank everyone including Shilpakala Academy, Goethe-Institut Bangladesh and British Council Bangladesh."
Prothom Alo executive editor and poet Sajjad Sharif, filmmaker Amitabh Reza, and activist Simin Ibnat Dharitree participated in a discussion titled "Youth in Cinema". The event was conducted by Charles Whiteley, the European Union ambassador to Bangladesh.
Sajjad Sharif spoke about Bangladesh films and said, "Our young filmmakers are searching for new languages in filmmaking and presenting unknown experiences of the society. Various obstacles however remain in the way of their creative expressions. If we can remove these obstacles, then they can look forward to changing our cinema."
Amitabh Reza, the director of "Aynabaji", voiced his disappointment with the film industry. He claimed that cinema is now dead. "Government-funded cinema is corrupted and they lack discipline," he alleged.
Activist Simin Ibnat Dharitri said, "We watch all sorts of movies including European. In Bangladeshi cinema, our culture and our perspective can be represented, which is why we have always encouraged Bangladeshi cinema. Apart from entertainment, movies can be useful in raising intellectual and social awareness."
The European Film Festival also organised a 'masterclass' in order to influence young filmmakers to enrich the diversity of European and Bangladeshi culture through creative work. 
On September 15 and 16, filmmakers Syeda Neegar Banu, Amitabh Reza and Piplu R Khan along with cinematographer Apu Rosario participated in the masterclass at Dhaka's British Council. They were also honored yesterday by Ambassador Charles Whiteley and Matiur Rahman.
A short film competition was also organized as part of the European Film Festival. Young filmmakers from different parts of the country submitted short films. Awards were announced in three categories yesterday. "Passenger", directed by Mustafa Manwar, won the Best Story Award. Akib Mahmood won the Best Director Award for his "Oslesha". Lastly, Mehedi Joseph's "Poster" won the Best Film Award.
Ambassador Charles Whiteley, Matiur Rahman and Chorki COO Redoan Rony handed over the prizes to the winners. 
Prothom Alo deputy editor and writer Anisul Haque, director of Alliance Française Francois Grosjean and others were present at the event. Chorki, the first publishing and video streaming platform, had a stall outside the National Theater. The entire event was hosted by Quazi Sabir.