'Diary of Genocide': A brief history of Martyred Intellectuals Day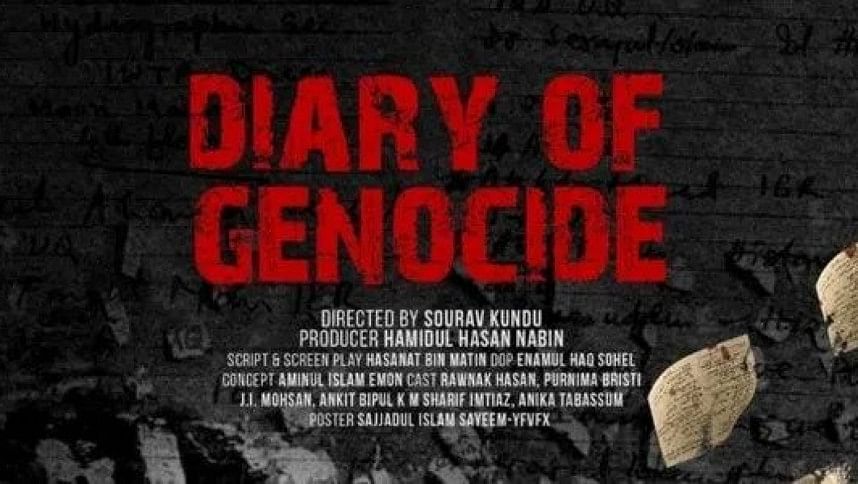 A short film named "Diary of a Genocide" was released on 14th December 2022, Martyred Intellectuals Day. This 4-minute and 26-second-long film is based on the historic incident of 14th December during the Liberation War in Bangladesh.
On this day, Pakistani rulers, with the help of Razakars, Al-Badrs, and Al-Shams created a blueprint to destroy Bangladesh's (then-East Pakistan's) intellectual foundation and render the country metaphorically paralyzed. An unexplored horror-map, the treachery of how these intellectuals were abducted is still shrouded, this movie offers a visual of this little-known chapter of history.
Hasant Bin Matin's script and screenplay did a fantastic job of advancing Aminul Islam Emon's original idea. Director Sourav Kundu was able to give it the right tools, so it could be translated into action thanks to the foresight and assistance of Producer Hamidul Hasan Nabin ,and UPStudio Production House and Publications.
The movie opens with a scene where some conspirators were hatching schemes to impoverish the Bengali people by assassinating their intelligentsia. Parallel to that, an intellectual can be typing something in his home on a typewriter.
Because of the typewriter, radio, clothes, and other items that visually represented 1971, the scenes had a retro feel to them. People's conversations and actions gave us a glimpse of what happens on 14th of December.
Shahidullah Kaiser, the prominent author, is portrayed by actor Rounok Hasan. His wife Panna Kaiser is portrayed by actress Purnima Brishty. With the accurate portrayal of worries, anxiety, and helplessness both the actors brought their characters justice. Impact, relevance, and group acting prowess were also notable in the scene where Rajakar and Al-Badr's covert encounter was held.
The dialogues were on point and clear, successfully conveying the message. In contrast, where Shahidullah Kaiser and his wife exhibited patriotism, honesty, generosity, and a feeling of duty, Rajakar and Al-Badr's discussions reflected hatred, rage, and jealousy. People's attention would be captured by a calm background voice explaining the history with ease.
The décor for the film set was inspired by the idea of a room in the 1970s. There was also simplicity, a hint of culture, tradition, technology, and frugality.
Editing displayed in the film exuded aptitude. It is commendable to be able to quickly cover scenes from various settings and help them understand. Shades and lights had a well-combined effect.
The sounds of people arguing, doors opening, and radio music all contributed to the ambience of the movie.
It was admirable that you were able to convey the essence and vision of the movie to the audience in such a short amount of time.