Chorki dominates Channel i Digital Media Awards with 8 wins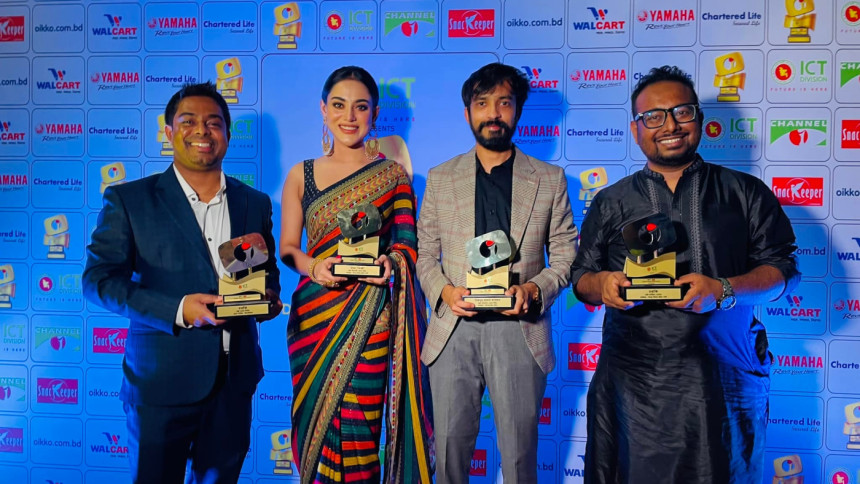 Popular streaming platform Chorki won eight awards at the second edition of the "Channel i Digital Media Awards", presented in association with the ICT Division. Snac Keeper was the title sponsor of the event.
 Chorki's "Khachar Bhitor Ochin Pakhi" won the Best Web Film award, while Mizanur Rahman Aryan received the Best Web Film Director award for the Chorki original film, "Networker Baire." Fazlur Rahman Babu and Tama Mirza won the awards for Best Actor and Actress in a Web Film for "Khachar Bhitor Ochin Pakhi".
Chorki's "Unoloukik" received the Best Web Series award. Intekhab Dinar won the Best Actor in a Web Series award for his outstanding performance in the anthology series.
The Best Rising Star awards went to Tasnia Farin for the Chorki original film, "Tithir Oshukh", and Mostafa Monwar for Chorki's anthology series, "Jago Bahey".
"Chorki began its journey in July, and we were showered with love and appreciation within just a short span," says director and COO of Chorki, Redoan Rony. "I want to thank my team and all the associates who worked hard in producing good quality content."
 "This award is special as it is for my first web film and one of my favourite projects," said "Networker Baire" director Mizanur Rahman Aryan. "This film was one of my toughest projects till date as I had to work with a big cast. Thankfully, I was able to make it work due to my wonderful team and crew members."
Tasnia Farin, who ventured into OTT platforms just last year, was ecstatic. "Winning an award is a huge responsibility and I really hope that I can stand firm on audiences' expectations," she added. Besides winning the Best Rising Star award for her first short film, "Tithir Oshukh" on Chorki, she also won the Best Actress in a Web Series award for Mostofa Sarwar Farooki's "Ladies & Gentlemen", on ZEE5 Global.
"I just got to hear about the news in the morning and I am really speechless," said "Unoloukik" director Robiul Alam Robi. "This series was quite unusual from other projects. It had an experimental narration, which has gelled well with audiences."
"Khachar Bhitor Ochin Pakhi" was director Raihan Rafi's dream project. "I thank Chorki for believing in me. Receiving three awards (Best Actor, Best Actress and Best Film) is definitely something beyond our expectations." While receiving the award, Faridur Reza Sagar and Sykh Seraj told Rafi they have watched the film multiple times, and were really impressed with it.
"Initially, we were excited about the script, it was strong," says Fazlur Rahman Babu. "Working in 'Khachar Bhitor Ochin Pakhi' was challenging in all aspects, from shooting in a real location up to the execution. Getting awards always inspire artistes to work better, and I am also elated with this achievement." 
Redoan Rony told The Daily Star that he wants to turn Chorki into the 'capital' of Bengali OTT content, and it seems like they are just on the right path.