'Break the stereotype of male actors saving actresses'
Priyontee Urbee discusses her dynamic roles in OTT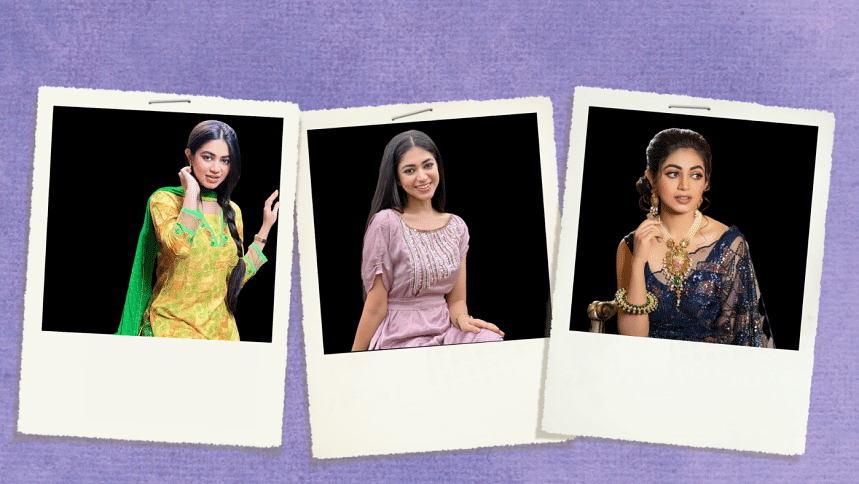 The dynamic Priyontee Urbee enthralled audiences with her performance in the web series "Ei Muhurte". She also won our hearts with her role as the frantic mother in "Kothay Palabe Bolo Rupban". Now, she will be seen donning a new avatar in Robiul Alam Robi's web-film, "Café Desire".
In a candid interview with The Daily Star, Urbee opened up about her journey as an actress, and her experience working on "Café desire".
From being declared 'Miss Face of Beauty International Bangladesh' to becoming an actress, how has your journey been so far?
My love for showbiz is what enticed me to participate in "Miss World Bangladesh" back in 2019. The beauty pageant had a competition called 'Miss Face of Beauty International', which took place in the Philippines. Although I won the crown, I couldn't attend the programme due to some personal obligations.
At that time, Raihan Rafi was looking for a new face for "Sopnobazi". The director reached out to me and I auditioned for the role. We managed to shoot around 40 percent of the film, but unfortunately could not finish the shoot as the project was shelved. Later on, I debuted in OTT with Mejbaur Rahman Sumon's "Kothay Palabe Bolo Rupban", which was an episode from the Chorki anthology series, "Ei Muhurte".
You have garnered praise for your performance as a distressed mother in "Kothay Palabe Bolo Rupban". How challenging was it to portray these emotions on screen?
I remember when we had to shoot the kidnapping scene, I was suffering from a fever and muscle ache. It was difficult for me to even get out of the bed and Sumon bhai insisted on postponing the shoot.
However, I was adamant to keep things on schedule. My character demanded a dishevelled and anxious expression and I shot the scene in extreme pain. By the end of the shooting for the scene, I was in tears because of the severe muscle ache and nausea. Luckily, the scene came out perfect in the end.
Do you think OTT does a good job of exploring female centric plots and characters?
There are many wonderful projects on OTT which centres around strong female characters like the ones in Chorki's "Tonoya" and Hoichoi's "Sabrina". Audiences are loving it and this proves that female centric content has a lot of potential.
As an artiste, I am truly happy that I was able to explore such a dynamic female character in "Kothay Palabe Bolo Rupban". It's time we break away from the stereotype of male actors saving an actresses' life. We are completely capable of protecting ourselves!
I have also worked in a female-centric indie film called "June"—which is yet to be released—based on a 1961 novel. The movie dwells on the bonding between a mother and a daughter.
Tell us about your character in Robiul Alam Robi's anthology web-film, "Café Desire".
I play the character of a runner, who is a blunt and high-spirited woman. She doesn't listen to anyone and does whatever she thinks is right. My character's desire in the web-film is to be a perfectionist. She doesn't care whether she has anyone's support.
I had to undergo special fitness training such as boxing, yoga and running lessons to get into perfect shape for the character.
"Café Desire" explores the desires of various characters, and we had about 12-13 artistes working on the project. Almost all of the stories are inter-connected, and the characters are related to one another.