'Antarjal' will be unlike anything you've seen: Sunerah
Sunerah Binte Kamal has become a sought-after name in the showbiz industry. Her new movie, Dipankar Dipon directorial "Antarjal" is set to release later this month. Bagging a National Award with her debut film "No Dorai", she went on to act in short film "Moshari", which won multiple international accolades.
The actress talked to The Daily Star for a quick interview.
How do you see your silver-screen return with 'Antarjal'?
"Antarjal" is releasing on September 22. I myself am returning to the silver screen after a long time, which I am very happy about. I love the feeling that I get to derive from my work. The film will be a fresh new project for the audience, and I can say the same about myself. I am very optimistic about it.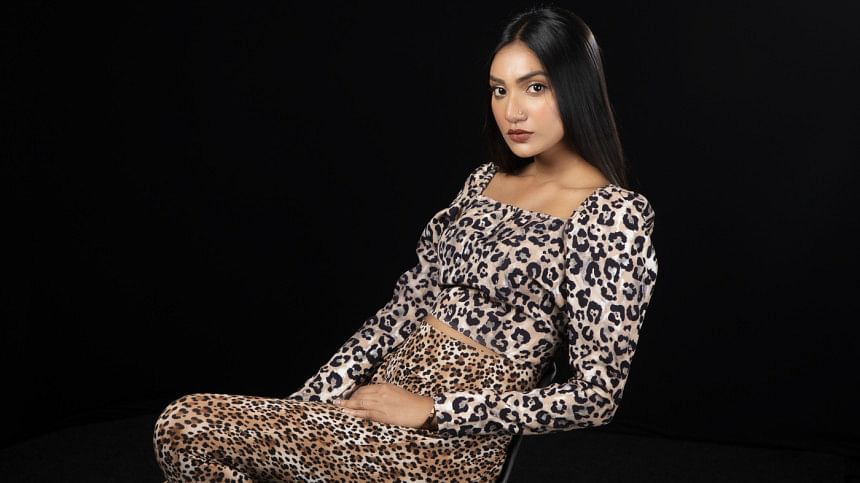 How did you personally like filming the country's first cyber-thriller?
The film is really beautiful, and it turned out to be much better than I expected. The director has told the story brilliantly. From the shooting of the movie to dubbing, the experience has been fantastic for me.
Your first film won you the National Award for Best Actress. Why did you wait this long to appear in a second film?
I was fortunate to get the National Award for my first film. "No Dorai" brought me luck. After that, the main reason for not actually doing another film was the Covid-19 pandemic. Once the pandemic came under control, "Antarjal" felt like the best script that I was offered. While filming, I wanted to focus completely on it so I didn't sign up for any other movie.
What can you tell us about appearing in a new project?
I'm currently in talks regarding returning with new work soon. I will be able to tell more once filming begins. I will return with good work. I am busy with "Antarjal" for now. When the time comes everything will be revealed about the new project. 
What can the audience expect from you in "Antarjal"?
In the film, I am a young woman of this generation. A very brave young woman. This is the age of the internet, and I will be seen in an unforeseen way in the film.
What do you have to say about your director and co-artistes?
My co-artistes are almost all my seniors. Everyone was very helpful, and they tried to make "Antarjal" a good movie. Dipankar Dipon constantly tries to bring innovative ideas on screen and he does the same for our film. DOP Masum bhai has done a great job. The whole team worked hard.