5 low-budget South Indian films that critics admired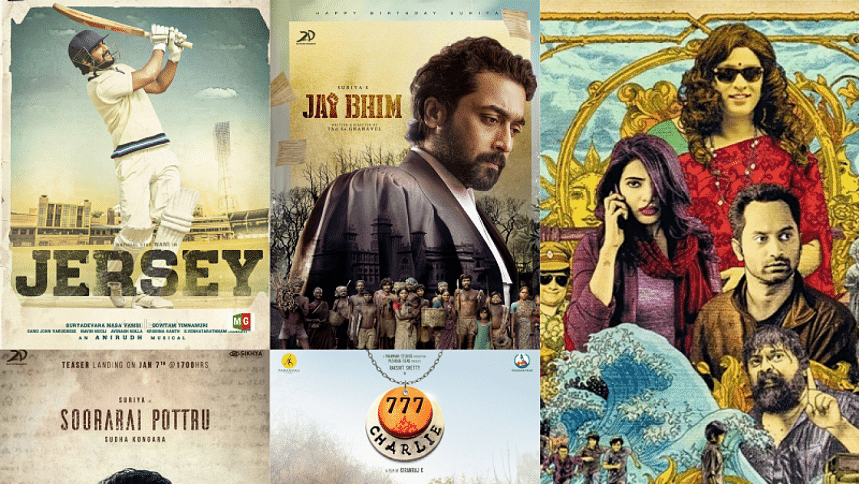 While most South Indian productions are known for their high-budget sets and expensive visual effects like CGI and VFX, some low-budget south-based productions have also managed to captivate the attention of critics.
Not only did these productions please the critics, but they were also a hit at the box office.
We present to you a list of some low-budget South Indian productions, which have managed to score high in the critics' scorecard.
Super Deluxe (2019)
The anthology features four scintillating tales featuring four different women, taking the audience on an exploration of the agonies of being a woman.
With a star cast of Vijay Sethupathi, Fahadh Faasil, Samantha Ruth Prabhu, and Ramya Krishnan, the film was made on a budget of only Rs 13 crore.
Nevertheless, Thiagarajan Kumararaja, the director of the film, managed to garner much appreciation for "Super Deluxe". His efforts were appreciated both locally and internationally, and also bestowed Vijay Sethupathi with a National Award for his role in the production.
"Super Deluxe" is now available on Netflix.
Jai Bhim (2021)
Narrating the tale of Rajakannu and Sengeni, a couple belonging to the oppressed Irula tribe, residing in the southern parts of India, "Jai Bhim" is a production that will shock audiences. Due to the movie's unpredictable plot, it ended up becoming one of my all-time personal favourites.
Featuring Suriya Sivakumar, Lijomol Jose, Manikandan, and Prakash Raj, among many others, this court-room drama completely redefines the idea of a 'habeas corpus' case before the court. The production was made on a budget of only Rs 40 crore.
Built on the strong emotion of the characters, and Suriya's phenomenal screen presence in the role of advocate Chandru, "Jai Bhim" is a compelling narrative on the unjust caste-system in India. 
Jersey (2019)
This Nani-starrer sports drama, made on a mere budget of Rs 25 crore, has two National-Awards to its credit. The film revolves around the journey of a very talented, but failed cricketer who just wants to earn Rs 500 to buy an Indian cricket team jersey for his son.
Binding themes of love, a failing marriage, fatherhood, and hope, "Jersey" received a positive response from the audiences and critics. The production also casts Shraddha Srinath with Ronit Kamra, Sathyaraj, Harish Kalyan, Sanusha, Sampath Raj and Viswant Duddumpudi.
777 Charlie (2022)
The Kannada adventure comedy-drama, which was made on a budget of only Rs 20 crore, was written and directed by Kiranraj K and produced by Paramvah Studios. The movie stars Charlie, a Labrador dog, in the titular role, alongside Rakshit Shetty, Sangeetha Sringeri, Raj B Shetty, Danish Sait and Bobby Simha.
The film tells the tale of the friendship between Charlie and Dharma, which breaks the barriers of their physical appearance.
While the film was shot during the pandemic, it was able to generate Rs 100 crore at the box office, making the production a blockbuster.
Soorarai Pottru (2020)
Another masterpiece from Suriya Sivakumar, "Soorarai Pottru" reignites hope and optimism in the viewers when they come across the journey of Maara, who is on a quest to make commercial flights affordable for the masses. This Tamil drama also casts Jyothika and Guneet Monga.
Made on a budget of only Rs 20 crore, this film earned Rs 174 crore at the box office upon release. Opening to positive reactions from critics, the film managed to bag five National Film Awards.