Indigo Giant: A poetic tale of oppression and rebellion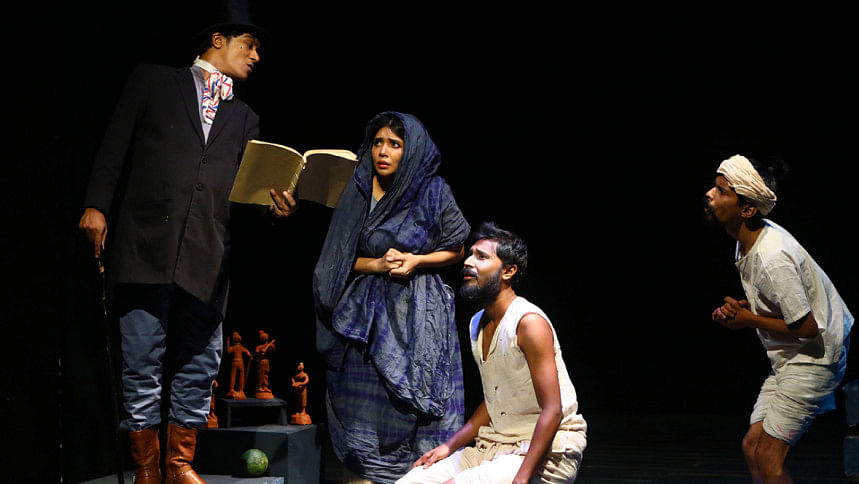 "Do you ever feel that there is something inside you? Something ancient, that will come out one day?" -- Naila Azad Nupur asks this exact question in "Indigo Giant", her brilliant rendition of the story written by Dinabandhu Mitra in his epic play, "Nil Darpan". The play, written by Ben Musgrave and translated by Leesa Gazi, was staged at the Bangladesh Mahila Samity's Nilima Ibrahim Auditorium on Thursday, Friday, and Saturday with four shows. 
Mitra's original play paints a shocking picture of the colonial India of the 1800s and 1900s. "Indigo Giant" revisits the forgotten grim chapter of British colonisation and Bengal's history, which is etched with the blood and sweat of the Indigo cultivators and the subsequent rebellion that shaped the identity of a nation. This history will never be forgotten.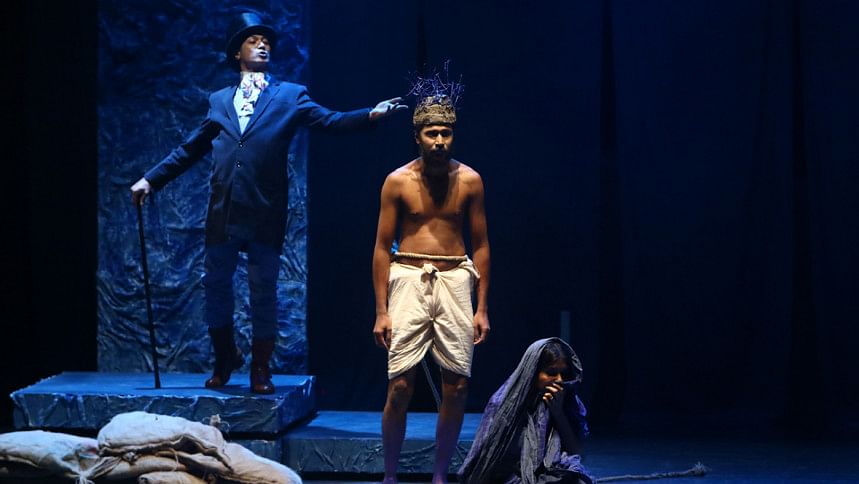 Naila Azad and her team brilliantly shaped their efforts, taking on the British colonial rule alongside the modern version of oppression that the Bangladeshi marginalised people still go through, in a single two-hour play.
Her reprisal of the main theme of "Nil Darpan" was not the oppression we faced throughout the last millennia, but the identity crisis, suffering, and the emptiness each of us feel inside– the voice that tells us to revolt and takes us to the streets, to face our oppressors – is still somehow relevant.
"See how deep it is. See how much you want it," one of many powerful monologues pronounced by an excellent thespian of the play does not only speak about the deep Indigo colour of the clothes British rulers stole from us, but it speaks of the peril of every countryman, who fell prey to the clever scheme they planted in their mind and soul.
Throughout the play, we see the back-to-back staging of two storylines, set on timelines of hundreds of years apart, while the central theme and message of those plotlines remain in the accord. In the first storyline, we see a rural farmer, Sadhucharan, played by Md Sohel Rana, as he leads a simple life with his wife, "Khetromani," portrayed by Quazi Nawshaba Ahmed. With their limited assets and simple principles, they are prosperous and happy.
That is, until a British trader, P P Rose J, comes along, brilliantly portrayed by Sharif Siraj, and tries to take away their land. By manipulating his way into the rural community, he not only grabs their land and imprisons Sadhucharan, but by the turn of events, also succeeds in taking Sadhucharan's wife into his grasp, using her poverty to manipulate her.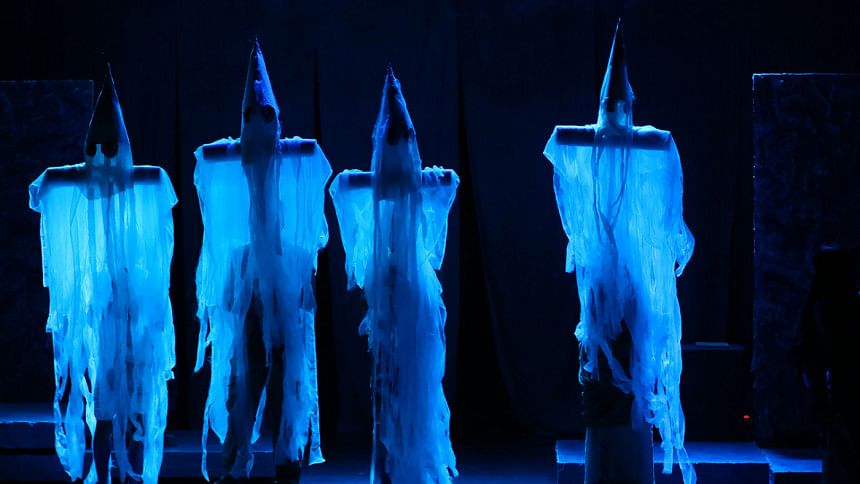 In the modern timeline, we see Khetromani as a worker in a factory, where she produces Indigo coloured denim. 
These two timelines get narrated by Dr Sydur Rahman Lipon, who is an omnipresent narrator in the play. The director's metaphoric use of sunglasses when travels to the past, is brilliant. The use of wood apples, as an element of the remembrance of the past, motivated the modern Khetromani to revolt and diminish the ghosts of the oppressors, was also worth noting.
Sharif Siraj, who brilliantly portrays the character of P P Rose J in the play, said: "It was a great honour for me to work with Naila Azad Nupur. She allowed me to internalise and characterise the complex character in my own style, which helped me greatly."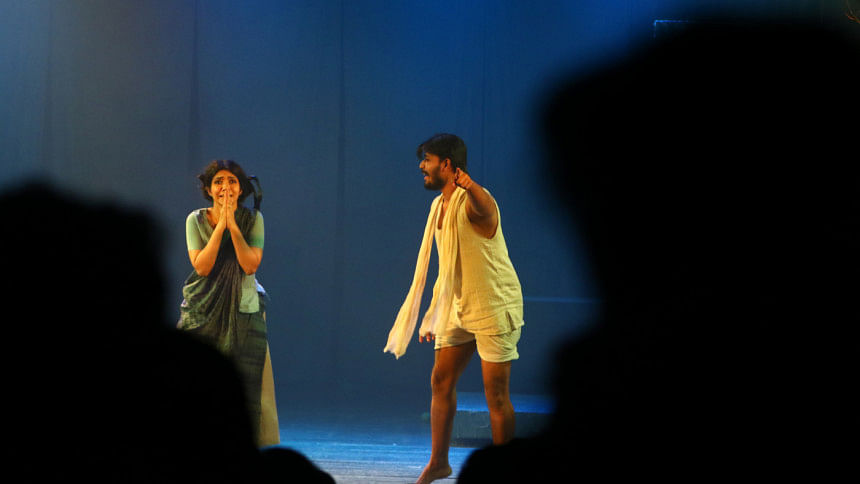 "I had read 'Nil Darpan' before, but her poetic style of storytelling was mesmerising," he added.
"'Indigo Giant' is my attempt to have a conversation with Bangladesh about our history. I have had a great time working with amazing Bangladeshi and British Bangladeshi creatives and performers to explore what the indigo story still means to a country changing and growing at an astonishing rate," said Naila Azad Nupur.
Komola Collective's "Indigo Giant" is produced in collaboration with the British Council, GCRF QR Rapid Response Scheme via the University of East Anglia, The Charles Wallace Bangladesh Trust and Living Blue.