Finding the roots of Bangla folk-dance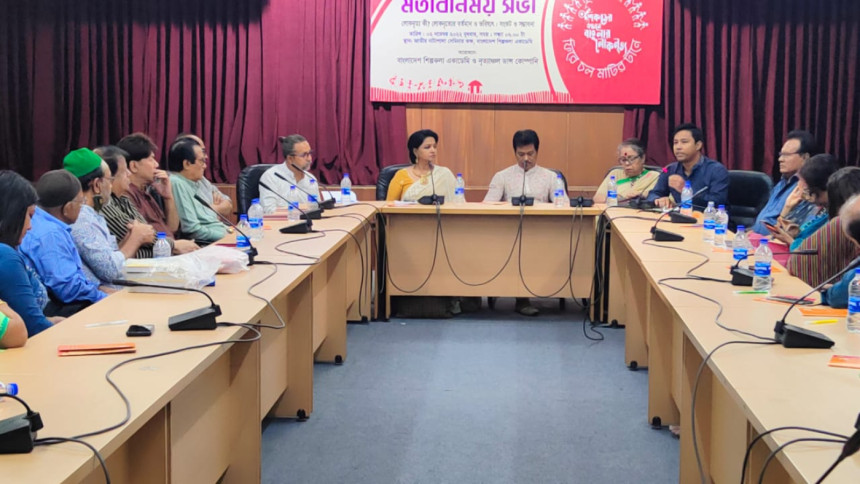 With the intent of answering the question, 'what defines Bangla Lokonritya?', prominent dance maestros and artistes gathered together at the roundtable discussion titled, "Shekorer Shondhane Bangla Lokonritya".
The event was organised by Nrityanchal and Bangladesh Shilpakala Academy on November 2. Hosted by Shamim Ara Nipa and Shibli Mohammad—both of whom are dancers and choreographers in their own right—the event took place at Bangladesh Shilpakala Academy.
Shamim Ara Nipa kicked-off the discussion, musing over the concept of Bangla 'Lokonritya' (folk dance).
"I once represented Bangladesh at a folk festival, as a choreographer," shared Shamim Ara Nipa, continuing, "After our performance, the organiser of the event argued with us, that our performance was our own creative choreography, and not a folk dance."
"There are some rules for what makes a folk dance or 'lokonritya'. We cannot call any dance that goes with folk songs, our local dance. So, we have to ask ourselves, what characteristics does a folk dance have?" asked Nipa.
At this point, Shibli Mohammad chimed in, saying, "Today's discussion has been set with the intention to establish what makes our traditional folk dance. This can only be achieved by a conscious discussion and agreement between the nation's leading dance personalities."
Present at the event were noted figures of the Bangladeshi dance world, including Dr Saymon Zakaria, Deputy Director of the Department of Culture, Bangla Academy; Al Zabir, Chairman of Department of Dance, Kazi Nazrul Islam University and Nadimul Islam, Founder of Pallibangla Bratchari Sangha, among many others.
The discussion progressed as many of the dance maestros explored the history of our folk dance and its many forms. According to them, Jari, Shari, Dhamay, and many other dance forms that have been practiced till now, fall into the category of folk music, but not folk or local dance.
"Our traditional dance forms originate from the very root of rural life, and how it is mixed with dance, music, narratives, and epics," said Saymon Zakaria. "Just like Behula Nachayan, it's an epic portrayed through music, dance, theatre, etc. These rural dance forms have a long history of their own."
"Our dance history takes us back thousands of years, divided into many stages in accordance to the era, location, and culture," shared Kathak dancer and Assistant Professor of the Dance Department, University of Dhaka, Monira Parveen.
"Even though we have not come to a conclusion about what makes Bangladeshi folk dance, this conference is the first step towards re-discovering our history, culture, and identity," said Al Zabir. "Not only do we need to restore our folk-dance forms, but we must simultaneously work on the documentation, publication, and branding of it."
"Shekorer Shondhane Bangla Lokonritya" was a three-day event, starting on November 2 and ending on November 4. On the final day, the event celebrated cultural activist Muhammad Jahangir, whose birthday is also on November 4.