'Feelings of Peace': Artist Sardar Samsul Islam's last wish
The inauguration of "Feelings of Peace"—a solo art exhibition by the late Sardar Samsul Islam, took place at Gallery Chitrak in Dhanmondi on May 6, 2023. The ceremony was graced by the presence of veteran artist and cartoonist Rafiqun Nabi as the chief guest, and artist Shaheed Kabir as the special guest.
Ambassador Mahfuzur Rahman presided over the event. The guests spoke of their fond memories with the artist, and after the valuable speeches, the exhibition was underway.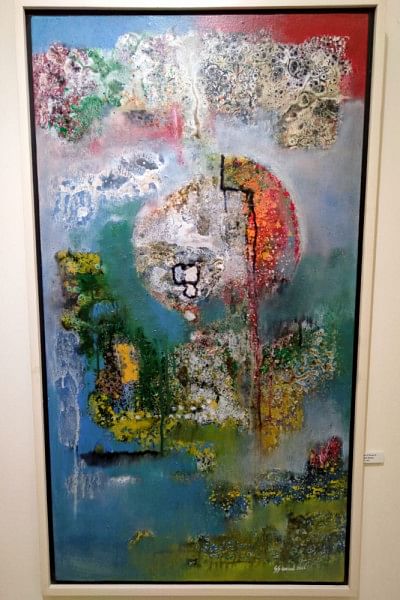 Sardar Samsul Islam was a freelance artist who completed his Bachelors of Fine Arts (BFA) in graphic design in the early eighties. After that, he worked in several kinds of jobs. He developed his own unique ways of abstract art, and his paintings have been showcased at different exhibitions in and outside the country. His loved ones said that doing a solo exhibition was his last wish before he passed away, and they decided to carry it out with the abstract paintings he had done in his lifetime. Thus, his untimely demise made this inaugural ceremony a painfully beautiful celebration.
The walls of Gallery Chitrak are wonderfully adorned with Sardar Samsul Islam's abstract art pieces. The key to enjoying abstract paintings is to feel them without trying too hard to figure out why and how they are done. The artist has clearly delivered that in abundance. The most dominant characteristics of his artistry are the balance in using lighter and darker shades, raw and solid patches of colours, the harmony of translucent and opaque hues, and the mystifying vibes they give off.
The paintings in the series 'Feelings of Peace' contain huge opaque patches, dots, and dripping effects, which at first sight reminded me of systematic chaos. But as I looked at them longer, they indeed invoked a sense of peace. The 'Country Essence' series has the same properties but with larger blotches, darker shades, and bigger free-flowing forms. They have an ethereal charm, with several of them resembling bioluminescent microorganisms. 'Rhythm of Form', 'Soul Rain', and 'Rhythm of Nature' are lovely in their own ways. To me, number 9 with a semi-circular shape surrounded by organic forms and droplets in light colours is outstanding among the ones labelled 'Beat of Peace'.
The artist had truly proven his skills through his exquisite masterpieces. The consonance of colours, the dramatic flow, and the depth of emotion conveyed to the spectators are beyond compare. This magnificent show of sorcery will run at Gallery Chitrak till May 16.