'Self and Others': Rumky's mysterious and magical artistry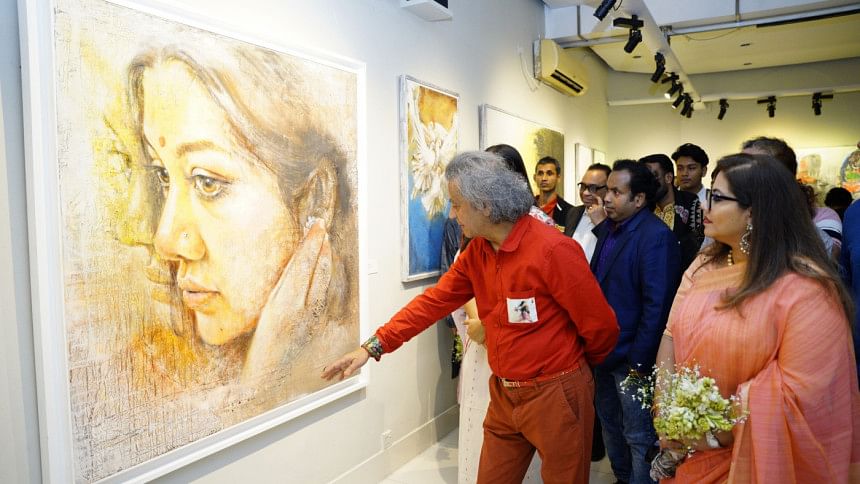 The opening ceremony for Hasura Akther Rumky's first solo exhibition, 'Self and Others', took place at Alliance Francaise de Dhaka (AFD) on Friday, January 27.
The exhibition was inaugurated by prominent artist Shahabuddin Ahmed and actress Shomi Kaiser. After giving everyone a warm welcome, the guests opened the event with their individual speeches.
Shomi Kaiser spoke about how Rumky had to go against her parents' wishes to pursue a higher education in fine arts. After this, a short musical performance took place, after which Shahabuddin Ahmed cheered for the artist in a joyous voice. With the inauguration ceremony over, the exhibition was underway.
Hasura Akther Rumky completed her Bachelor of Fine Arts and Master of Fine Arts degrees from the department of Oriental Art, Faculty of Fine Arts, University of Dhaka. After taking part in several group exhibition and bagging numerous awards, she set out to hold her own solo exhibition.
La Galerie of AFD was adorned with Rumky's portrait collection, most of which encapsulates her last three year's work. She particularly enjoys painting portraits and has shown her skills through mediums of pastel, charcoal, acrylic, and oil.
The curator of the exhibition, Zahangir Alom said, "The mood Rumky has created by the lines and colours is a mysterious and magical combination of buoyancy and sobriety."
Upon asking about her paintings that feature rickshaw-pullers, the artist shares how rickshaws were the only mode of transport on her way to work and back home, becoming something of a constant in her life. So, whatever she observed during those rickshaw-rides came alive through her art, such as the series 'Rickshaw Puller', 'Napping' and many more.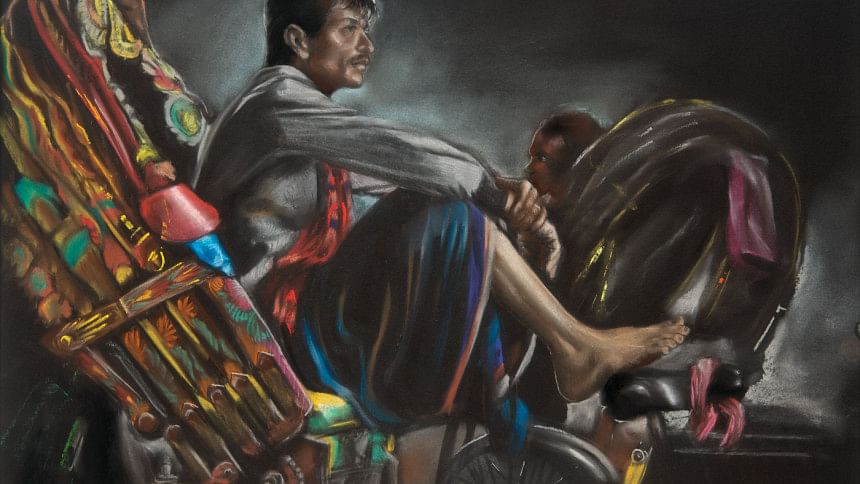 Due to her love for textures, Rumky has produced acrylic and mixed-media pieces. 'Fancy in the Twilight-1,2', 'Interlude-1,2', 'Pigeons in the Blue' portray the desired freedom of women that is not yet fully accepted by the society. The portrait of her mother, which is eye-soothing to say the least, shows the warmth of affection in her heart. Rumky has also painted the image of the Father of the Nation, Bangabandhu Sheikh Mujibur Rahman with much elegance.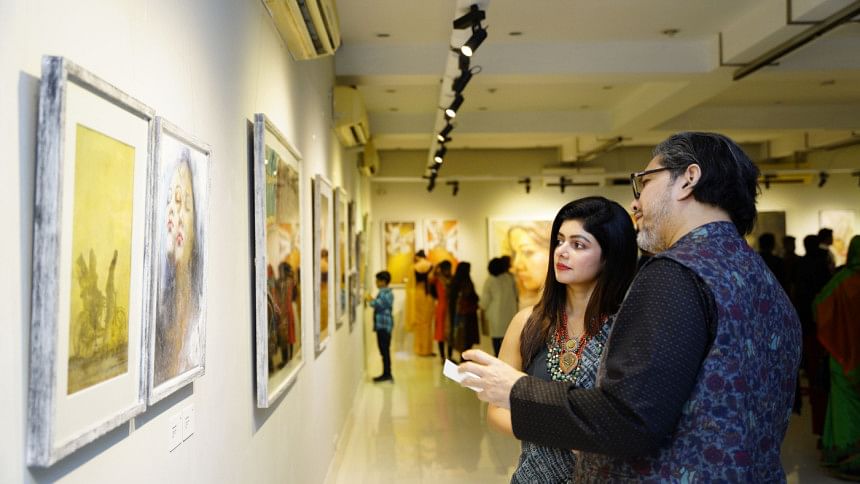 Rumky's interest in the folk music motivated her to do portraits of Bauls, especially well-known figures like Paban Das Baul and Parvathy Baul. The part and parcel of Bengali culture, Rabindranath Tagore's images are also seen on Rumky's canvas, accompanied by precise strokes and remarkable accuracy. Exploring the concept of duality in human souls, Rumky has created self-portraits where two of her images interlock gracefully.
The best part of this exhibition has been Rumky's brilliant versatility as an artist. AFD will run this open-for-all exhibition till February 1.