'Ephemeral Reflection': Art for a Cause
Exhibition at Arcadia Arts ends today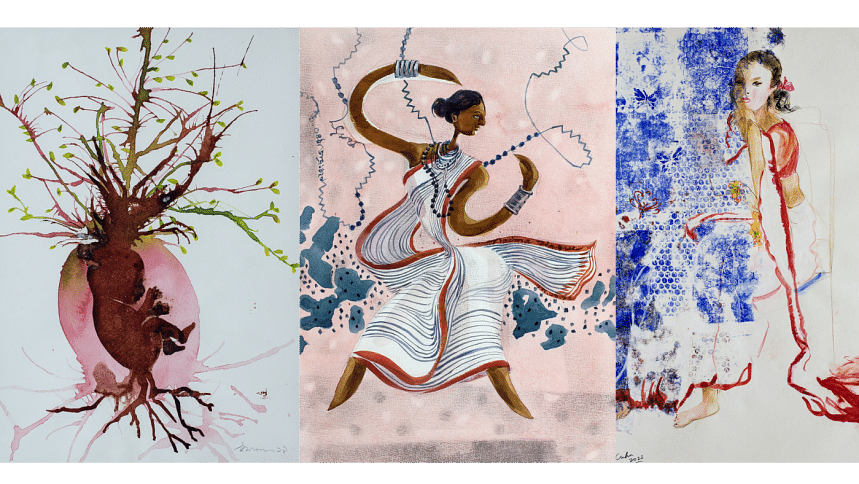 The inauguration ceremony for "Ephemeral Reflection" took place in Arcadia Arts, a contemporary art gallery in Banani on September 23.
Aroma Dutta, honorable Member of Parliament, Government of the People's Republic of Bangladesh, and Rokeya Kabir, Executive Director of Nari Progati Sangha inaugurated the exhibition.
Arcadia Arts works as a bridge connecting artists, art lovers and art connoisseurs, while focusing on upholding both contemporary and master artists.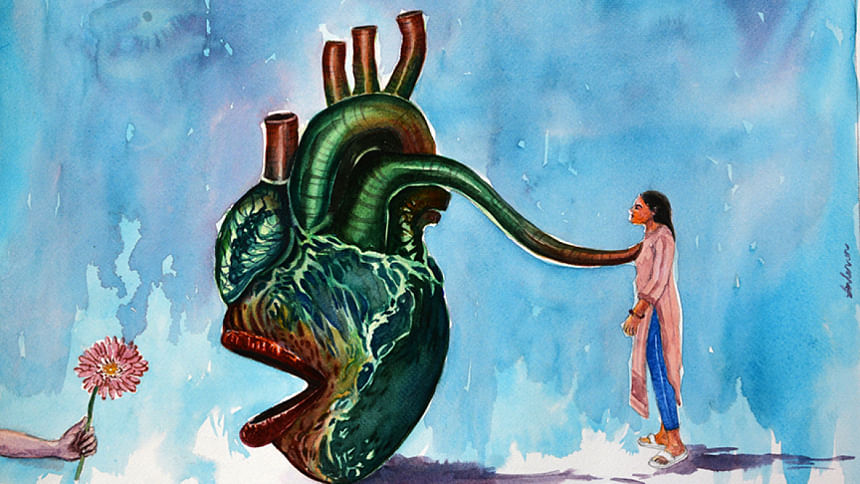 "Ephemeral Reflection" was a fundraising exhibition to support female artists of this country. The artists of SHAKO came together with three other female artists for this purpose.
16 years ago, a group of female artists formed SHAKO and since then they have been doing a variety of charity work. They have organized workshops with CRP, acid survivors, terminally-ill cancer patients, and autistic children. Every now and then, they made donations to artists, held water colour competitions, and gave tuition fees to students in need.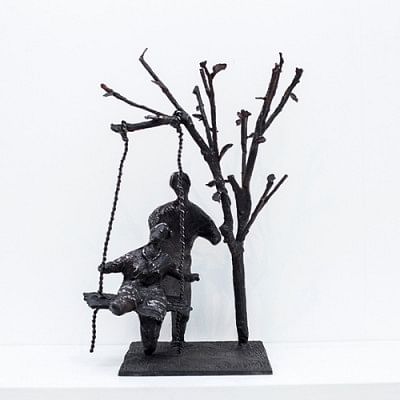 "Ephemeral Reflection" is a reflection of femininity, nature and birth, life, and the social struggles of women. As such, the exhibition featured works like 'A Birth Story' by Sumana Akter, a pen and watercolour work portraying a child inside a womb, growing like a baby tree.
Lubna Charya's 'Our Heart Also Needs Food' is, as the name suggests, a giant depiction of a woman's heart, about to consume a flower. Here of course, the flower represents love, peace, comfort, growth, prosperity, and all the positive things we need to not just survive, but to live.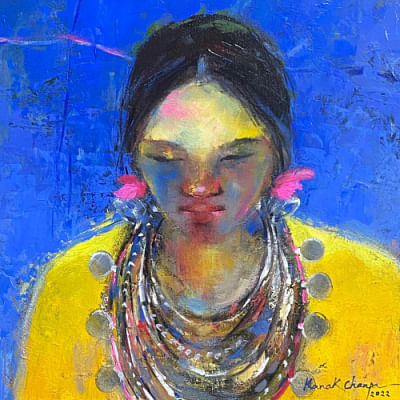 'Sufia', done by Dr Farida Zaman, is a semi-abstraction in red, and rustic orange shades depicting a woman with fish. Naima Haque's 'Joy' is an eye-soothing painting of a woman dancing in traditional attire. Speaking of traditional clothes, 'Shaada Sari Lal Paar' done by Kuhu shows a woman in a red-bordered white saree, where her physique is partially hidden behind an ultramarine blue screen.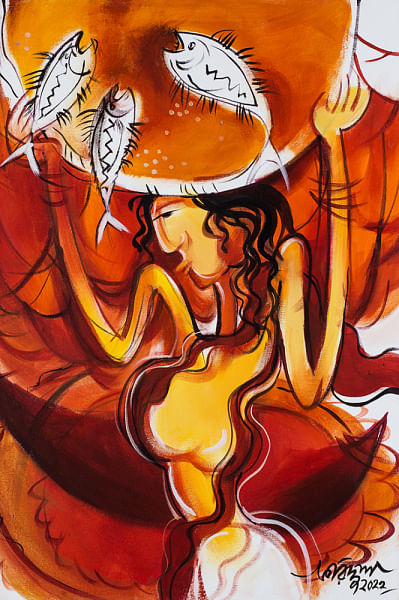 'Portrait-1' by Kanak Chanpa Chakma holds an indigenous beauty in vibrant blue and yellow. Surrounded by flowers, a woman in a flower mask is painted by Rebeka Sultana Moly, and is named 'Unknown Love'. 'Couple' is a black aluminium sculpture of a romantic couple on under a tree. 'Transformation of Seeds' is a slightly different work from the other ones. This thought-provoking acrylic-on-canvas piece belongs to Fareha Zeba.
Arcadia Arts ran this exhibition till yesterday, October 7. The participating artists were: Naima Haque, Dr Farida Zaman (PhD), Fareha Zeba, Kuhu, Kanak Chanpa Chakma, Rebeka Sultana Moly, Shulekha Chaudhury, Farzana Islam Milky (members of SHAKO) and the guest artists included Sumana Akter, Lubna Charya and Atia Maibam.