Cartoon People celebrates first comic book publication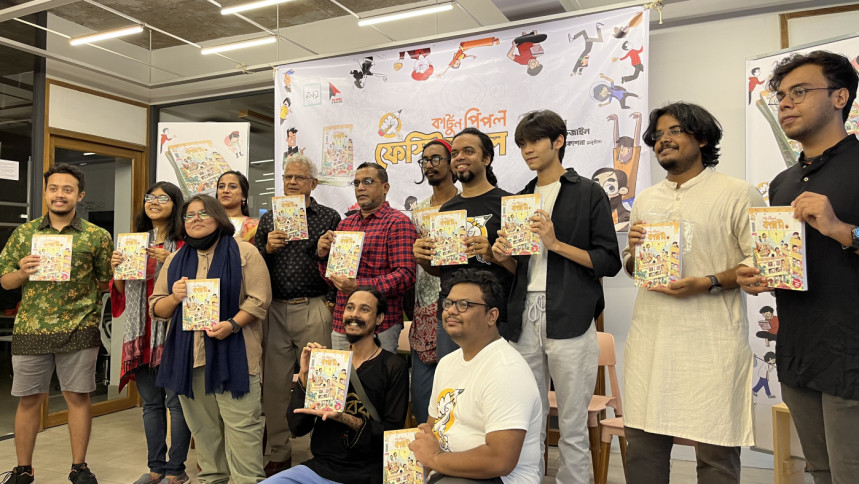 "Cartoon People Festival" is a three-day long cartoon exhibition that celebrates the inception of Cartoon People and their first comic book publication. The exhibition has been open-for-all from September 23 to 25, and is organized at Moar, Gulshan.
The first day of the exhibition kicked off on September 23, 4 pm. Ahsan Habib, eminent cartoonist and editor of Unmad, along with Mohammad Ali Jewel, the founder and CEO of the Multimedia Kingdom, were the chief guests of the event.
"After a long break due to the Covid-19 pandemic, we have finally gathered together at this event to celebrate 'Cartoon People Volume 1', created by eighteen young Bangladeshi cartoonists," said the founder of Cartoon People, Syed Rashad Imam Tanmoy.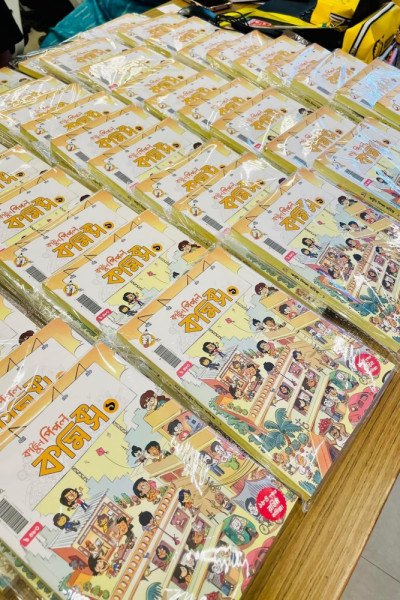 Cartoon People started their journey back in 2016 with the intent to create a domestic cartoon platform, where Bangladeshi cartoonists are appreciated and provided with proper guidance and opportunities.
"Cartoonists today have more opportunities compared to before," Tanmoy adds. "This gradual shift was possible because of the guidance of Ahsan Habib sir, and the support of companies like Multimedia Kingdom. Today, we can encourage upcoming Bangladeshi artists to draw local characters instead of following foreign trends."
"Cartoonists are advancing towards a brighter future with an immense support and appreciation towards the art form," he shares.
Some of the exhibitions featured in the event are — Humayun Heroes and Biggani Basu, an exhibit of all the fan made designs of the iconic characters that were created by the late Humayun Ahmed; Gaantoon Caricature exhibition: an exhibition featuring caricatures of the members of Bangladeshi bands; Fight Against Corona cartoon exhibition: cartoons drawn to create public awareness during the Covid-19 period, and Character Design Challenge DCDC 10.
"Every good creation is built step by step, from speech figures to cartoons, comic books to graphic novels, and animation," he adds. "I want to thank Tanmoy and his young cartoonists for creating this community. They are releasing a comic book today, and I am hopeful that we will also see domestic animation work from them in the future."
The cartoons showcased in Cartoon People Festival were selected from online competitions organised by Cartoon People during the Covid-19 lockdown. At the end of the first day, the winners of these competitions received crests and prize money from eminent cartoonist Ahsan Habib himself.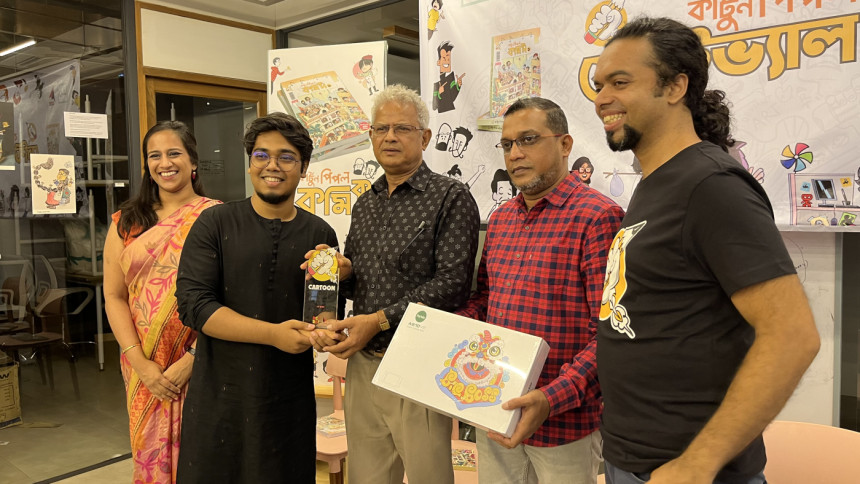 The first prize for the Humayun Heroes and Biggani Basu exhibition was bagged by Arafat Karim, and the second prize went to Rafiuzzaman Rhythom. The winner of the Character Design Challenge DCDC 10 was Nafis Kabir, and Anisul Samir was the runner-up.
Finally, the first prize for the Fight Against Corona cartoon exhibition went to Mahatab Rashid, while Rakeeb Razzaq and Sayed Fida Hossain received the second and third prizes respectively.
The exhibition is still ongoing, and the Cartoon People Festival event ends today.