'Baksher Baire' –Art for healing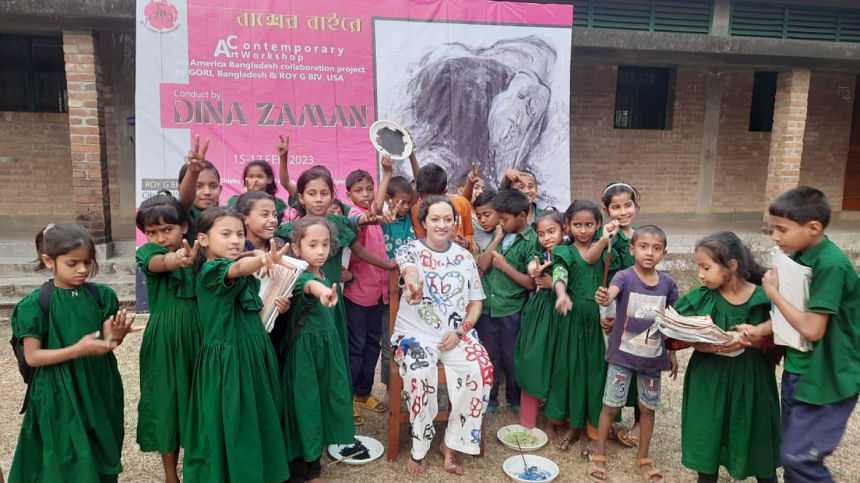 "Baksher Baire" or "Out of the Box" is an art workshop that was held in collaboration with Roy G Biv Contemporary Art Gallery in Ohio, US, and Gori, Bangladesh from February 15 to 17, 2023. This event took place in Shishupolli Plus, Tengra, Sreepur, Gazipur. Bangladeshi American visual artist Dina Zaman conducted the whole workshop with two goals –for Shishupolli to receive more contributions, and to feature seven more Bangladeshi emerging visual artists.
During the workshop, the eight artists –Dina Zaman, Sadia Hussain Ether, Abir Shome, Syed Tareq Rahman, Jewel A. Rob, Sanjid Mahmud, Rupam Roy, Emran Sohel produced art pieces along with the kids of Shishupolli. Dina herself wore full white clothes and asked the kids to paint on them. They also painted with the art supplies they received at the workshop. It ended with a small cultural program by the residents of Shishupolli.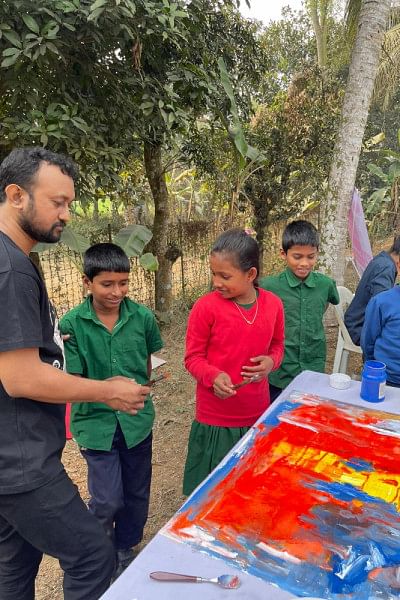 Dina herself is a visual artist from the Faculty of Fine Arts, University of Dhaka (DU). She has lived in the US after her graduation and represented Bangladesh as an artist at several exhibitions there. She flew here all the way from the States for the sole purpose of meeting the Shishupolli survivors. Visual artist Sadia Hussain Ether specializes in Oriental Art. Her works include animations and designs, and mostly feature women, nature, child abuse, social issues and human rights. Abir Shome is a multidisciplinary artist working with texts, installations, drawings, animations etc. He majored in Drawing and Painting.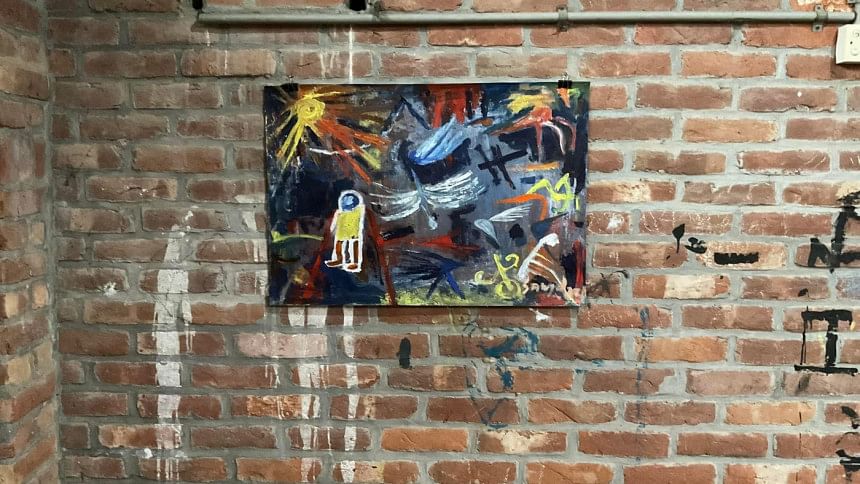 According to Dina Zaman, Shishupolli is a place we need to gaze our eyes upon as the residents there are children and women who went through different types of traumatic events. And art is an excellent way to heal these poor souls. She also said, "through this three-day workshop, we were able to make Shishupolli a part of us, and us a part of them. They were our audience for the total workshop."
 Dina added that the children and women who lost their confidence, faith, and hope, need to be revived through therapy so they know that they too are part of our society, and what better way than to provide them opportunities for therapeutic art.
Syed Tareq Hasan chose sculpture as his specialty and his mediums are jute thread, metal, fiberglass, wood, concrete etc. His works capture complex issues and behavioral patterns of the ever-growing contemporary urban society. Jewel A. Rob is a visual artist and independent curator exploring video installations, drawings, and live art with historical research. He works on South Asian socio-cultural issues, political, economic, and environmental issues along with civil rights and war effects. Sanjid Mahmud, a visual artist and independent curator chose sculpture and drawing to produce work on human entity, socio-political issues, and daily activities in public spaces. Rupam Roy is a sculptor dealing with subtle sensitivity among objects and their dynamic transformation. Emran Sohel is a multidisciplinary artist who portrays issues such as socio-political and cultural hierarchy, religious extremism, industrial capitalism etc. through his pieces.    
The artists used local materials and art supplies to create the paintings. The whole workshop will be presented as a documentary at the coming exhibition at Roy G Biv Gallery (May 12 to June 2 this year) which will also display the eight artists' works.Each painting carries their affectionate and enthusiastic touches. One artist painted a peacock on a paper decorated by the children with wild flowers growing nearby. It created beautiful textures. This painting along with other paintings by all the artists will go to Roy G Biv Gallery for exhibition. 
 The success of this event has inspired Dina to come back for another round with another underprivileged organization that needs our attention and support, and she expects more contributors for her next workshop.