'Artists Make Space': Stories of survival, revival and reformation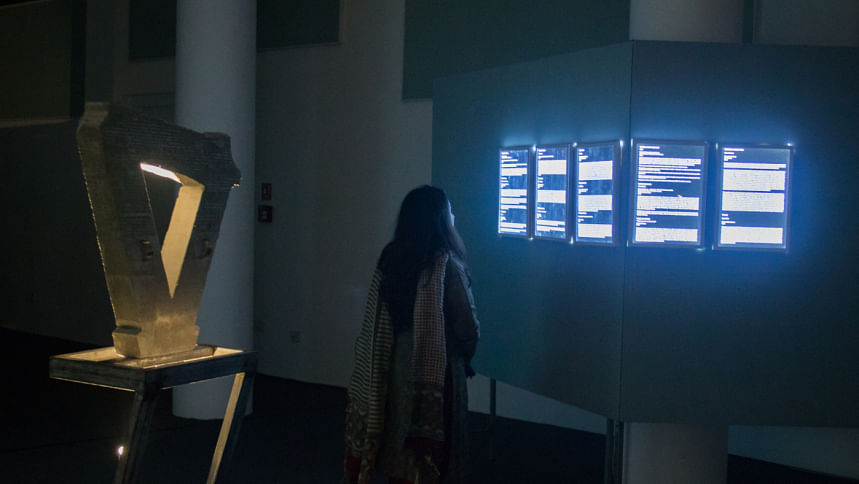 One can hardly ever put a price on art, as anything creative must instead be felt and appreciated. Exploring different mediums to bring out our creative persona showcases our versatility as artists. "Artists Make Space" (AMS) is such an initiative, enabling fourteen artists, in seven pairs, to collaborate to create unique artworks.
The inauguration of "Artists Make Space" took place at the British Council, Dhaka on December 7, 2022 to commemorate 70 years of British Council in Bangladesh. The exhibition is being hosted by Britto Arts Trust, Bangladesh, and Tara Theatre, UK; with Natasha Kathi-Chandra, and Mahbubur Rahman curating the artworks on display. It was commissioned by the British Council to facilitate a co-creation between Bangladeshi and British artists.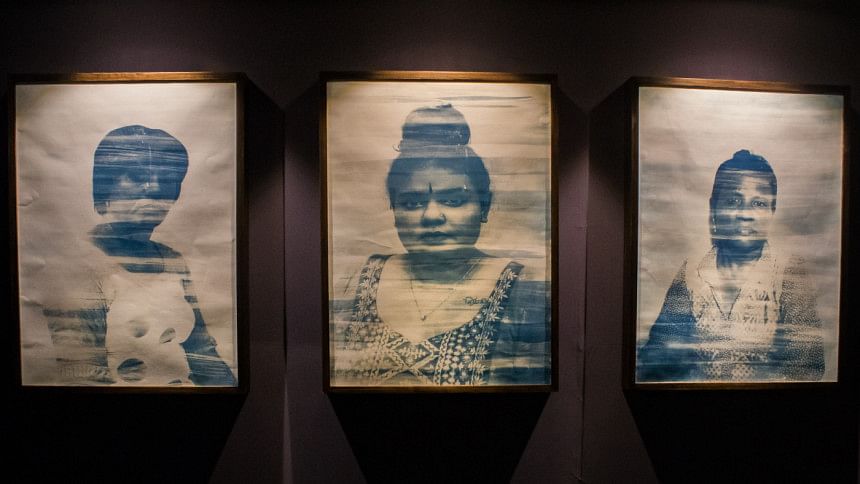 Mahbubur Rahman explained that AMS is an effort to create a 'traveling exhibition', that will be showcased in various locations across the UK and Bangladesh—highlighting a variety of artistry and creating a spatial connection among the beautiful art pieces.
Natasha Kathi-Chandra expressed her gratitude for the opportunity to work with artists from Bangladesh and the UK, who have grown through their creative journeys—despite time differences and urban obstacles.
The first piece of AMS is 'Lost in Translation' by visual artist Azizee Fawmi Khan. In search of the soul of a lost city, the artist traveled to Panam Nagar, collected some of its snippets—including the local folktales—and found a connection with the drama 'Neel Darpan' by Dinabandhu Mitra.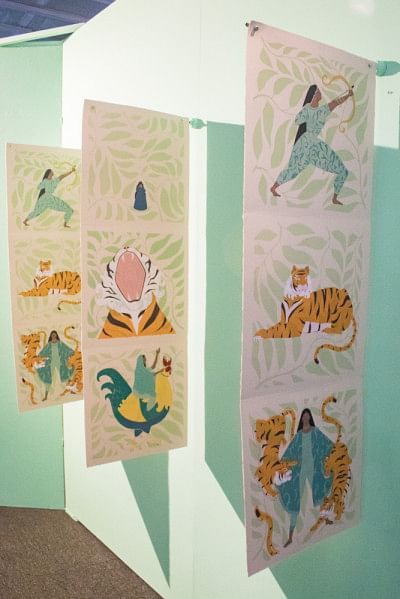 Her work on wooden panel reflected the ruins of Panam, the local handcrafts and stories, and lines from the drama on a wooden panel. The 'sister piece' contained stitches in Nakshi Kantha patterns on photographs. London-based writer, Ruby Kitching collaborated with Azizee, providing her audio-play and installation work 'Baki'. Set in England, this is a play where we get to see and feel the nostalgia mixed with regret resulted from choices, duties, migration, identity crisis with the changing times and surroundings.
Visual artist and activist Monon Muntaka worked with three sexual violence survivors–an activist assaulted as a toddler, a sex worker and a trans woman. 'Blue Wound' is the portrait compilation of these women printed in cyanotype. Along with these, there is a recording of their painful stories that reflect the psychological trauma beyond their physical injuries.
Speaking of pain and emotions, Thahmina Begum, a poet and art therapist from Yorkshire worked on women's intergenerational trauma through behavior and illnesses born out of social curses. Her piece is called 'Issues in the Tissues, Pains in the Veins'.
Visual artist Rakib Anwar created 'Aakar', a small-scaled replica of an important landmark around which a region and its human activities have grown with time.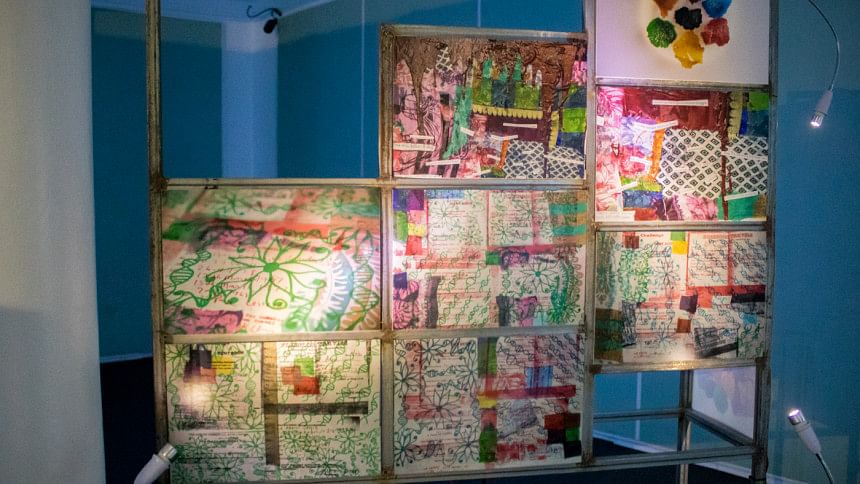 'Found You' by artist Rahemur Rahman is a representation of his experience in a British Bangladeshi community shown through a golden bonda, nodding between two cultural pillars. The colour of the yarn holding them is an image of his sexuality.
Visual artist Hridita Anisha's 'Born into Exile' is an excerpt from Poet Mohammad Khater's "Bonbibir Johuranama"—a story of hope and destiny during exile and abandonment through a folk legend. From the same folklore, Scottish illustrator and printmaker Abbie Lois created 'Bonbibi', using her own imagination. This piece, with its calm and eye-soothing illustrations, was inspired from traditional work of Patuas in Bengali story-telling, using hand painted scrolls.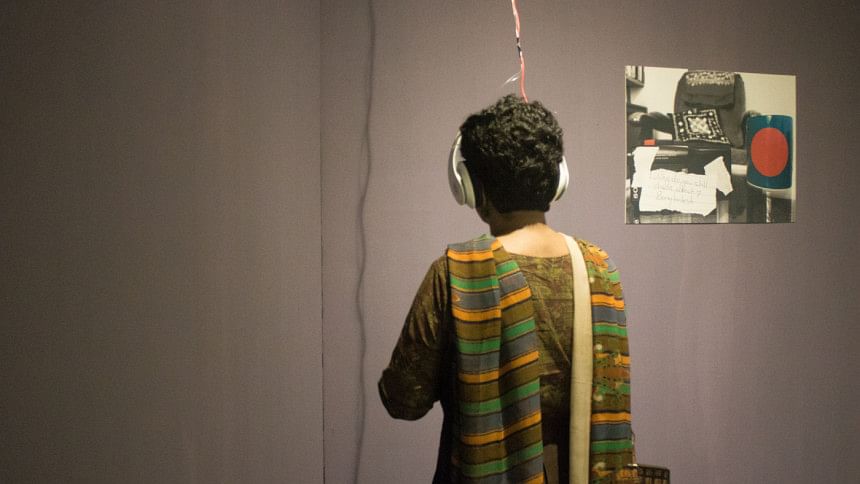 Embroidery designer Kamilah Ahmed created wall hangings and tapestries by combining materials, where one can see the hidden and threatened beauty of landscapes. She celebrates the revival of Dhakai art that declined due to colonised industrial revolution. Through her work, 'Tribute to the Common Roots', she strengthened the threads holding the past and present together.
With the same title, communication consultant Apurba Jahangir collaborated with Kamilah, providing his sound work depicting the rhythms from Jamdani sarees and Ragas that helped shape our current cultural identity.
'Ego' by Mridul Kanti Goshami is a portrayal of LGBTQ+ community who are legally accepted in the UK. However, in Bangladesh—and a lot of other nations— their identity is threatened, and still considered socially unacceptable.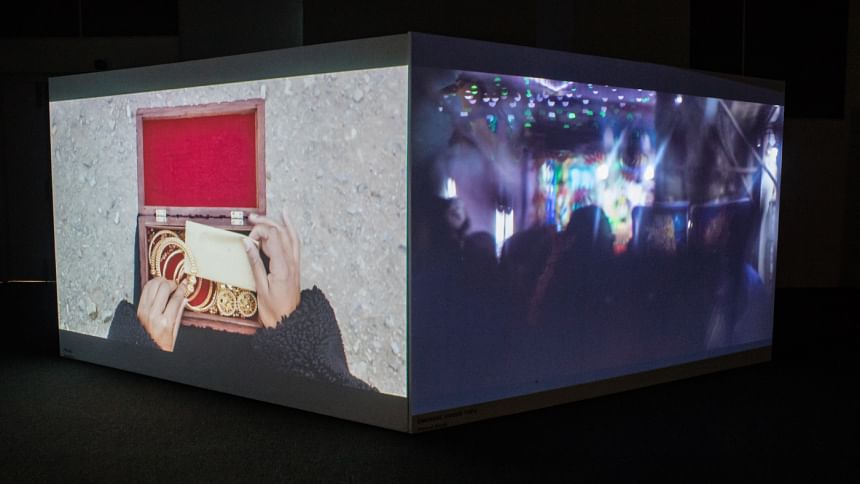 Multidisciplinary artist from Birmingham, Rupinder Kaur's poem commotion 'The Search' is about the love beyond gender norms, and the duality of religion. Her work is the reflection of her idea of true freedom, combining the essences of Sufi poetry by Baba Bulleh Shah and Fakir Lalon Shah with Satyajit Ray's film 'Devi'.
London-based writer and director, Tia Ali's 'Deshi Girl' is an experimental short film on the dilemma whether to be culturally expressive despite the obstacles or give in to bigotry. The film shows a girl reading her mother's letter about identity and heritage, and find herself at a point in her life where she is to discover her own image.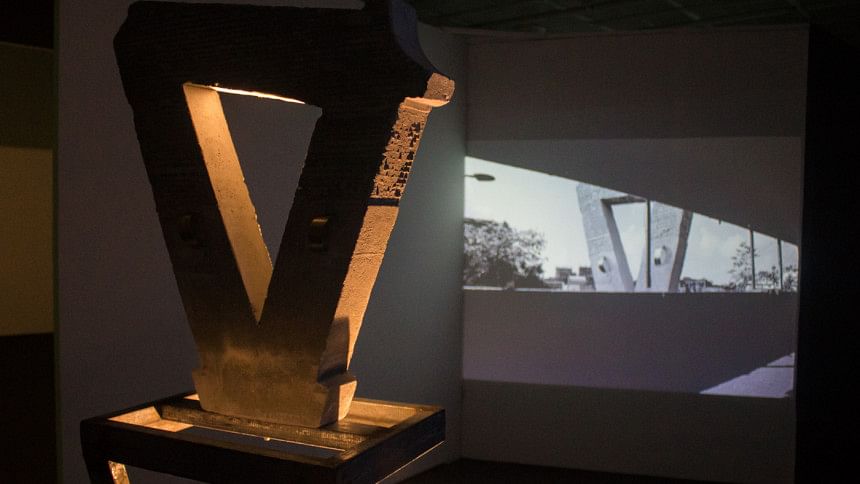 Visual art researcher, Emdadul Hoque Topu's video installation 'Eternal Death' shows the nature and the urban lifestyle side by side, trying to find the purpose behind our way of life that is causing the environmental crisis.
"Artists Make Space" is a non-conventional exhibition, full of versatile and thought-provoking art pieces where one can learn about different angles and emotions of artists and their tools. This wonderful exhibition came to an end on December 14.