'Khachar Bhitor Ochin Pakhi' script excited me: Tama Mirza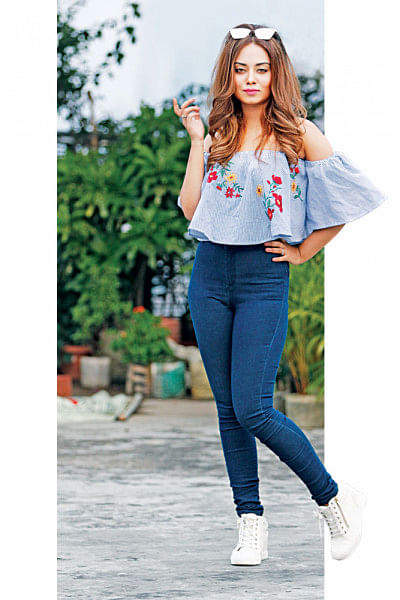 National award-winning actress Tama Mirza won the hearts of audiences and critiques alike with her performance in "Nodijon."
The versatile actress's latest web-film "Khachar Bhitor Ochin Pakhi" was released in Chorki recently. Tama's two other movies "Anandi" and "From Bangladesh" awaits to be released in theatres. Apart from acting, the "Game Returns" actor has also done hosting for various programmes.
In a candid conversation with The Daily Star, the "Nodijon" actor talks about her upcoming projects and her love for challenging roles.
Talk to us about your latest web film, "Khachar Bhitor Ochin Pakhi".
"Khachar Bhitor Ochin Pakhi" – the project's strength lies in its script and acting. The script was so amazing that I was instantly attracted to the role.
My character's name in the movie is 'Pakhi' and she comes from a rural background. She comes to Dhaka and starts to work in a factory where she gets trapped all night long.
'Pakhi' was a really challenging character to play, and I had to take in a lot of preparation to adapt the role to the perfection. I really hope the audiences will appreciate my character.
You have received a National Award for your movie "Nodijon". What kind of roles are you looking forward to play in films?
I want to play roles that gives me the scope to experiment with various characters. I started my career with glamourous roles but later on I moved forward to story based characters. I want to immerse myself in roles and movies that is unique and challenging. "Nodijon" gave me my first National Film Award and people still remember me for that character till date.
Can you tell us a little bit about your new movie "Anandi"?
The movie "Anandi" is also a story-based film, which was shot at a Daulatdia brothel. The film highlights the struggles and life of children raised in brothels. I learned many things through this movie, which I am very excited about.
Are you worried that fewer audiences will turn up in the theaters, due to the pandemic?
I am really worried about the lack in viewership across cinema halls. I am a part of film industry, and I truly love this field. I really want the audiences to go to the cinema halls, and we are doing movies for the sake of the audiences. All of our hard work will go in vain if the viewers do not turn up to the halls.
If the audiences do turn up and watch our movies on the big screen, then it will profit both the entertainment sector and the cinema hall owners, whose business solely relies on ticket sales.