Habiba Nowrose's 'Tongue Tied' is an intriguing reimagining of Bengali cuisine
Exhibition open for all at AFD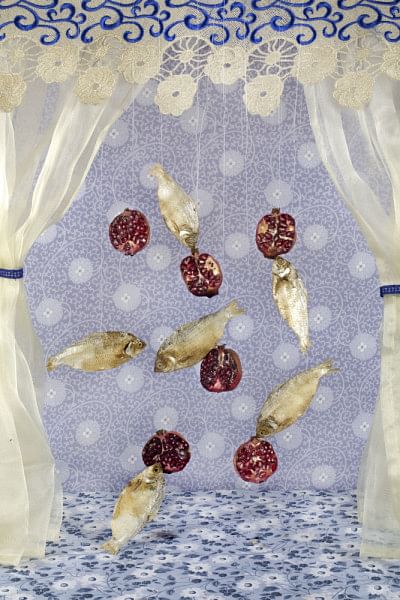 Embracing, adoring and nurturing traditional Bengali cuisine in a picturesque manner -  Habiba Nowrose's "Tongue Tied" opened today at La Galerie, Alliance Francaise de Dhaka.
The renowned visual artist is also a teacher of Visual Anthropology at Pathshala.
Gilles Garachon, Chargé d'Affaires, Embassy of France in Bangladesh graced the opening ceremony as chief guest.
He congratulated the artist for coming up with this unique and innovative concept of highlighting Bangladesh's cultural heritage.
Seventeen exhibited works in the gallery represent the enthic Bengali foods from 'Shutki', 'Vuri' 'Motka', 'Moa', 'Hawai Mithai', and 'Mishti Alu' -- reflections of authentic Bangladeshi food.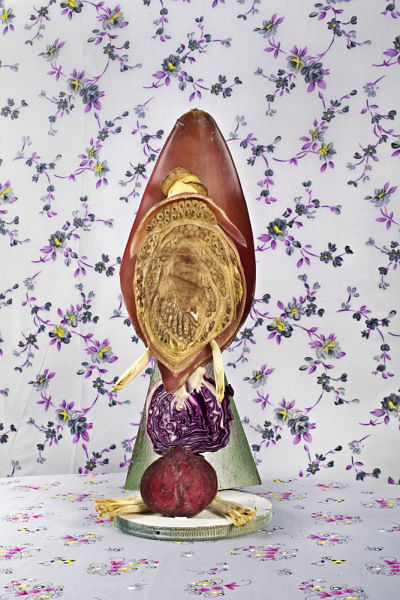 "I have portrayed this cuisine in my works, rooted in our cultural identity," says Habiba, who completed her graduation in Women and Gender Studies from the University of Dhaka in 2012. 
According to the artist, there is an inferiority complex that often leads to people not appreciating local food.
"Neoliberal economy contributes to cultural homogenization and devaluation of traditional culture," says the artist. "This impact is felt on traditional food culture as well."
She mentioned that during the second lockdown, she collected some of these food items, and immersed herself in making sculptures. At times, they took the form of a talisman, at other times, a strange device made in a lab in the 1900's.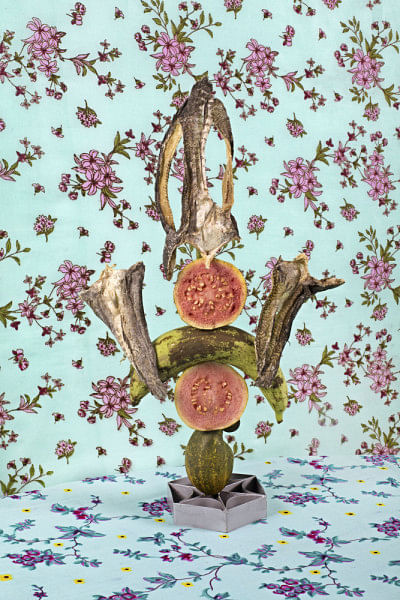 While working on these, she revisited her childhood. "In my imagination, pomegranates were fruits inside which the life of the monster from a fairy tale is hidden, as fish were swimming upstream in the river of life."
The exhibition will be open to all until March 10, Monday to Saturday from 3 to 9 pm.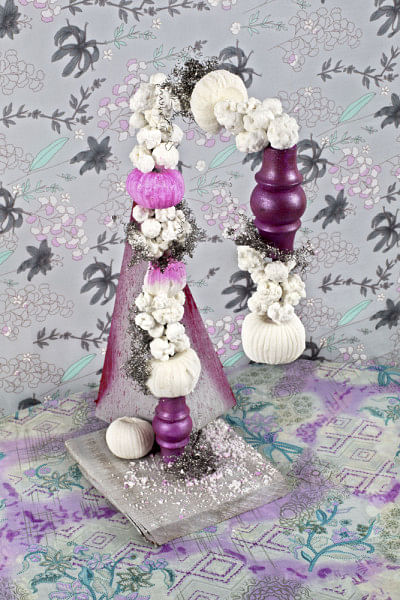 Habiba's work 'Concealed' was a finalist for the 2018 Invisible Photographers Asia Art Awards and Samdani Art Award 2020. Her works have been exhibited across different platforms, both at home and abroad. Her work has been published in BBC World service, Vice Asia, Voice of America, The Hindu, Vogue India and others.