The story of jazz in Bangladesh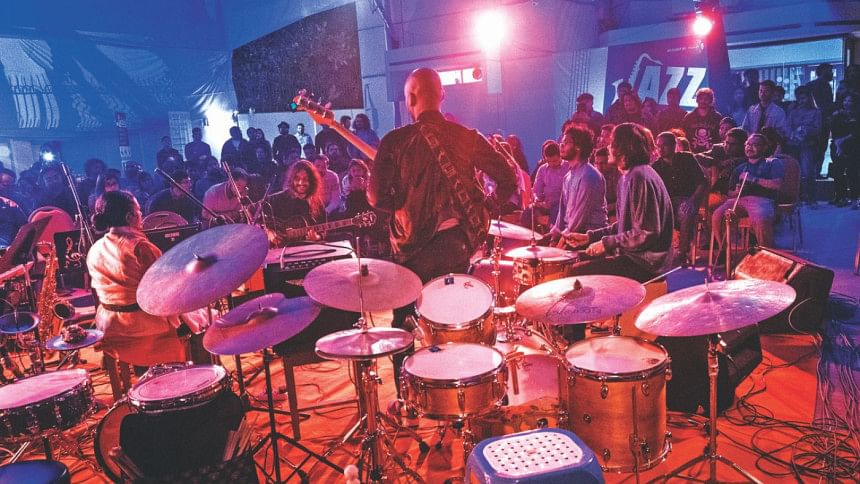 While there is a constant growth within the cultural sector, the jazz scene in specific is currently experiencing a rapid growth of its audience base within the cities as well internationally. Since its inception this new sector hasn't experienced any dull events, and mostly had faced success in all its events. Let's look back at how the scene has developed from scratch and where it's going.
Up until 2013, there were very few "jazz" shows in Dhaka, maybe one or two annually at most. At the same time, a bunch of musicians who were quite passionate about learning music were seriously looking into being jazz musicians themselves. Despite the fact that there wasn't any platform that would cater to the specific genre, the musicians kept practicing within the small circuit and finally organised "International Jazz Day" on April 30, 2014 at Bangladesh Shilpakala Academy.
The performers included Arjo Shrestho, Towfiq Arifin, Rahin Haider, Mohaimin Karim and yours truly. The event and consequently the jazz circuit shortly gained more recognition and big event management companies like Blues Communication recognised the jazz circuit. Soon after, they organised a festival with heavy hitters of the international jazz scene like fusion powerhouse John McLaughlin and Shai Maestro among others. We opened the festival with my quintet for John McLaughlin. Sadly though, the festival didn't continue after 2016. But still, there are many smaller shows in the scene now.
Building the scene from scratch here in Dhaka was not an easy task. We made a lot of mistakes and we hope to eventually become experts one day. It's a big learning curve. But honestly, we all really enjoyed the process and got to learn so much about the industry as well the business side that grows the scene. Over the years, we have seen some positive changes, for instance, most of our shows get sold out and there is a loyal audience base that shows up at each and every gig. And because of that, it's easier to get sponsors for these shows than how it used to be.
To grow the scene further, we need more people actively participating in both the playing and organising part. I am very optimistic about the big change we are going to see in a few years. What I'm really proud of are my students. Some of them are doing really well and they're already playing gigs with me as well as opening my shows. Few persons and entities I'd like to thank for their wholehearted support towards the jazz scene are EMK Center, Gears For Ears, Zeenat Chowdhury of Bengal Foundation, Farhan Quddus of SecureX, Ehsanul Huq Tito of Radio ABC, Rantages and Nazia Tariq.
We're even getting to represent Bangladesh in the global scene at jazz festivals.We did a government-funded tour as Imran Ahmed Trio in Malaysia and Germany in May 2018. The response was massive in those countries. And now, we are set to tour Europe every year with some Asian countries in the list as well!
The scene, still quite small, has around 15 musicians who are doing shows every week whether in corporate events or at local venues. The musicians are in constant demand. Recently they have started inviting renowned folk musicians to collaborate with which was well-received from a house-full audience at North Club at a show organised by Planet X and Verve Bangladesh.
We can expect to see jazz shows more often, and soon enough, we'll start bringing in more international jazz artists to collaborate with the local musicians as well as conduct master classes and workshops. Planet X, Verve Bangladesh, and Jazz in Bangladesh plan to host and organise both medium and large scale jazz events throughout the country in the coming years.
Imran Ahmed is Imran Ahmed at Imran Ahmed Trio, you can reach out to him at [email protected]