Nagarbaul James' concert draws massive crowd, causes traffic chaos in New York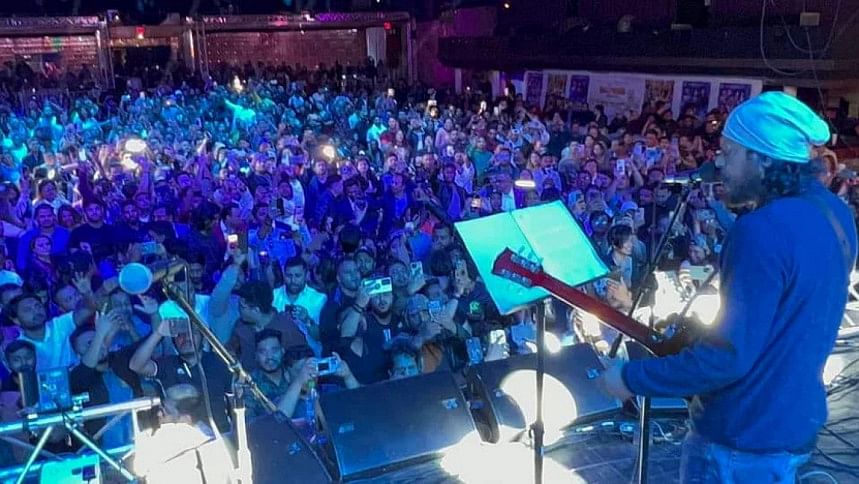 On Sunday evening, the bustling Amazura Hall in New York, became the epicentre of excitement as eager spectators filled all seats, to catch a glimpse of the highly anticipated performance by Nagarbaul James. It had been nearly five years since James last graced New York's stage, and the Bengali community turned out in full force to welcome him.
As soon as "Nagarbaul James Live in Concert" commenced, the crowd erupted with thunderous applause and cheers as James performed hit songs. The electrifying performance continued for over an hour, keeping the audience captivated.
The impact of Nagarbaul James' concert in New York reverberated far beyond the walls of Amazura Hall. Reports emerged of traffic jams on the city streets as fans flocked to the venue, causing even the police to struggle to manage the influx of enthusiastic concert-goers.
Bangladeshi musician Dinat Jahan Munni, currently in the USA, shared her astonishment on Facebook, describing the scene and the overwhelming response, "When an artist from our country causes a traffic jam on foreign soil, it feels unbelievable. Yesterday, Nagarbaul 'James' performed in New York. The entire vicinity of Jamaica's Amazura Hall transformed into a mini Bangladesh. New York security personnel were busy managing the long lines and traffic congestion. I used to dream that artists from our country would create such a stir like their international counterparts, and yesterday, that dream became a reality. I am proud that we have a James. The neighbourhood in New York buzzed with love and admiration. Tears welled up in my eyes; that is my country, my song, our pride, and James. James, you are our pride."
Alamgir Khan Alam, leader of Show Time Music, revealed that James' return to New York after a significant hiatus attracted visitors from different states, putting immense pressure on the event's logistics.