Ghaashphoring Choir: A family of harmonies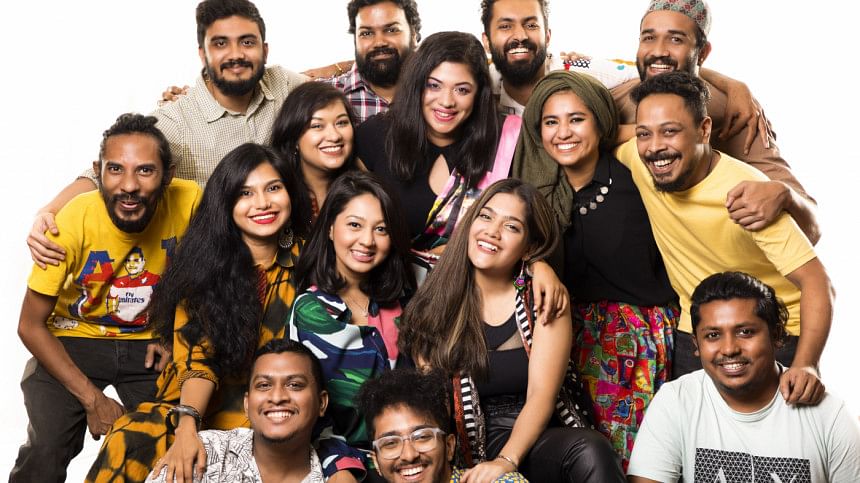 You might know them for their marvellous takes on "Chaina Bhabish" or "Aha Ki Anondo", a soothing mishmash of trained-untrained voices in perfect harmony. One might even follow them solely because of the achievements of Armeen Musa, jointly Bangladesh's first Grammy nominee for Berklee album "Shuruaat".
However, most at the moment would know them from their involvement in Coke Studio Bangla's "Deora", a cultural phenomenon, the fandom of which went as far as Africa.
Ghaashphoring Choir takes on many forms – like a family, they laugh, make music together in enviable symmetry; like an institution, members 'graduate' and move on, making space for another starry-eyed newcomer looking to make it in the industry, or perhaps just have a good time.
Founded in 2015, Armeen's passionate choir released their debut album, "Kichu Kotha Kichu Gaan" in 2019. Fast forward to their newfound fame through CSB, we sat with them over many-a-cups of coffee at The Daily Star's premises.
"We are very humbled and grateful to Arnob and the whole team of CSB for giving us such a wonderful opportunity," said Armeen, "We have also performed in another track of Coke Studio Bangla, 'Bonobibi'. It was an amazing experience for us," said Armeen.
"In 'Deora', we sang and harmonised 15 layers of vocals. To enhance the 'gospel vibe' which was suggested by Pritom Hasan, we added choreography typically seen in gospel choirs, involving clapping and dancing," she continued, enthusiastically.   
Sadia Rahman, a long-standing member of the group, shared her journey of joining the Ghaashphoring Choir. She stumbled upon Armeen Musa's Facebook post calling for singers, unaware that it was an audition for a choir group. The process involved solo and group auditions, which proved to be an eye-opening experience for Sadia, who had only previously sung in choruses during her school and college days.
"This was an interesting experience for me because I didn't know how choir singing works. I have always sung in the chorus in schools and colleges. I never knew that group of people can harmonize their voices on different scales this beautifully," said Sadia.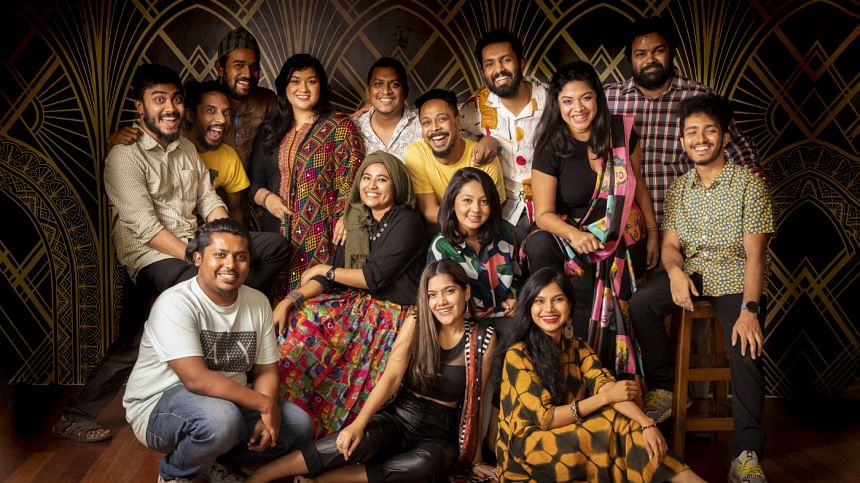 Armeen's journey into choir singing started quite similarly to Sadia's, during her musical studies at Berklee College of Music, she inadvertently auditioned for a choir group. However, she became a part of various choirs throughout her academic journey.
When talking about the challenges they face in the industry, Moinak Kunango, who is in charge of the arrangement and guitar in the group, said, "The main challenge we face, is that we have to explain the difference between choir and chorus singing to people. We are easily confused with acapella groups."
Their dreams extend beyond borders, with aspirations to perform both locally and internationally. Ghaashphoring had even planned to participate in the International Choir Festival in Russia, but unfortunately, the pandemic disrupted their plans.
Exciting projects lie ahead for Ghaashphoring Choir in the future. It is currently working under the direction of the legendary Syed Jamil Ahmed, in his production "Ami Birangona Bolchi". The play will be staged every day from June 16 to June 30, at Bangladesh Shilpakala Academy. Additionally, they are preparing to release an EP, consisting of music videos from their previous album.
"We just want to keep singing. We want to give people relief from this chaotic world by singing," concluded Armeen.