Youth as social changemakers
Anindita won global recognition for her innovative startup that addresses the sanitation crisis in slums of Dhaka. Its potential to impact the sanitation crisis in cities of developing nations was unmatched. Unlike many competition winners that we see, her project not only looked good on paper, but she pursued it too. For two years she searched for support to launch the venture. Despite her empathy, passion and commitment, she was unable to develop her idea.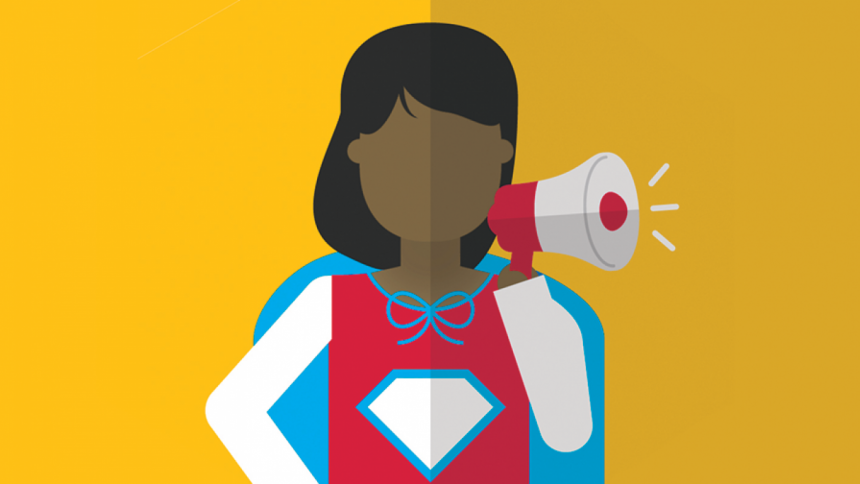 "A large donor office once told me that these (innovations) are for Western universities to build, we are here to only implement solutions," said Anindita. "There's no future here, I can't pursue it," she added with a sigh.
Anindita possessed the potential to create social impact. Her innovative solution to a persistent social problem could serve millions of people, locally and globally. Her talent, technical skills and business acumen were at par with her global competitors. The crucial difference was the access to opportunities and resources.
While her competitors abroad went on to turn their ideas into reality with the support of programmes and global platforms in the West, Anindita's idea faded. If she had been able to access appropriate support and guidance, her innovation would have found ways to scale and reach millions of people, changing the way the urban poor deal with sanitation problems.
Anindita's story of promise, potential and failure represents the reality thousands of young innovators face in Bangladesh. They can solve problems and inspire change but fail to access necessary resources, knowledge or mentorship to translate their abilities into actions. Their ideas win competitions and make news headlines, but rarely go beyond that. Lack of resources and support compel them to give up the path of social entrepreneurship even before starting the journey. They accept that entrepreneurship is not a future they are privileged to pursue in Bangladesh.
Where do ideas go to die?
Many would argue that a person who has the 'right' attitude and skills to start a business or create an innovation, will 'figure out' the way to scale his or her idea. After all, giant companies and organisations around us were not born inside "incubators".
But let us first clarify what is entrepreneurship and what is business. Entrepreneurs work with innovation and take greater risk of trying new things, while business-people replicate existing models to scale. While there is no standard checklist to differentiate ideas, it is wrong to interchange those two words.
Innovative ideas need greater nurturing at various stages in order to be translated into a take-to-market product. We need to recognise the challenges of the ecosystem and adapt. There needs to be an enabling support system and culture for entrepreneurship to flourish. The current startup mania has generated unsustainable practices: speedy fund disbursement, hackathons, competitions without any clear support plans for later stages, and 'accelerator' projects that lack accountability and growth. The popular attitude that revolves around these practices is that entrepreneurs need to kick start their ideas as soon as possible. Current programmes focus on building quick products over allowing for a long-term, holistic development of solutions.
What is left behind the trends and cultural fads are crucial realities: most accelerator programmes take entrepreneurs through workshops and handouts without in-depth support; pitch sessions provide tricks and tips too early in the game and the short tenure of these programmes mean entrepreneurs miss out crucial aspects of developing their ideas.
Since 2015, Toru studied 45 innovations that won various global recognitions. 33 of them failed to move beyond the idea phase. The 12 innovations that succeeded in building social enterprises shared a common characteristic—they all had access to supportive ecosystems that incubated their innovations and provided crucial support.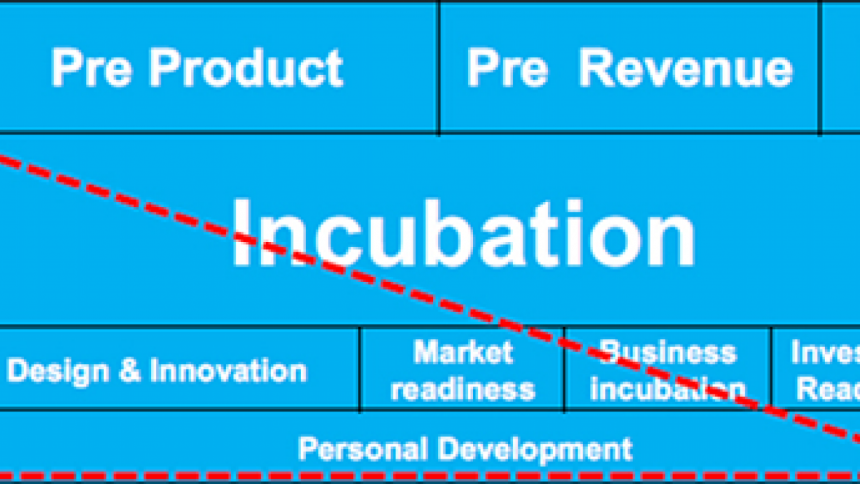 In the space between aspiring ideas, fast-paced accelerators and demanding funders, is the ecosystem vacuum where all ideas die a premature death. Toru has identified a stage between ideation and acceleration where ideas fade away due to a lack of infrastructure and support potential. All the competitions take place for either the 'idea' or 'scale' phase. The particular stage, marked with red, is what can be called the "Triangle of Death", where most of the ideas die before execution.
Ideas or innovations, no matter how well-executed, will always be at the risk of failing in the murky terrains of early-stage growth. Unfortunately, support from the local ecosystem is absent in the space of incubation, where it is most crucial.
Since independence, Bangladesh has given the world groundbreaking innovations such as the Oral Rehydration Solution, microcredit, and organisations like NewsCred; some other adaptive innovations have garnered success as well. However, the patience to build an innovation and the support system to develop it don't exist, despite being the prerequisites to solve local problems through local means. The world does not operate like an ideal Silicon Valley, where ideas are able to launch as soon as they are conceptualised. Moreover, there is a growing tendency of importing solutions and models from abroad, "copied and pasted" without adjustment to the local context. Such practices often end up wasting valuable funding which could be channelled in meaningful interventions.
Due to a systemic failure, our pool of talented local youth is unaware of the existing resources. This gives rise to a sense of insecurity and uncertainty regarding social entrepreneurship. Hence, the uphill climb towards social innovation or entrepreneurship in Bangladesh turns young innovators into lone warriors. They begin to wonder whether their efforts will go in vain within a system where social entrepreneurship is invisible and there is seldom guidance, support or inspiration in sight.
Hence, the big question is how do we inspire these instrumental, innovative young minds to pursue their dreams and ensure that the flame inside them doesn't die? The answer lies in understanding the ecosystem and identifying why we have not been able to build innovative enterprises.
The potholded ecosystem
The ecosystem in Bangladesh exists in a state of fragmentation. Through our research, we identified the following as gaps in the local entrepreneurial ecosystem. The challenges are deep-rooted in the system and we need to address these at both the micro and macro level.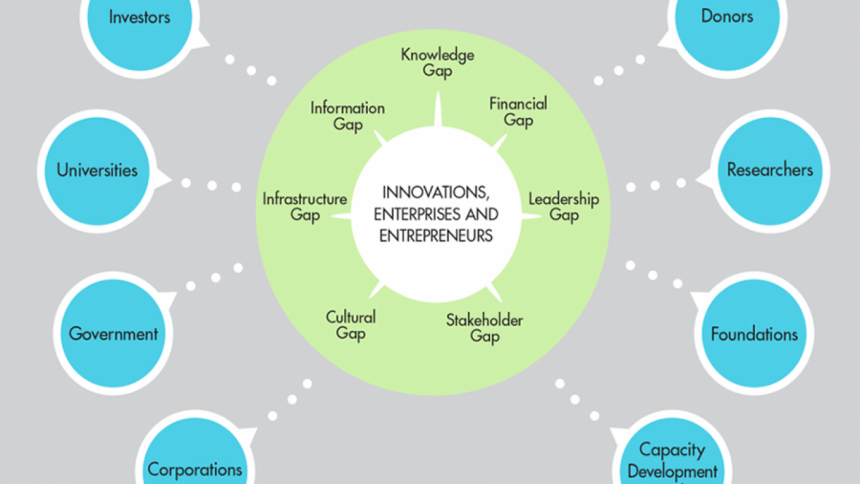 ● Knowledge gap: The education system is not built on greater analytical processes, multidisciplinary thinking and creative methods of problem solving. It often makes us solution makers over problem solvers. Furthermore, potential innovators often lack technical expertise, knowledge of product development, a multidisciplinary business approach, etc. There is a lack of systems thinking and no one is able to answer: "What problem you are solving?"
● Information gap: A lack of access to information at market access levels and a lack of linkage between academia and industry. An absence of immersion into the problems faced by communities, resulting in unrealistic innovations. 
● Infrastructure gap: The absence of an integrated support system stems from the lack of incubation and the lack of coordination between stakeholders in the ecosystem.
● Financial gap: There is no financial support for testing ideas (early stage grants) and negligible access to seed, angel, and other investment support.
● Stakeholder gap: While many institution and organisations are keen on supporting social innovations, they often operate in silos; the lack of a cohesive platform to bring these resources together is missing.
● Leadership and cultural gap: The lack of empathetic role models and a cultural mindset that leans heavily towards conventional, risk-averse careers discourage youth to pursue social entrepreneurship. Young innovators in Bangladesh do not have the exposure, access, and opportunities to international ecosystems.
In order to fill these gaps in the ecosystem and allow innovations, entrepreneurs, and their enterprises to grow, programmes need to go beyond one-off events and evolve according to the needs of potential entrepreneurs. Scaling talent and innovations cannot become a three-month crash course. Growing early stage enterprises means providing individual attention to build foundation and approaching growth through a holistic lens of support.
There is a dire need to revitalise the local ecosystem to inspire, incubate and celebrate social entrepreneurs who will become the changemakers of tomorrow—shifting policies and mindsets. In addition to frameworks of knowledge and skill-based support, growth requires collective effort. Cross-sector partnerships amongst the public, private and non-profit sectors, impact investors, philanthropic organisations and academia, can assist in boosting the arenas of opportunities for potential social innovators and entrepreneurs to enhance their skills and ideas.
To mobilise the ecosystem, it is necessary that we understand the role of key stakeholders. Each stakeholder possesses a plethora of knowledge and resources to contribute in enabling the entrepreneur through the murky terrains of growth, ensuring support from product development to investment.
Leaders, not just entrepreneurs
Bangladesh's economic trajectory is taking its course towards becoming a middle-income country. Despite home-grown successes, the mantle of social progress has been dependent on government, donor-funded and international NGO-led projects in a major way. With the depletion of donor funds in the near future, it is necessary to create the understanding that the path of imported social entrepreneurs, donor funds and accelerator programmes is unsustainable.
Bangladesh stands on a tightrope between progress and threat, with hundreds of challenges emerging as a result of the effects of climate change. It is necessary to enable the next generation of leaders who devote their talents and skills to creating inclusive communities and addressing our most immediate vulnerabilities.
Approximately 62 percent of Bangladesh's population is under the age of 30, a population of over 100 million who hold the potential to create social change. The idea behind equipping the 100 million should be to change systems of inequity. The entrepreneurial approach towards development provides a pathway to sustainability through the development of our own sources of income and the impact of home-grown local entrepreneurs. While the possibility exists, aspiring social entrepreneurs require access to customised support that would optimise their potential and address critical social problems. It is crucial to tap into the potential of the youth to unleash social impact—not only to help them develop into the leaders of tomorrow, but also to increase Bangladesh's participation in the global economy and lower dependency on unsustainable and standardised NGO solutions.
Social enterprises are for-profit businesses that address crucial challenges that society faces. It is not just a newer model towards inclusive growth that we need, but globally responsible leadership. These entrepreneurs of the future possess the potential to become leaders who impact policy and role models. We need to nurture them as entrepreneurs who are driven by values and not just profits.
It is not enough to create a functioning ecosystem for the possibilities and abilities of youth to grow. There is an increasing need to equip them with empathy, a quality without which social entrepreneurs cannot become the transformative agents of change.
The notion of "someone else will fix this" needs to change among the youth, they need to view social problems not as limits, but as opportunities to create a better way of life. Before we provide support in the form of funds, mentors, accelerators or incubators, we need to educate our children that it is unacceptable to tolerate social exclusion, that the presence of disparities and unemployment are issues that need immediate attention.
We need to instil in them the belief that ideas, solutions or services have the power to be transformative when they come from a place of empathy and of respect for others' identities, dignity and rights to opportunity.
The next wave of developmental progress will ideally come from the creation of transformative leaders. This possibility lies in the innovators, disruptors, and rebels who question the status quo and drive positive social change, whose potential is not limited to their innovations, but extends to their capability of being and becoming empathetic individuals, who with their innovative solutions to social challenges are driven to create sustainable enterprises that ensure inclusion in Bangladesh.
Our efforts should be focussed on the creation of a culture of possibility, where ideas do not die in the silence of inaccessibility. A future where local entrepreneurs are celebrated role models in the society and generations follow their path of inclusive growth. An ecosystem that is organically built to support the best minds of the generation. It is not important to produce a bulk of social entrepreneurs, but it is important to ensure access to those who chose to become one. There is a transformative force behind empowering a handful of empathetic leaders termed as the "force multiplier" whose enterprises will go on to impact lives of millions locally and billions globally.
The stories that shape the context of social entrepreneurship in the developing world need remodelling. The incoherent and lonely narrative of the lost entrepreneur needs to be replaced by a narrative of possibility. Thus, it is necessary to ask now more than ever: Do we let an innovation, which can change the lives of millions, die just because it was born in Bangladesh?
The writer is founder of Toru, a social innovation hub working with aspiring innovators. He is also a Global Shaper and was a part of Davos 50, a group of 50 emerging youth leaders selected by the World Economic Forum to attend its annual meeting in 2017. He can be reached @saifkamal on Twitter.