Editorial
Use of Section 57 against journalists
Endangers press freedom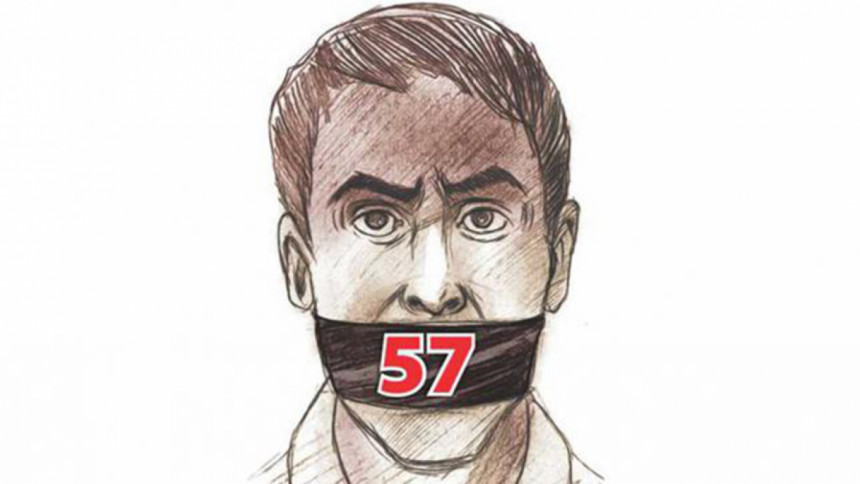 Despite the law minister's repeated assurance that Section 57 of the Information Communication Technology (ICT) Act would be scrapped, the controversial section remains alive and well and is being increasingly used to file cases against journalists. Now it is reported that, while Section 57 will be removed from the ICT Act, it will be incorporated in the new Digital Security Act, 2016.
The purpose of the Digital Security Act, 2016 is to address cybercrimes, and although we understand the need for such a law, experts have time and again expressed concerns about the broad and vague definitions in Section 57, giving scope for misuse and endangering freedom of speech and expression. And even though most countries around the world now have laws against cybercrimes, rarely do we see them being used to curb press freedom or having the scope to do so. 
Here, however, we see case after case being lodged against members of the media under Section 57 of the ICT Act based on flimsy grounds. For example, in the last four months alone, at least 21 journalists were sued under Section 57 of the ICT Act. It is a greatly disturbing trend, especially given that it completely contradicts the basic principles of freedom of speech, thought, expression, etc., that are integral to a democracy.
There are already numerous ways in which journalists can be held accountable should they make a mistake, whether intentionally or unintentionally. Thus, we must strongly protest the attempts to use Section 57 to silence them. We repeat our concerns regarding the suppression of information and urge the government to reconsider this Act, as it may seriously harm the credentials of our country.