Suffering high prices of essentials
Failure in managing grain stock buffer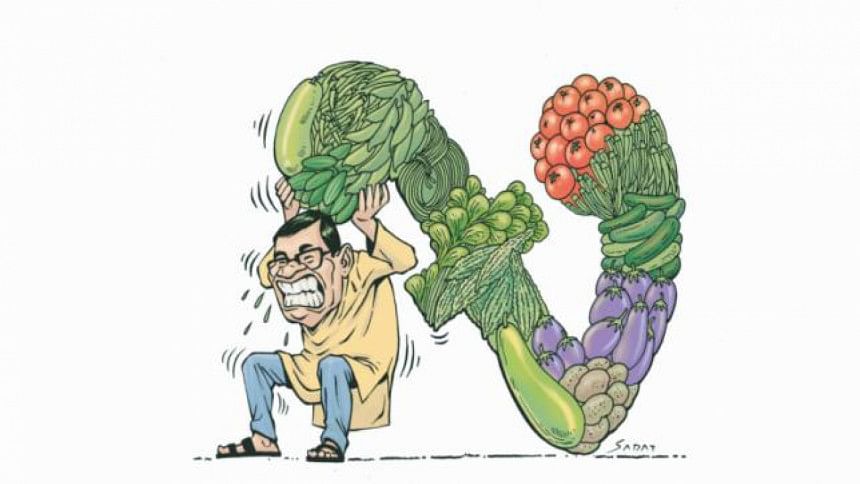 People in fixed income groups have been suffering the brunt of spiralling price of essentials. While traders love to blame rising prices of vegetables on supply shortage, adverse weather and the rains, the situation with the price of rice is a bit more complicated. Yes, this year's floods did pretty much wipe out at least one major crop in the wetlands of the Sylhet division. However, it is now common knowledge that the government granaries had been allowed to dwindle to dangerously low levels. By the time the imports kicked in, the effects of the shortages in the supply chain were sending shock waves at retail level where people go to buy their rice.
How does one explain the double-digit increase in prices of vegetables across the board so long after the floods and the rain have come and gone? And how is it that prices only seem to go up and not come down in our kitchen markets? The situation with the lower-income group may well be termed dire. Millions of working class people have income levels of around Tk 10,000 per month, particularly those who work in the readymade garments sector. With retail price of coarse rice trading at Tk 46-50 (as per latest Trading Corporation of Bangladesh data), it is little wonder that corners are being cut and putting food on the table becomes increasingly hard.
The ministry concerned has apparently imported white rice being sold through OMS and naturally there are not many takers among poorer people. People can't be expected to change their eating habits overnight. All in all a glorious mess, but one that needs rectification with direct government intervention to supply markets with grain to stabilise prices and enforce anti-hoarding laws.