Stop the Rohingya influx
Vigorous diplomatic efforts needed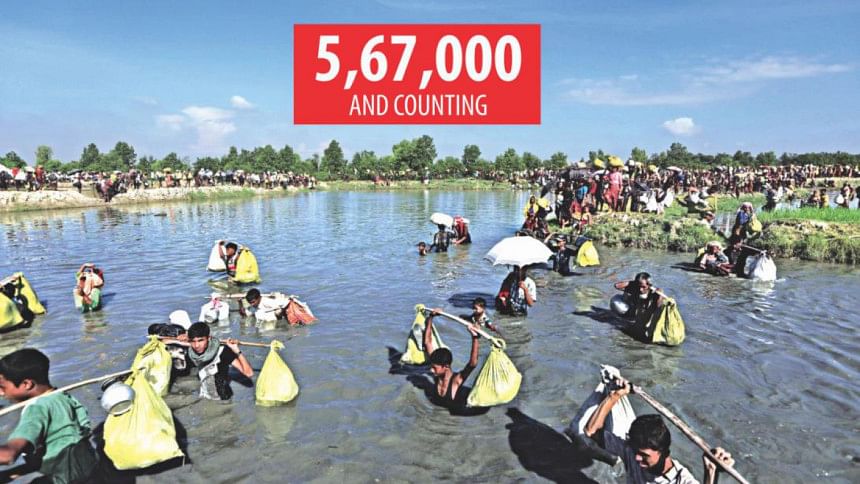 Some 30,000 Rohingyas have streamed into Bangladesh in the latest outflow of people from Myanmar into Bangladesh. As the numbers increase exponentially, so do the casualties. A dozen people or so drowned and many more gone missing when a boat headed for Bangladesh capsized in the Naf River. With more than half a million Rohingyas now uprooted from their homes in Myanmar, we need to do something different on the diplomatic front to stem this tide of humanity headed towards Bangladesh. 
The prime minister's five-point plan deserves to be considered seriously by the UN. It involves the immediate cessation of ethnic conflict that has been raging in the Rakhine State since August. The Myanmar government should refrain from halting of a UN fact-finding mission to that country to assess the gravity of the situation and of course the implementation of the Kofi Annan Commission's recommendations made earlier. 
The world community appears to be divided on the plight of Rohingyas. With two of the five permanent members in the UN Security Council refusing any motion to take decisive action against Myanmar's deliberate and forceful eviction of the Rohingyas, Bangladesh must take a more robust diplomatic move to convince world leaders to change their stance on the Myanmar government's actions. The plight of more than 500,000 people who have been forced from their homes cannot be ignored by the world community and the UN must speak with one voice that such atrocities will not be tolerated.