A novel way of extortion!
Stop abuse of animals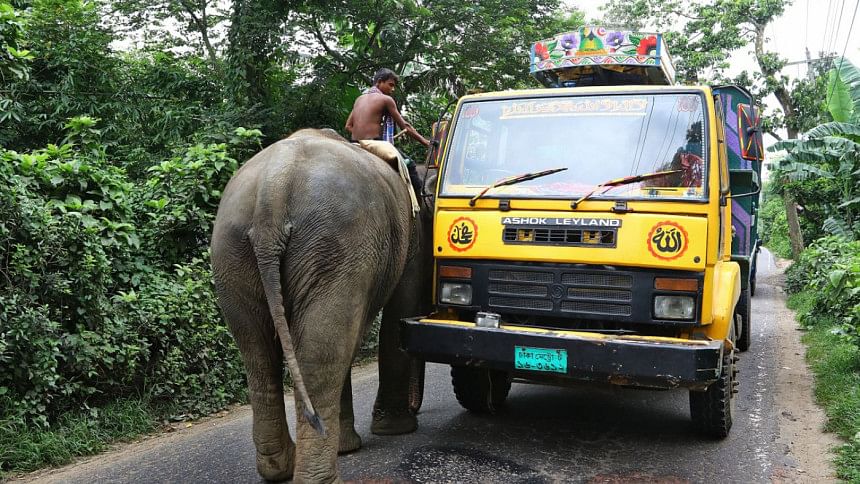 The use of an elephant to stop vehicles on the Gazipur-Pubail road to collect extortion money, as can be seen in a photograph published by this newspaper yesterday, although not uncommon in our country, should raise a number of questions. Questions that mostly concern animal rights. 
As mentioned, extortion using elephants has happened before even in Dhaka city. These animals have often been used to collect illegal toll from motorists and locals in cities, towns and on highways in the past. The method is quite simple. The mahout stops it in front of a vehicle, and the elephant's intimidating presence does the rest, even though such intimidatory tactics are in clear violation of the law of the land. But besides robbing people through extortion, those using elephants to commit robbery in this way are abusing the elephants as well. And this is also a matter that should concern the authorities.
After all, aren't the authorities responsible for taking care of the wildlife and animals in our country? Shouldn't these animals be taken into government sanctuaries, instead of being exploited like this by these extortionists? Then why don't the authorities take any action against the mahouts and stop the exploitation of these animals? It is not as if spotting an elephant is difficult, even for the authorities.
We urge the authorities to take the matter of animal rights seriously and we hope that they will bring an end to the exploitation of elephants to coerce the people to pay.