Women with small businesses facing hard times
They must be given financial assistance to restart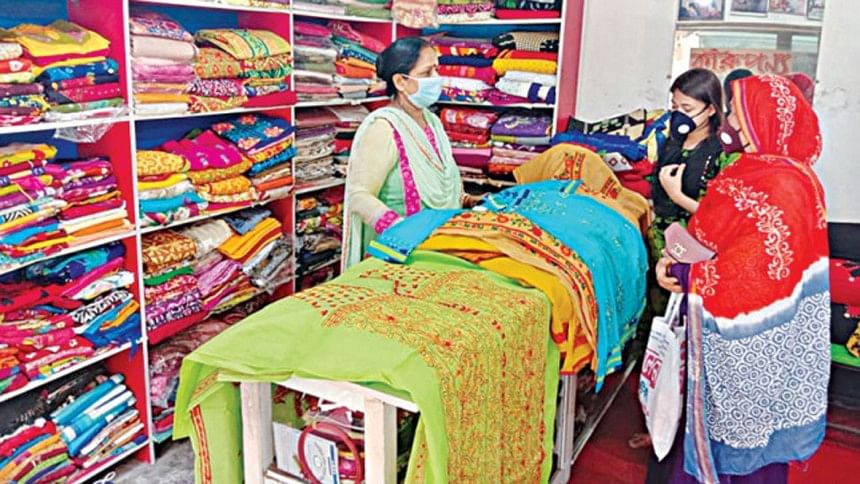 As the country's economy has been hit hard by the pandemic, unemployment and loss of income have become a sad reality for the women entrepreneurs running boutiques and around thousands of female artisans who hand-stitch clothes for these boutiques in the eight northern districts of the country. The entrepreneurs have not only counted heavy losses but are also worried that they might not recover the capital they have invested in the business as they have been unable to sell the clothes they had made targeting the year's two most lucrative selling periods—Pahela Baishakh in April and Eid-ul-Fitr last month. They could not pay the female artisans who work for their boutiques and have been struggling to pay rent, utility bills, and staffers' salaries for the last few months. The situation of the artisans is much worse as they are not getting new orders from boutiques after shops reopened and many fear that they could be without work and pay for months to come. 
Under the circumstances, it is not possible for these women entrepreneurs to restart their work as many of them had started their business with all their life's savings and some even borrowed money to invest. They need financial assistance to start over again.
The government should immediately provide the female entrepreneurs and artisans with financial support so that they can recover the loss and get back on their feet again. Bangladesh Women Chamber of Commerce and Industry should also provide them with the necessary assistance and find ways to help them sell their products online. Additionally, banks should also come up with plans to support them—they can provide them with loans at low interest rates so that they can restart their business. The government has been taking various measures to contain the fallout from the pandemic. We hope that it would also announce special incentives for the female entrepreneurs and artisans to save them from financial hardship.