Editorial
A woman mountaineer's dream shattered by reckless wheels
Separate cycle lanes are urgent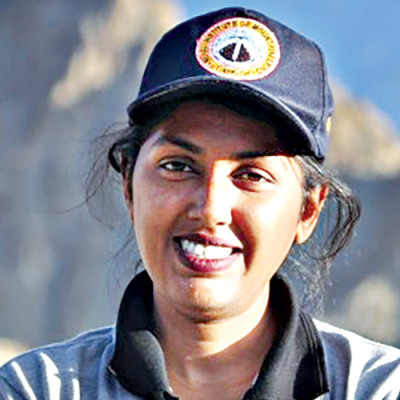 We are heartbroken at the death of a promising young woman, a mountaineer who was training to fulfil her dream of conquering the Everest. It was a horrific hit-and-run incident that happened on Friday while she was cycling on Lake Road, next to Chandrima Udyan. It is heartbreaking because in a patriarchal society where women with minimal ambition are pitted against all kinds of odds, Reshma Nahar Ratna pursued athletic endeavours with such determination. A schoolteacher by profession, her passion was to climb mountains and she had taken a basic mountaineering course from the Nehru Institute of Mountaineering in India's Uttarakhand. She scaled the Keokradong peak in Bandarban and the highest mountain in the Stok Range of the Himalayas in the Ladakh region of north India last year. She loved singing, running and cycling. We have lost an inspiring young woman whose contributions to our country have been cut short by a meaningless act of recklessness.
For that is exactly what it was—a complete disregard for human life that has also taken thousands of lives before Reshma. At least 168 people were killed and 283 injured in 149 road crashes across the country during the Eid-ul-Fitr festival and amid the shutdown, according to Bangladesh Jatri Kalyan Samity.Despite the passionate student movement for road safety in 2018, despite the unbelievable number of valuable lives we have lost, despite all the promises made by the transport authorities to reduce the number of road crashes, lives are being lost or maimed relentlessly every day. Even the lighter traffic during the pandemic could not save Reshma who was cycling along a road that is a favourite of many fellow-cyclists.
Although over the years there has been a significant revival of cyclists on the roads, the risks they take continue to be very high as there are no separate cycle lanes like in other countries. As we have seen the world over, cycling is considered the most environment-friendly, efficient mode of transport, especially for cities with heavy traffic, as well as an excellent form of exercise.
Reshma's untimely death has highlighted the need for separate bicycle lanes. The Dhaka North City Corporation's Mayor Atiqul Islam has given the nod for such lanes as proposed by a group of organisations and platforms that want to promote cycling and keep cyclists safe. We hope it will be approved and implemented on an urgent basis and cover the main roads of the city. Although it is a start, just having separate lanes will not keep cyclists safe. Reckless driving and utter disregard for road rules have to stop. The Road Safety Act must be enforced. Reckless drivers and transport owners who employ them or unleash unfit vehicles on the road have to be held accountable and punished accordingly. This can be possible only if there is political will to do what is right. In the case of Reshma's death, we expect the law enforcers to identify the minibus and its driver through proper investigation. Those responsible must be meted out appropriate punishment for this crime.