The dark side of e-commerce
No law to protect compliance, consumer rights and brand reputation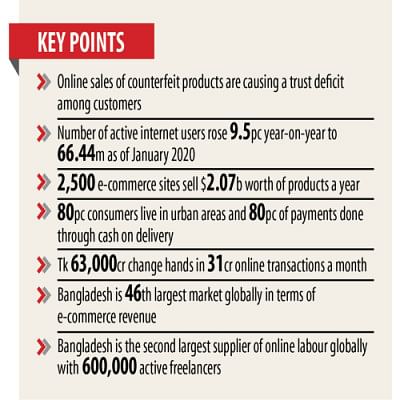 A silver lining of Covid-19, which has had a devastating impact on the national and global economy, has been the rapid and unprecedented rise of e-commerce platforms and online transactions in the country. Online grocery stores, in particular, have experienced double-digit growth, while other e-service and e-commerce industries have had to diversify their products in an attempt to stay relevant to their customers during the pandemic. According to news reports, Bangladesh now has 2,500 e-commerce sites selling products worth USD 2.07 billion, and it is the 46th largest in the world in terms of e-commerce revenue.  
While all of this is no doubt encouraging, a recent discussion of industry experts highlighted the existing road blocks to the sector's continued growth, in particular the challenges to ensuring consumers' rights and compliance in an unregulated e-commerce market. For one thing, crores of transactions are taking place on a daily basis, circumventing proper legal procedures and in violation of consumer rights. Unauthorised sellers are selling counterfeit products which are hurting the image of reputed brands, but on a broader scale, also shaking people's confidence and trust in the sector in general. Even bigger platforms, such as well-known superstores, are flouting the rules. There's also no proper mechanism through which to resolve consumer dissatisfaction in products or services. With e-commerce platforms mushrooming around the country, it's difficult, if not impossible, to monitor such illegal behaviours and practices and take appropriate action, especially as Bangladesh is yet to formulate an e-commerce act to protect consumer rights and brand reputation.
If the government is to truly implement its "Vision 2021" to build a "Digital Bangladesh," it must pay critical attention to the needs and challenges of the sector and formulate appropriate national policies and eco-systems for e-ecommerce to develop and flourish. As of now, e-commerce is catering to a predominantly urban populace, and if it is to reach the masses, the government and public sector must work together to develop financial, legal and digital infrastructures and invest accordingly for a future that is truly digital but also accessible. Consumers must be an integral part of the process and their concerns and trust deficits must be addressed accordingly if e-commerce is to be embraced by the public.