Stronger relations with Sri Lanka
It will foster deeper economic, diplomatic engagement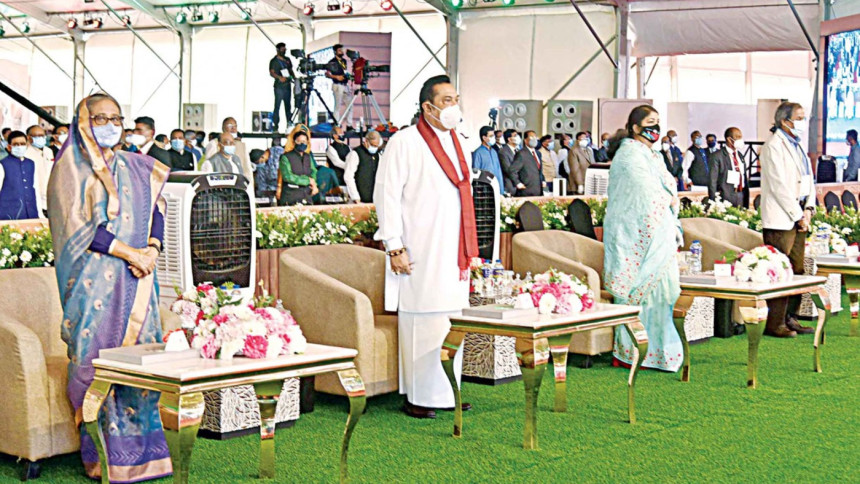 The Sri Lankan Prime Minister Mahinda Rajapaksa's visit to Bangladesh—to join celebrations marking the golden jubilee of Bangladesh's independence and the birth centenary of Bangabandhu Sheikh Mujibur Rahman—comes against the backdrop of a devastating pandemic and thus an increased awareness on both sides of the need for deeper engagement to combat its economic fallout. It was, therefore, good to see the spirit of cooperation and bonhomie that came from both camps. This signals their willingness to take their relations to the next level. We hope the visit, the second by a head of state since March 17, as part of a string of state visits and virtual engagements planned for the 10-day celebrations, will usher in a new era of trade and connectivity which will be beneficial for all.
Bangladesh already enjoys warm relations with Sri Lanka, connected mainly through air and maritime routes as well as sharing platforms common to the region, such as the South Asian Association for Regional Cooperation (Saarc), the Bay of Bengal Initiative for Multi-Sectoral Technical and Economic Cooperation (BIMSTEC), and the Indian Ocean Rim Association (IORA). Sri Lanka is one of the first countries to have established formal diplomatic ties with Bangladesh after the latter's independence. Both countries have gone through remarkable changes since, but their ties have grown from strength to strength. That said, there is still potential to further deepen existing ties under the present circumstances. Both countries can actively pursue bilateral agreements by focusing on strengthening cooperation in key sectors, a priority underscored by both Prime Minister Sheikh Hasina and her Sri Lankan counterpart. According  to media reports, the two premiers agreed on Saturday to deepen their  cooperation in various sectors, especially exploring newer avenues in trade and commerce, as the bilateral trade of the two countries is much lower than its potential. A number of MoUs were also signed at the  meeting held at the Prime Minister's Office.
With Covid-19 still ravaging the global economy and a resurgence of interest of late in reviving old platforms like Saarc, there is scope for further extending the areas of connectivity. Bangladesh can keep up the momentum by, for example, working towards signing a free trade agreement with Sri Lanka, among other countries, fostering deeper linkages with its garments industry, incentivising FDI from the country, as well as promoting itself as a friendly tourist destination to the Sri Lankan people. The possibilities are limitless if the momentum can be used properly. We hope the government will be able to maximise the opportunities of multilateral engagement as occasioned by the twin celebrations of Bangladesh to further advance its economic goal in the coming days.