editorial
Rohingya crisis—what is OIC's role?
Time to show its solidarity with Bangladesh and the Rohingya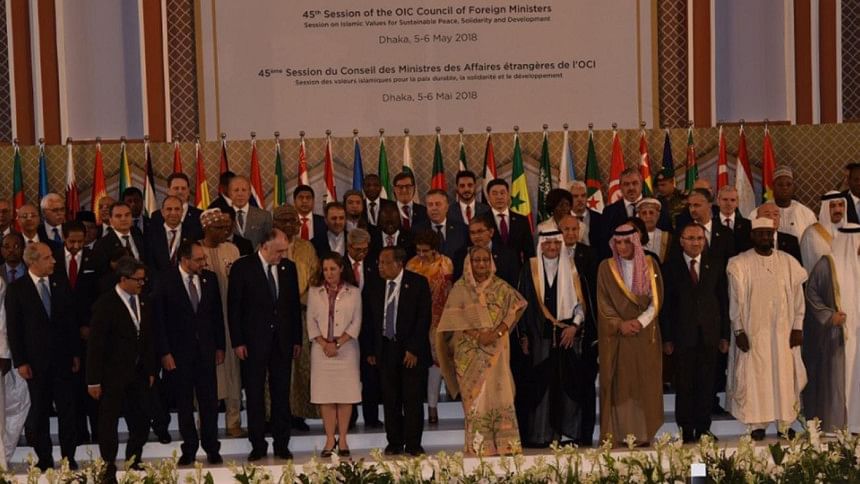 We appreciate the PM stressing on the need for the Organisation of Islamic Cooperation (OIC) to play a pivotal role in forging unity of the Muslim community and stopping the conflicts among Muslim countries, at a recent meeting with visiting Iranian Foreign Minister Javad Zarif. We do however, believe that the OIC has a wider role to play especially when it comes to the Rohingya crisis, which Bangladesh has been forced to deal with despite having its own constraints. The influx of over a million refugees into a land already burdened with limited resources and a huge population, has taken a huge toll on Bangladesh.
Hence, we cannot help but be puzzled by the lack of interest from the OIC in helping their member Bangladesh to resolve the crisis. The OIC is the second biggest international governmental organisation after the UN, with membership of 57 states from four continents. It represents the Islamic world and seeks to protect its interests. As per the OIC charter, it aims to preserve Islamic values, safeguard and defend national sovereignty and independence of its member states. If the OIC is truly concerned about looking out for Muslims all over the world, why is it so indifferent when it comes to the Rohingya Muslims who have suffered the worst kind of persecution in the land that they once called home? Why is Bangladesh left in the cold to manage such a huge crisis created solely by Myanmar?
In the last OIC summit our PM sought support from the (OIC) member states to launch the Rohingya case at International Court of Justice (ICJ) with voluntary funding and technical help to ensure the legal rights of Rohingyas and address the question of accountability and justice. Unless the Rohingya are guaranteed safe and dignified return to Myanmar, it will not be possible to repatriate them and this we have witnessed in the second failed attempt at repatriation. Myanmar has not provided any proof of their willingness to create a conducive environment for the Rohingya refugees to return.
The OIC member states can play a significant role in creating the necessary pressure on Myanmar to comply with the basic conditions for voluntary repatriation. And if it continues to ignore this crisis which is debilitating one of its fellow members and humiliating and destroying the lives of Muslims, how can it continue to have any relevance as an organisation that claims to safeguard dignity and rights of the Ummah and strengthen solidarity and cooperation amongst peoples of the Muslim world?