Factories' disregard for environment
Uncontrolled disposal of waste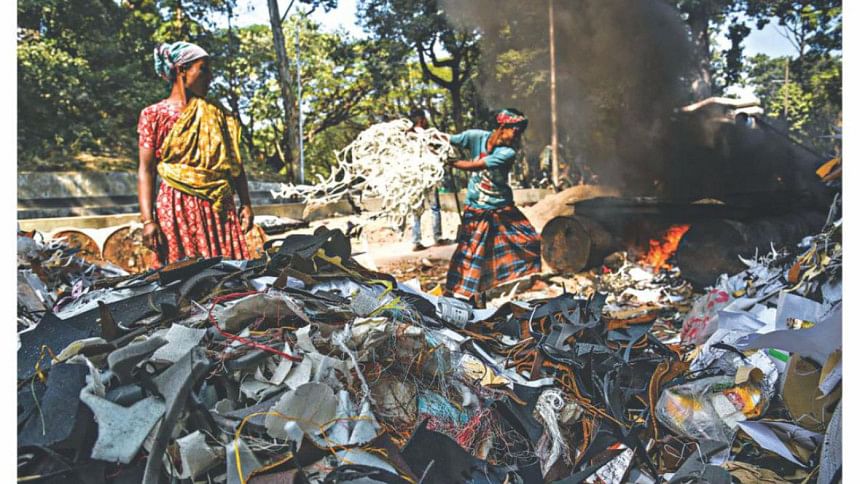 While the garment and leather industries have immensely contributed to the national economy, their waste disposal mechanism remains a grey area. A photograph published in this newspaper on January 24 demonstrates why, as it shows waste materials being burnt as fuel to heat bitumen for road repair at Chittagong's CRB Satrasta Crossing.
It is not a new phenomenon in the port city. In Bakalia area, for example, nearly 50,000 residents used to depend on garment waste as cooking fuel. Burning these toxic by-products not only creates a suffocating situation in the neighbourhood, but also poses a serious threat to public health and environment.
This raises a broader question as to how garbage and waste materials are disposed of by the garment and shoe factories. Having a proper waste disposal system should be a prerequisite for establishing such a factory. In the abovementioned case, it appears that some factories might have sold their waste, or simply thrown them away, instead of ensuring their safe disposal as per the existing rules of disposal of these by-products.
We call on the ministries of industries and environment to make sure all licensed factories comply with their environmental obligations when it comes to waste disposal. Errant factories should be penalised severely. There should also be a comprehensive monitoring apparatus by these ministries to ensure compliance of the rules. The government's sloppy and hands-off approach may benefit the industries in the short term, but the public will suffer heavily in the end.