6 doctors, 68 jails!
State of prisoners' healthcare appalling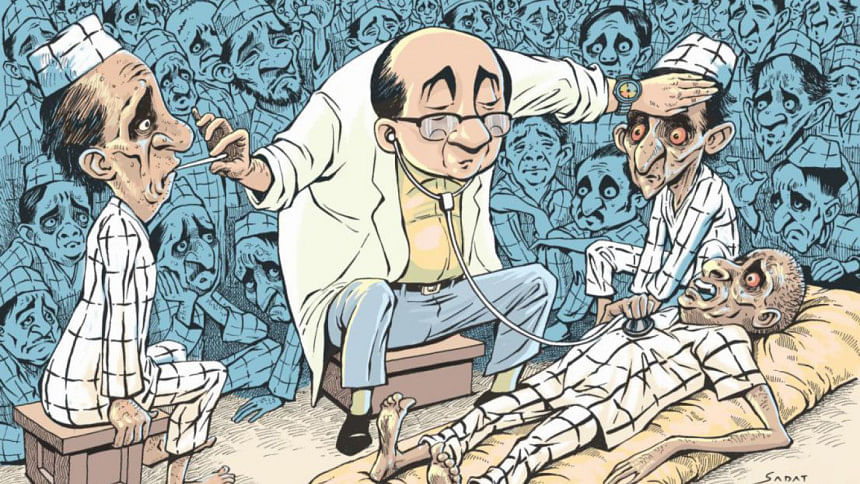 We have 70,000 inmates and only six doctors to look after them. Although there are 112 posts for prison doctors lying vacant, the state appears to be happy with the pool of just six doctors. Money literally talks in prisons. An investigative team from this paper has unearthed very disturbing facts about what goes on in prisons when it comes to medical treatment. On the one hand, the ordinary inmates suffering from serious ailments may never get to see a doctor or visit the prison hospital and some threaten to commit suicide to get a chance to get admitted to the jail hospital, while on the other, we have the "privileged" class of convicts. These are the hardened criminals, crime bosses or members of the political elite for whom all services are available for a "fee". 
Jail authorities appear to be more powerful than the ministry of health. A recent probe by the concerned ministry found that a certain cocaine dealer was recently admitted to Chittagong Medical College Hospital despite having no major physical problems. He was subsequently transferred back to prison. There have, however, been several cases of "privileged" convicted prisoners who avail medical services either in the prisons where they are incarcerated or get transferred to public hospitals and remain "sick" for weeks or months on end.
An investigation by this paper has found detailed information about how much each service costs a prison inmate and this depends on the duration of his stay at the hospital. It seems that medical services in jails are for the high and mighty prisoners only, not the general criminals. The taxpayers need to know as to why, despite so many exposures by both media and the ministry itself—people continue to enjoy facilities that grossly violate jail rules.