20 years of CHT Accord
Remove impediments to full implementation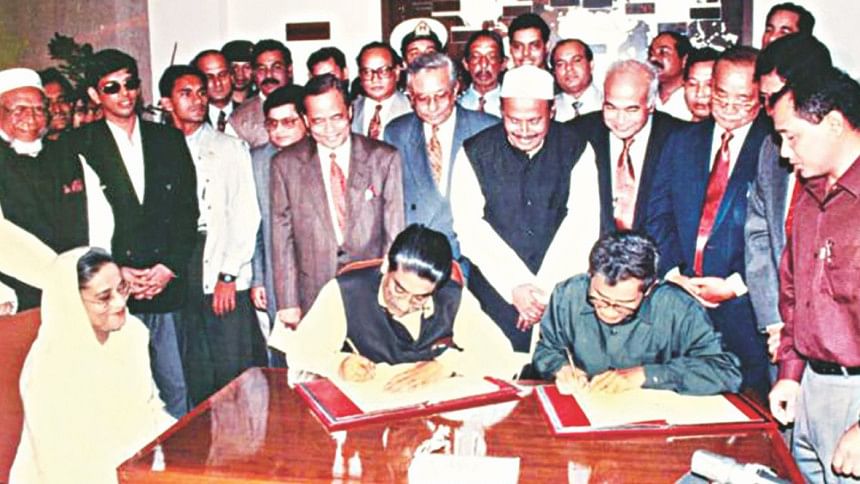 It has been 20 years since the Accord was penned between the Shanti Bahini and the government of Bangladesh, but still one hears a murmur of frustration in the Hills over the fact that not all the provisos of the Accord have been fully implemented. 
According to the PM, 48 of the conditions have been fully, and 15 of them partially, implemented. We would like to submit that in matters such as this, going by percentage terms may not present the actual picture of the situation as in this case. Although each one of the proviso is important, the more sensitive and complicated ones are those that become the reason for further disgruntlement for the aggrieved party.
In this regard the biggest sticking point is the issue of land. This is the most important issue to the Hill people as is the issue of land to anyone else in the country. And people fight and die for the piece of land that they call his or her own. Therefore, implementation of all other conditions will pale into periphery if this is not resolved very soon.  
We understand that there might be matters that are creating impediments to the full implementation of the agreement, which might not have been foreseen while drawing up the Accord. But we also believe that there can be no problem that cannot be resolved through dialogue amongst the stakeholders. The governments hould take cognizance of the frustration of the Hill people and undertake measures to remove the impediments or devise ways around those by taking the Hill people into confidence. 
The resentment in the Hills is understandable because 20 years is too long a time to wait for full execution of an agreement. And the state cannot be seen to be soft pedaling on, if not abdicating, an issue that it had committed to a section of its citizens to fulfill.