Ways to increase energy efficiency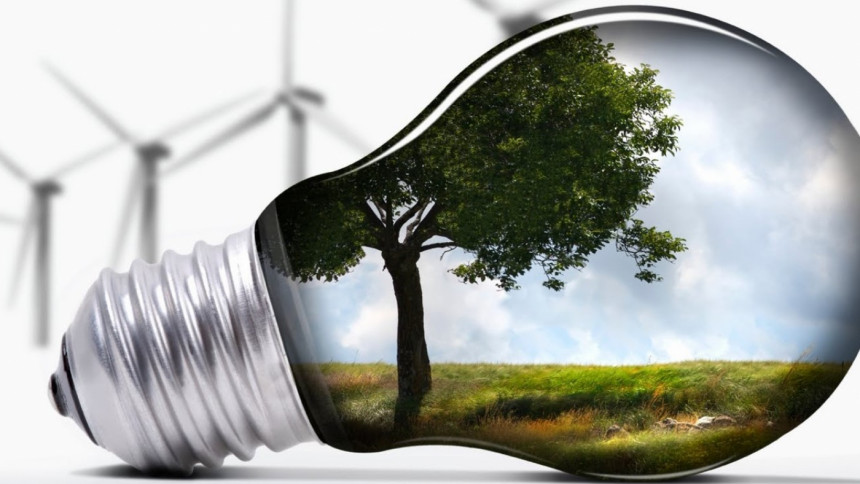 The role of energy efficiency (EE) in fostering economic growth and energy security has only come to the forefront in the last two decades. Economic growth has always been linked to increase in per capita energy consumption with little regard to how effectively the energy is utilised. Concerns over global warming and the need to reduce greenhouse gas (GHG) emissions have forced mankind to consider decarburisation of society through lowering of fossil fuel use. The cornerstones of GHG emission reduction are EE and renewable energy. Whereas renewable energy still remains an expensive proposition for developing countries, EE is a win-win option in most cases. In developing countries where EE is low, projects that increase EE can have a positive return on investment. In most cases EE projects have a payback period of less than five years, and in most cases it is between one and two years if low interest rate financing is available.
The reasons EE is important for Bangladesh are: (i) domestic natural gas is depleting very fast; (ii) despite having significant deposits of high quality coal, the country is unable to mine it; (iii) industries are prone to using low efficiency inexpensive equipment and devices; (iv) extremely low level of maintenance of industrial equipment; (v) factory upgradation is only undertaken when some sort of failure or shutdown occurs; (vi) the apex agency called Sustainable and Renewable Energy Development Authority (SREDA), set up to oversee EE, is yet to undertake any concrete measures; and (vii) financial institutions are not aware of the investment possibilities in EE projects.
From the long list of barriers to the efficient use of energy, it is clear that Bangladesh is lagging behind in the deployment of energy efficient technologies. The task of supplying energy to fulfill the requirements of 2021 and beyond is enormous. A BUET study points out that over 90 percent of the fuels required to produce electricity in 2030 will have to be imported. If 20-25 percent EE can be achieved across all sectors then the primary energy import requirement for power generation can be brought down to 70-75 percent, thus saving the country billions of dollars. In fact, even meeting the 70 percent import bill may prove to be an onerous task let alone the 90 percent requirement. The monumental task ahead in the event that no significant quantity of gas is discovered and our coal is left underground can hardly be overemphasised. To what extent the government is aware of the enormity of the task is difficult to gauge. What can certainly make the task of primary energy supply more manageable is the efficient use of energy.
A master plan to pursue the goals of SREDA has been formulated through the funding and technical assistance of JICA. The Master Plan (http://sreda.gov.bd/files/EEC_Master_Plan_SREDA.pdf) sets out the following three principal areas of action: (i) standardisation and labelling; (ii) energy audit and energy managers' programme; (iii) building EE programme.
The first programme deals with STAR labelling of energy consuming devices and equipment such as refrigerators, air conditioners, motors, etc. The second programme is about energy audits in energy intensive industries. Through this programme industries will learn how to conserve energy and how to design programmes to improve EE. This programme also requires that all large energy consuming industries must have an energy manager. To begin the programme 110 industrial establishments have been identified in the Master Plan. These industries will also be instructed to improve their Specific Energy Consumption (SEC) and achieve a benchmark set for that industry category. The last programme deals with improving EE of commercial buildings. Since most commercial buildings are air-conditioned these days, the focus is naturally on cooling.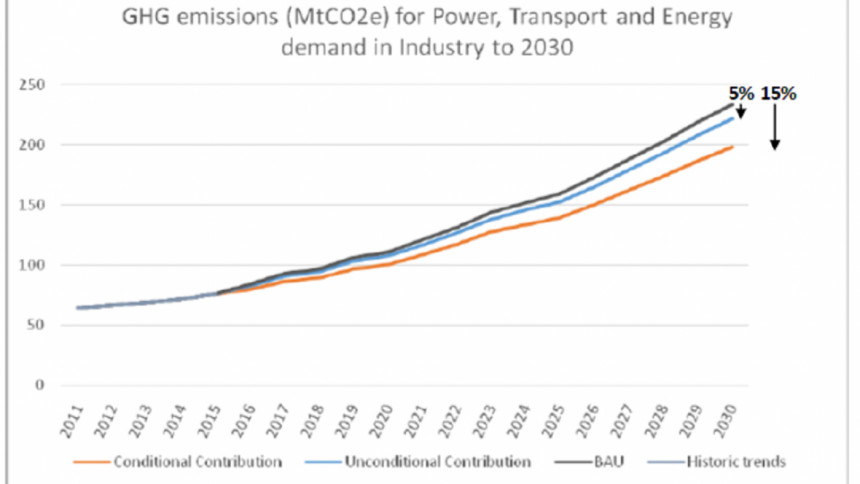 Due to lack of adequate funding and manpower, SREDA is still struggling to get any of the programmes started. Thus the very good Master Plan lies idle. After an initial burst of activity in the standardisation and labelling programme, where five devices were standardised and provided with STAR rating, the programme has been halted due to lack of funding. The audit and managers' programme is still in the design phase, and no activity has been planned in the building programme. A similar agency in India, known as Bureau of Energy Efficiency (BEE), was set up more than two decades back. BEE has been able to develop the full culture of EE in India.
The most recent study dealing with EE in Bangladesh is the Intended Nationally Determined Contributions (INDC). The INDC, which is a GHG emission reduction study, dealt with only three sectors - power, industry and transport. It found that up to15 percent reduction (see Figure 1) in the country's total GHG emission or fuels can be achieved if a variety of measures are undertaken in these three key sectors.
In the power sector, INDC considered repowering, clean coal technology and renewables. In the short- to medium-term there are also prospects of upgradation of the transmission and distribution infrastructure. The principal barrier identified in supplying reliable electricity is the limitation of the distribution network. Many REB PBSs have seen no investment since these were set up in the eighties. As a result, the technical distribution losses are increasing day by day. In the long run, however, so much new infrastructure would have to be built that the old infrastructure may constitute a small fraction of the total. In that case the EE improvement issue would be trivial, but all that depends on the government actually achieving its 2021 and 2030 goals and targets. If these do not materialise then the old infrastructure would be heavily used. In that case EE improvement of the transmission and distribution infrastructure could play a big role.
In repowering, INDC has advocated replacing the steam turbine power plants by Combined Cycle Gas Turbine (CCGT) power plants. CCGT power plants using the same quantity of gas can give 50-60 percent more electricity compared to the existing steam turbine power plants. In the year 2014-15, the overall efficiency of all power plants in Bangladesh was 33 percent. This is an extremely low value considering the fact that gas is the main fuel for power generation. Even if the oil and coal fired power plants are excluded the efficiency of the gas fired power plants is only slightly above 40 percent. The best performing CCGTs can reach an efficiency of 58 percent, with an average value of 55 percent. For intermediate and peaking loads gas turbines of efficiency around 40 percent are commercially available whereas those in Bangladesh have an average efficiency below 25 percent.
Improving the efficiencies of old power plants can save a large quantity of natural gas every year, and thus make the task of supplying fuels to meet the 2021 power generation target much easier. The average efficiency of power plants in Bangladesh can easily be enhanced by 5 percent by 2021.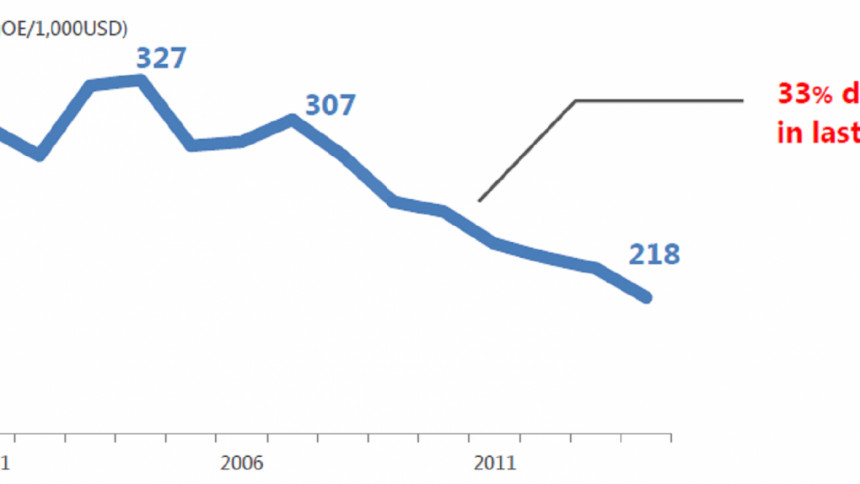 The increases in the prices of grid electricity and gas for captive generation coupled with the shortage of gas supply have made industrialists aware of the need to conserve energy and achieve greater EE. A recent JICA study has found that the Energy Intensity (EI) of the economy measured as primary energy consumed divided by GDP has recorded a 33 percent decrease as can be seen from Figure 2.
This clearly indicates increases in EE. However, unfortunately, it also indicates that the growth in the economy is occurring in only non-energy intensive industries such as garments. If this trend continues, it is highly unlikely that Bangladesh will reach its declared power generation goal in 2021. An analysis of historical EI (kgoe/1000 USD) of several countries has found that during fast economic growth period of most countries, the EI increases before reaching a plateau. As the country begins to achieve developed country status, the EI starts to fall and the economy shifts from manufacturing and production to services.
The fall in EI resulting from EE improvements is certainly a good thing even though in Bangladesh it is the result of shortage of gas supply to industries. In recent years two major things in terms of improving EE has been taking place in Bangladesh. One is the use of efficient boilers and the other is the practice of cogeneration. An audit of several industries found that many industries now have boilers that are more than 80 percent efficient. A study conducted by Titas Gas Distribution Company five years back had found boiler efficiencies as low as 65 percent, with the average around 70 percent. The scope of boiler efficiency improvement still exists because the average efficiency, which is now around 75 percent, can easily be increased beyond 80 percent. Since boilers consume more than 50 percent of all the gas going to industries (not including gas for captive generation), concentrating on boilers is a very prudent approach. Combustion control and increased insulation are the two simple measures that can be applied to most boilers. For large sized boilers adding condensate recovery and return can greatly enhance efficiency. A concerted effort undertaken by SREDA in conjunction with TITAS and Bakhrabad Gas Companies can greatly improve the situation.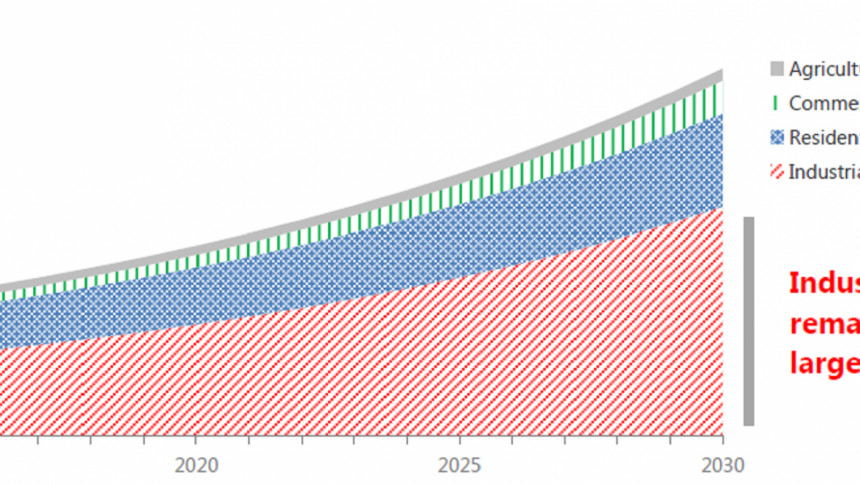 Cogeneration is the other option that can be widely promoted. Cogeneration, as the name implies, is the simultaneous production of heat and power (see Figure 3). Bangladesh is unique in having a large quantity of captive power generation. This is extremely rare because in most countries industries are compelled to buy power from the grid. The shortage of electricity and highly unreliable supply in the mid-nineties forced the government to allow captive power generation. The low price of gas and tax-free import of gas generators fuelled the growth of this sector. Today more than 2000 MW exists as captive power in industries. The government is failing to reverse this decision because it is not able to supply reliable electricity.
The generation of power in situ affords a great opportunity to practice cogeneration. At present more than 80 percent of the captive generators are venting their flue-gas directly to the atmosphere. If 35 percent of the heat is assumed to be converted to electricity, then 65 percent is wasted. A technique known as waste-heat recovery allows this wasted heat to be put to good use. As much as half of the wasted heat can be recovered in the form of steam, which can be put to various uses such as process heat or cooling through the use of an absorption chiller. In effect waste heat is free energy. Cogeneration can save a lot of gas presently used in these industries for boilers and chillers. The severe shortage of gas has compelled many on their own initiative to practice cogeneration. More than 200 waste heat boilers and another 200 absorption chillers have already been set up. Potential to set up at least similar number of cogeneration projects still remains.
The other remarkable inefficient industrial sub-sector is the urea fertiliser industry under Bangladesh Chemical Industries Corporation (BCIC). Under BCIC four very large inefficient urea fertiliser plants are in operation. The government has achieved a great feat in setting up of a new fertiliser complex at Fenchuganj replacing the old plant. Another effort is underway to replace the Ghorasal and Polash urea fertiliser plants. Similar efforts must be undertaken to replace the Ashuganj, Chittagong Urea Fertilizer Ltd (CUFL) and the Jamalpur plants. The new urea fertiliser plant of capacity 1800 tonnes per day is an efficient plant. It consumes around 25,000 cubic feet of gas per tonne of urea, whereas the older plants consume more than 35,000 cubic feet per tonne. The old but efficient private sector plant called Karnaphuli Fertilizer Company Limited (KAFCO) also consumes around 25,000 cubic feet per tonne. Despite the fact that KAFCO is more than 20 years old, it is still able to match the performance of the new efficient Shahjalal plant. This excellent performance has been possible because of the high level of maintenance and plant upgradation culture that is practiced there. The public sector urea plants are unable to match KAFCO's scheduled maintenance and equipment replacement at the end of service life practices to keep efficiency level at or above design values. Being a private sector plant, it can take quick decisions and adequate budget for repair and retrofit is readily available.
As can be seen from Figure 4 of primary energy demand growth of four sectors, the industrial sector's contribution in 2030 is more than 50 percent. If efficiency improvement of boilers and the fertiliser industries along with cogeneration are undertaken then at least 20 percent of the industrial demand can be lessened.
The writer is Professor, Chemical Engineering Department, BUET and advisor to the government on energy efficiency and greenhouse gas emission mitigation.