No-one safe as sport becomes growing magnet for extremists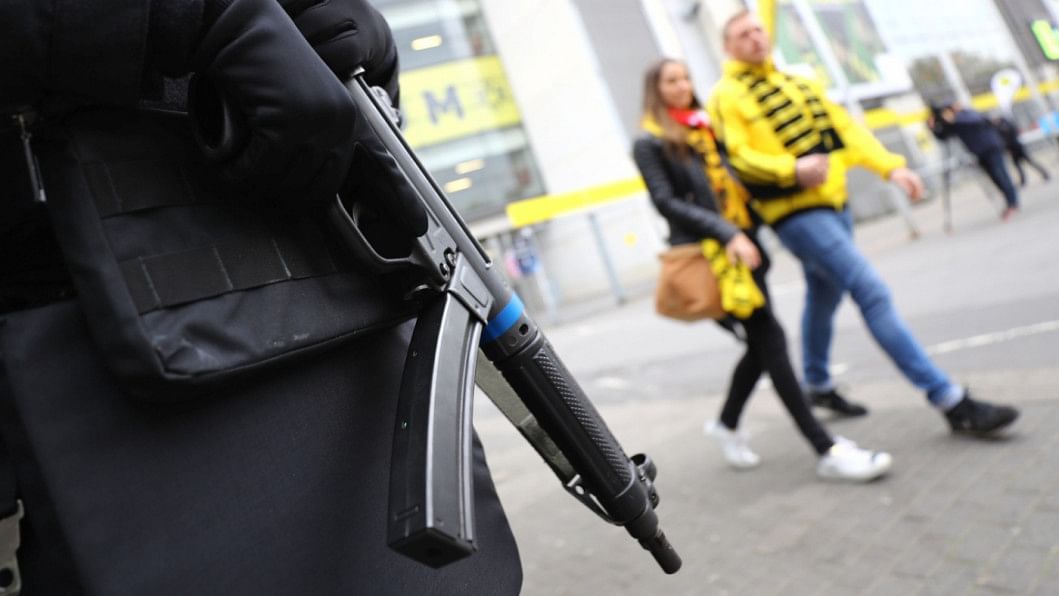 Three bombs hidden in a hedge that exploded when the Borussia Dortmund Champions League team passed by proved that no sporting event is now safe from a militant attack, experts said.
With the Boston marathon looming on Monday -- four years after it was the deadly target of Chechen-American brothers -- and sprawling events such as the Tour de France and next year's World Cup in Russia to follow, security authorities everywhere are taking a new look at protecting athletes and spectators.
Dortmund's Spanish defender Marc Bartra and a police escort rider were injured in Tuesday's blast. Strips of metal were hidden in one bomb and the toll could have been much worse.
"As sporting events are now globalised and the focus of attention, terrorist groups are tempted to stage an attack," said Pascal Boniface, director of the Institute of International and Strategic Relations in Paris and a member of the French Football Federation's ethics council.
"It is a threat that now hangs over all sporting events, whatever they are and whenever they are. So security budgets are sure to go up," he told AFP.
The British government has given the country's police force 1.4 million pounds (1.6 million euros/$1.7 million) to boost security for the Champions League final to be held in Cardiff on June 3.
Police announced after the Dortmund attack that vehicle access to many parts of Cardiff will be severely limited on the day.
The Tour de France will start in the German city of Dusseldorf -- just 70 kilometres (42 miles) from Dortmund --- on July 1. The cycling extravaganza that draws more than 10 million spectators to line roads over 21 days has become a security headache.
Repeat targets
More than 23,000 police and security forces were used to protect last year's Tour. Twelve police accompany each team during the race over 3,500 kilometres of exposed roads.
The race came after the November 2015 Paris attacks in which 130 people died, and security had to be ramped up further following the Nice attacks on July 14.
Terrorism hit mainstream sport with a powerful first punch at the 1972 Olympics when a Palestinian group killed 11 Israelis and a German policeman in a hostage siege in Munich.
But it has regularly surged again since:
+ Three people were killed when separatists attacked the Togo football team bus ahead of the 2010 Cup of African Nations.
+ Six Pakistani police and two civilians were killed when gunmen opened fire on a bus carrying Sri Lanka's cricket team on March 3, 2009 in Lahore.
+ Three suicide bombers targeted the French national stadium during the Paris attacks. France were playing Germany at the time.
"Securing any major football match or major international event is more complex than it has ever been," said Andrew Cooke, director of security operations at the International Centre for Sport Security (ICSS) in Doha, Qatar.
"It requires significant planning and preparation from many different countries and authorities," he added.
"Events over the last 24 hours have also highlighted that it is very difficult for any major event to 100 percent guarantee the safety and security of teams, players and other VIPs when transferring between different venues."
Cooke said governments and clubs have had to invest in new technology to stop weapons getting into stadiums and and ensure better intelligence on potential threats.
"The response we saw from the clubs (Dortmund and Monaco) and the (German) authorities involved was highly-organised and should provide many important lessons for major sport events in the future."
That means more searches to get into stadiums, more blocked roads around them and bigger queues to get into events that spectators have paid big prices to get tickets.
Britain's Football Supporters Federation has called for restraint.
"It's important to supporters that they are able to attend football in safety but it's equally important that security measures are proportionate," a spokesman said.
"One hundred per cent safety can never be guaranteed. It's vital that terrorists do not succeed by disrupting this much-loved part of our way of life."