Attacks on journalists covering city polls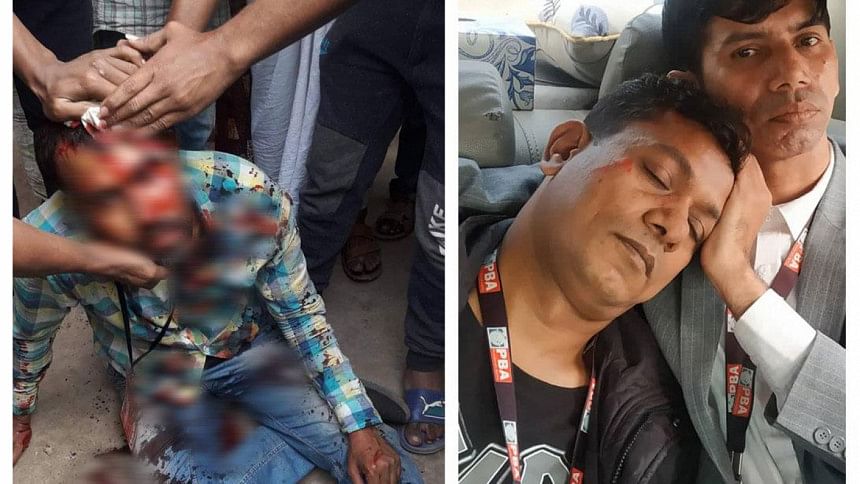 Mostafizur Rahman Sumon, a crime reporter of online news portal Agami News, was attacked while taking photos of a gathering of Awami League activists at Zafrabad in Mohammadpur this morning.
Followers of AL-backed councillor candidate Md Hossain Khokon hit him in the head with a sharp weapon and snatched away his phone, according to witnesses and fellow journalists.
Sumon was first taken to the Sikder Medical College Hospital and was later transferred to Dhaka Medical College Hospital.
He got six stitches on his head and was barely speaking, according to Inspector Bachchu Mia, in-charge of DMCH Police Outpost.
While visiting Banani Bidya Niketon School and College in the afternoon, Inspector General of Police Mohammad Javed Patwary called upon his officials to take necessary actions regarding the incident without delay.
Talking to reporters at the hospital, Sumon said he was attacked when he was taking photos of a procession brought out by AL followers of ward no-34 on Sadeque Khan Road in Mohammadpur's Rayerbazar around 11:00am.
Members of the procession, who were mostly 18 to 20 years old, were carrying firearms, he said. "They pushed me on the road and beat me up as if I was a dog," he added.
"I want to work independently. We are working for the sake of the country. We want assurance that we can do our job without resistance," he said.
A correspondent of Press Bangla Agency (PBA) was also beaten up while covering city corporation elections at Nikunja Jan-e-Alam School around 10:30am, Ibrahim Sarker, a special correspondent of the agency, said.
PBA Special Correspondent Zisad Ikbal was attacked by Awami League activists when he entered the centre following information on irregularities, Ibrahim told The Daily Star.
The photojournalist was taken to Kurmitola Hospital in Dhaka with critical injuries, he said.
Followers of AL-backed councilor candidate attacked Chief Photographer of Bangla daily Kaler Kantha, Sheikh Hasan, according to SM Azad, chief crime reporter of the newspaper.
Sheikh Hasan was attacked while performing his duties at Madartek School under ward 4 of Dhaka South City Corporation in the morning.
Followers of councilor candidate Alhaj Md Jahangir Hossain physically assaulted him and took away the memory card of his camera, the daily reported quoting Hasan.
Meanwhile, AL supporters snatched the mobile phone of a reporter of The Daily Star, Foisal Ahmed, as he was taking a video when AL supporters were forcing voters to vote for boat at Ideal School and College in Rampura after entering the secret voting room, according to the journalist. After a few minutes, they returned the phone and left the place.