Wanderlust reading: Books for your vicarious travelling this summer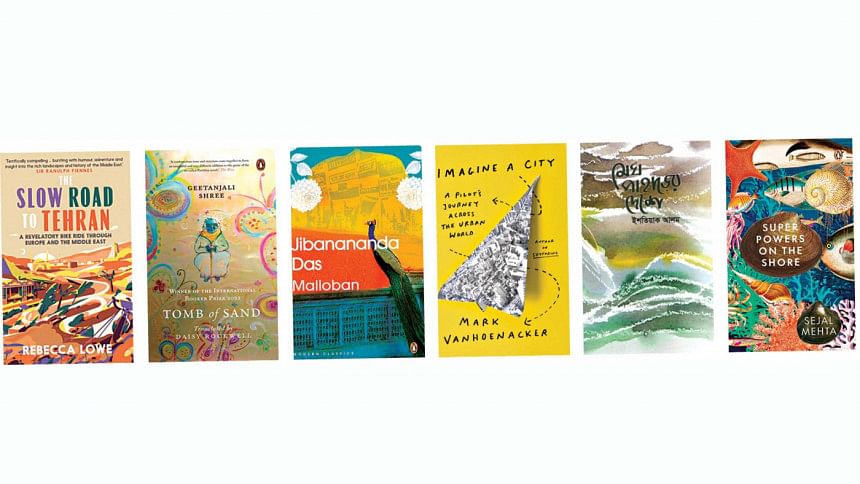 TOMB OF SAND
Geetanjali Shree, trans. Daisy Rockwell
Penguin India, 2022
An 80-year-old North Indian plunges into despair as her husband passes away. As she comes back to her former self, despite her family's pleas she resolves to travel to Pakistan and face her troubled past of experiencing the Partition of India first hand. Her friendship with a transgender person further confounds her "bohemian" daughter.
Despite the grave themes of this year's International Booker Prize winner—the first Hindi language book to be shortlisted for the £50,000 prize—Geetanjali Shree writes her tale of discrimination and trauma with humour and lightness.
MEGH PAHARER DESHE
Ishtiaq Alam
Bengal Publications, 2022
Ishtiaq Alam's collection of essays explores all the best spots to visit in Meghalaya and beyond to discover the 'Seven Sisters' states in Northeast India: Arunachal Pradesh, Assam, Manipur, Meghalaya, Mizoram, Nagaland, and Tripura. Alam's descriptions are lively and informative, and he divulges the rich history and the cultural richness of the places.
MALLOBAN
Jibanananda Das
Penguin India, 2022
Set in North Calcutta in 1929, an "ordinary" lower-middle class man lives with his wife, Utpala, and daughter, Monu, in the neighbourhood of College Street. The eponymous protagonist finds himself distraught and arguing with his wife over seemingly insignificant matters like "bathrooms and budgeting" and even "the appearance of a frequent late-night visitor to Utpala's upstairs bedroom". Meanwhile, their daughter faces the consequences of this unrest.
This third novel by Jibanananda Das unpacks the issues of class, caste, gender, and sexuality in the aftermath of the Swadesh movement and the Partition of India in 1948. This is the first English translation of the novel.
THE SLOW ROAD TO TEHRAN
Rebecca Lowe
September Publishing, UK, 2022.
Faced by severe weather and nature conditions, Rebecca Lowe rode off across the Middle East atop her bicycle amidst the raging Syrian War and when the refugee crisis reached its height in 2015. She had to be rescued, several times, by the locals with nothing at her disposal but "a desire to learn more about this troubled region and its relationship with the West". The Slow Road to Tehran is Lowe's first hand account of her journey from Europe to Turkey, Lebanon, Jordan, Egypt, Sudan, the Gulf and finally to Iran.
IMAGINE A CITY: A PILOT'S JOURNEY ACROSS THE URBAN WORLD
Mark Vanhoenacker
Knopf, 2022
Another work of nonfiction in the list, in Imagine A City, its author Mark Vanhoenacker "weaves travelogue with memoir" to create "this intimate yet expansive work". He pays tribute to the cities he has traversed and come to fall in love with— places that thousands of people across the world have called home.
SUPERPOWERS ON THE SHORE
Sejal Mehta
India Viking, 2022
The Indian coastline is home to some of the most biologically diverse and wondrous creatures on Earth. "[m]agnificent intertidal species: solar-powered slugs, escape artist octopuses, venomous jellies", and such wander through the depths of the ocean. Sejal Mehta, in her book, outlines the rich diversity that stands toe-to-toe with the rich wildlife of the rainforests and ones that have given birth to countless works of fantasy and fiction.