UPL launches Dr Masum Billah's new book on poverty and land law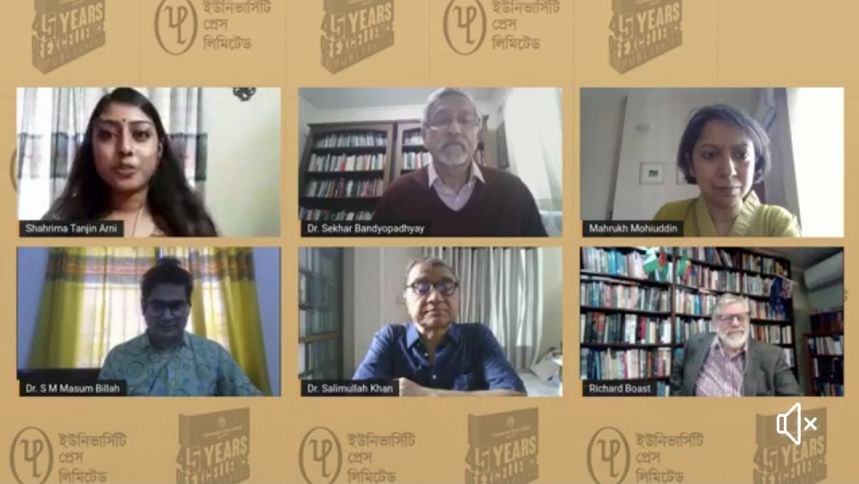 The Politics of Land Law: Poverty and Land Legislation in Bangladesh (University Press Ltd, 2021), a book by Dr Masum Billah, Associate Professor of Jagannath University, was launched in a virtual programme held by UPL on October 2, 2021.
Esteemed panelists of the event included UPL managing director Mahrukh Mohiuddin, ULAB professor Dr Salimullah Khan, and professors of Victoria University of Wellington, Dr Richard Boast and Dr Shekhar Bandyopadhyay.
Dr Billah's seminal book delves into the history of land laws in colonial and post-colonial Bangladesh and the contemporary politics of exploitation that thrived on them. The work identifies a vestige of colonial inclination of these laws in independent, developing Bangladesh, that is, disregarding the disadvantages of peasants. In this accord, Dr Billah presents a set of probable reforms in his book. 
Dr Shekhar Bandyopadhyay lauded the expansive approach of the text. "Dr Billah took a longue duree approach to the study, expanding from pre-colonial to post-independent Bangladesh and how these laws have been contributing to the perpetual poverty of peasants," he said. This book can be a torch-bearer for comparative study in the field, he added. 
Dr Richard Boast, who wrote the introductory essay for the book, believes that nooks and crannies of a law's final manifestation can be tracked through the review of legal history.
"The study has become 'phenomenological'; it is descriptive of the experience but avoids questioning the underlying causality," Dr Salimullah Khan critiqued. He expressed his expectation of emphasis on some major topics in the revision that he deemed necessary. 
Author Masum Billah ascribes his urge to talk for the poor as the inspiration behind this book. He expresses his expectation for the book to be " a literature meaningful not only to the legal bracket, but also to anyone interested in South Asian history." A Bangla edition of this book is soon to be published.
For more book-related news and views, follow Daily Star Books on Facebook, Instagram, Twitter, and LinkedIn. Write to us at [email protected].