IN MEMORY OF HASAN AZIZUL HAQUE: Two tales of violence from the hands of a master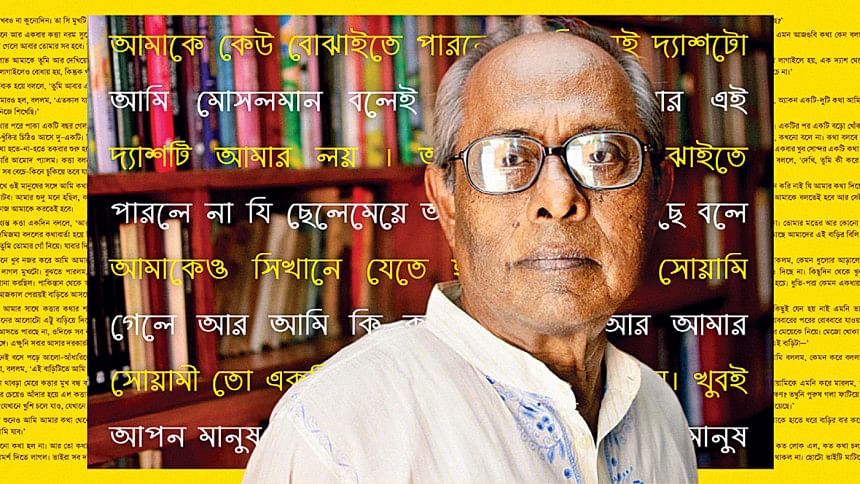 Hasan Azizul Haque, who passed away on November 15, 2021, began his career with the publication of the short story "Shokun" in 1960, and since its publication till today, it has shocked and stupefied most readers who have found their way to this unique and masterfully crafted story—reading it is not an experience one forgets easily, or ever.
The story is about a group of boys and the titular shokun, a vulture. It aims to shatter our anthropomorphic notions of a vulture as a mere foul smelling creature which feasts on corpses, and the common belief of the innocence of humanity in adolescent boys untainted by the phlegm of adulthood. Boys that young can be mischievous but what takes place in the confines of Haque's story makes you question the very fabric of humanity and its supposed pretensions of justice and righteousness.
An injured vulture finds itself as an object of vile curiosity by a group of boys who chase the poor creature, drag it when it is incapable of flying or running, pluck its feathers from its still living body.
This appalling spectre of violence shakes us, but these boys have no clue why they are doing it, they have nothing on their minds about what they want to do to this creature; only an untamable impulse of hatred and a compulsion to inflict hurt overwhelms them. They are filled with disgust at the foul-smelling, dirty-feathered bird and are unable to see that after a long evening of chasing the bird, they don't look or smell any better themselves. Angry at the bird that feasts on the dead to survive, they inflict pain on the alive whose beating heart they are almost near to feel and hear. They are unwilling to forgive that the vulture devours newborns who are thrown to the gutter, without registering that it is humans like them who throw their own children away. Picturing the image of who they would inevitably become in their adulthood is what terrifies us, as readers.
Haque, in his work, is commenting on the human ineptitude for self-reflection. Unlike most other left-leaning thinkers and writers, his depiction of injustice and violence that pervades our society is effortless and incisive.
In 1966, Hasan Azizul Haque published his unforgettable story, Atmoja o Ekti Korobi Gaach (Shahitya Prakash), which narrates another instance of unspeakable violence. A family displaced by the partition is struggling to survive—a daughter, a wallowing mother, and a father who can barely catch his breath from asthma. They have found no way to survive but commit an unbelievable act of violence. When you first read it, it takes a while to swallow the atrocity; it gets under your skin and that moment of gut wrenching debilitation stays with you long after you've finished reading the book.
Unlike the boys from "Shokun", the parents in Atmoja are completely aware of what they are doing, or should we say, what circumstances have compelled them to do. It makes the story even harder to stomach.
Despite what may appear on the surface, the boys, and the parents, in these two stories, are not active agents of violence. The group of boys are slaves to an instinct they have almost no control over. The geo-political and social upheaval that resulted from the partition in the subcontinent caused millions of families to be uprooted from their homes and livelihood, and for these people, survival has higher priority than social or ethical values, as is evident in Atmoja o Ekti Korobi Gaach.
The picture that Haque paints of humanity is bleak, and rightly so. His responsibility as a writer and a free-thinker hardly allows him to revel in sunshine in the face of inequality and injustice.
Now that Hasan Azizul Haque is gone, it will be hard and painful to bear that this world will not hear any more of his stories about people in the margins. There is hardly anything more political than telling stories, especially in choosing whose stories to tell. Haque had dedicated his life's works to telling the stories of the folks from low socioeconomic class in the suburbs and the countryside. He had a voice unlike any other in world literature and his demise is an irreparable loss.
Mursalin Mosaddeque is a writer who grew up in the suburban town of Rangpur in Northern Bengal.