INTERVIEW
'There's something very old school and romantic about books. They are such a special part of my life.' - Kishwar Chowdhury
At every step of her journey in the MasterChef kitchen—from her fried sardines with beetroot and blood orange to a date-nestled, ice cream infused paan and panta bhaat with aloo bhorta—Kishwar Chowdhury has talked about writing a cookbook for Bangladeshi recipes as her ultimate dream. In this episode of Star Book Talk, Daily Star Books editor Sarah Anjum Bari talks about food, books, and cookbooks with Kishwar Chowdhury.
Sarah Anjum Bari (SAB): Eid Mubarak, Kishwar! How was your Eid? It was a very busy one, I presume. 
Kishwar Chowdhury (KC): Yeah I had a very busy Eid. We're in lockdown in Melbourne at the moment, so we're all celebrating in our houses. But I've been cooking in a kitchen at Tonka. Luckily I get to cook something that I would in my kitchen on Eid, and now everyone in Melbourne gets to have it delivered to their house.  
SAB: I'd like to start with a question that has been on the mind of every person who watched the finale—how did you decide on panta bhaat and aloo bhorta, such simple dishes, for such a crucial stage of your MasterChef journey?  
KC: This is a really long, long answer. I've been sent a lot of press about it—people have sent me newspaper articles about where this dish originates from and how much it means to everyone. So, because this is a book talk, I think I'm going to put it in my book and write my memoir about this! But yes, it's a very fundamental dish to who we are as Bengalis. 
SAB: You've always talked about this book, since the very beginning of your days at MasterChef. In this day and age of YouTube and Instagram food bloggers and videos of recipes, why are cookbooks still essential, and why is it your "ultimate cooking dream"?
KC: It's got a few different reasons. I come from a printing and packaging background and for me, books are such a special part of my life. I collect really fantastic books and sometimes I'll buy a book just for the look and feel of them. There's something very old school and romantic about books and it is something that we pass down, we keep. And I'm very attached to the books that I have. I always give gifts of books as well. And to have my name published on a book with something that's so close to my heart would just mean everything to me. So I absolutely have to write this book. 
SAB: Which cookbooks were your favourites growing up? Are there any that you consult with these days?
KC: Hundreds! A few of my favourites—I think Heston Blumenthal at Home (2011) is a fantastic book because it takes the essence of what Heston Blumenthal is all about, but he actually applies some of the scientific, kitchen wizardry that we could do at home. He also takes the scary side out of gastronomy—often you find that that sort of food can be alienating—so I think that's a fantastic book.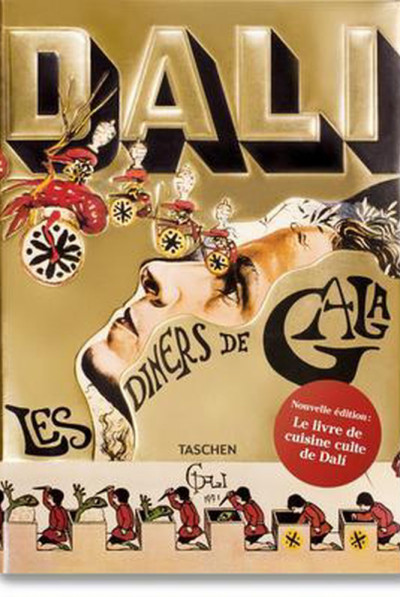 Salvador Dali actually had a dream of being a chef when he was six years old. He would've been 68 years old when he finally wrote Les Diners de Gala (1973) and it is just an amazing creation of where food meets art. 
I think some of my favourite recipe books are Yotam Ottolenghi's Jerusalem (2012), especially because when you're based in Dhaka, the ingredients that I could use from his recipe—and now he has Falastin as well—are a lot of the ingredients that you can find in Bangladesh. So a lot of the pulses, grains, and root vegetables, and also the proteins like the mackerel and oily fish that you get in those areas. They were recipes that were really easy to replicate in Bangladesh.      
SAB: Have you started writing your own cookbook yet? What recipes do you plan on including in it?
KC: I have. I've started penning down my recipes. A few of my recipes have been published in magazines and here and there. But it's a lot of getting together of who I am—I changed a lot during MasterChef and my journey sort of unfolded—so taking who I am and what I'm learning, even now I'm working with chef Yomoda and working right now at Tonka, it's getting all of those things together and putting it in the book. 
There seems to be so much buzz around smoked rice water, and my smoked rice water, and chefs are really talking about it right now. So that's one recipe that I'll definitely have in my book. 
SAB: One of the interesting things about your experience at MasterChef is that, in addition to bringing international attention upon Bangladeshi cuisine, it has allowed Bangladeshis to look at our own food from a fresh perspective. Has this experience given you any new perspective into Bangladeshi cuisine?
KC: I knew there was a space for this and I knew that that place hadn't been created yet. So I definitely saw that our cuisine is so versatile, so varied in terms of season or occasion. It's just so unknown as well. So I always valued my cuisine. I have such huge passion for it and it showed in my experience. It was really great sharing that. 
I think, like you said, [it's about] more people looking inward rather than outward as to how our cuisine plays its part and [whether you want to] share it or reinvent it or reimagine it. 
SAB: What other Bangladeshi dishes would you have made if there had been more episodes of MasterChef Australia?
KC: I won't say any traditional Bangladeshi dishes. I think maybe taking some of the flavours and concepts that I really enjoy and then recreating some desserts. One of them is already on my menu at Tonka. But just using the flavours and the spices and the ingredients. Like a green mango sorbet that I worked on for a very long time. That was something I didn't get to do on the show. It's almost a play on kacha aam-er shorbot. 
SAB: What have you gained from your experience at Tonka and from working with chef Masahiko Yomoda?
KC: Tonka and chef Yomoda have been two very different experiences. Chef Yomo is amazing; like Dali, he's like an artist when it comes to food. He really thinks about food at the highest level in terms of art and seasonality and a time and a place. I grew exponentially. It was an incredible experience there. 
SAB: What advice would you offer to aspiring cooks, especially home cooks, who want to make food their profession? 
KC: So if you're serious about a career in food, I would say, get some formal training. There are fantastic schools in close proximity to Dhaka—I think there's a le Cordon Bleu in Thailand—and if not, then the most important thing is to get yourself inside a professional kitchen. Train with people in that arena and just follow that through. 
For more book-related news and views, follow Daily Star Books in print every Thursday and online on Facebook, Instagram, Twitter, and LinkedIn.