Syed Abul Fatah Sharfuddin Sharaf Al Hussaini: A forgotten poet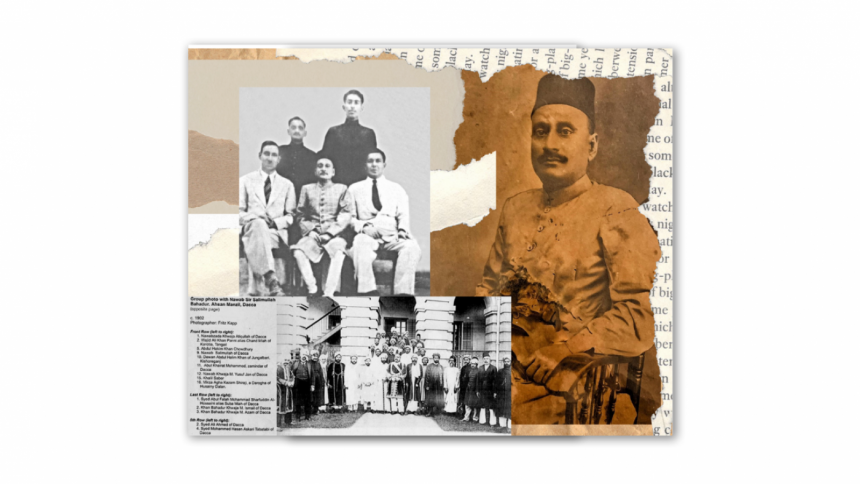 Syed Abul Fatah Sharfuddin Sharaf Al Hussaini, born in 1876, was among the elite of the city and a notable Urdu poet of British India. Born in Dhaka, he lived in Begum Bazar, situated in what is presently Old Dhaka, adjacent to the then Hakim Habibur Rahman Road. Notable historian of Urdu literature, Abul Ghafur Nasakh, called him Abul Fatah Sharfuddin, a name that later gained more popularity. In the locality, however, poet Sharful Hussain was known as "Suba Mian".
The first traceable progeny of the lineage, Syed Fida Hussain, had settled in Delhi during the reign of the fourth Mughal Emperor, Jahangir, with his son, Syed Golam Hussain and his grandsons, Syed Faizuddin Hussain and Syed Mozaffar Hussain; they eventually moved to Kolkata and finally settled down in Dhaka.
One of the grandsons, Faizuddin, worked in Dhaka as a Kotwal (head of a fort, or "Kot" in medieval India) and poet Sharaf's grandfather maintained such cordial connections with the Nawabs that they considered him a member of the family. 
Fatima Khanam, Sharaf's mother, and the granddaughter of Mir Ashraf Ali (Golam Pir), paid special care to his upbringing, while his father, Faqihuddin Hussain, taught him the fundamentals of language. The young poet's command of Arabic and Persian as a child showed remarkable potential. However, when his father died, he went to live with his mother's cousin in Patna, Nawab Syed Muhammad Khan Bahadur (alias Nanhe Syed), for further studies. He was a well-known correspondent for Lucknow's Awadh Panchm, a weekly satirical newspaper. Sharaf at the time was seized with inspiration owing to the companionship of Urdu writer and dramatist, Syed Muhammad Azad.
Azimabad, (now Patna) in those days, was the core of literary prosperity. In the company of celebrated poets and scholars like Shad Azimabadi, Nawab Hussain "Khiyal", "Asar" Azimabadi, and Syed Abul Ghafur "Shahbaz", the poet in Sharaf drew inspiration. He had initially started by writing short shayaris, which usually consisted of four lines. However, he gradually ascended to fully composed poems and ghazals. In the early stages, he consulted his friend and confidante, Syed Muhammad Azad, on his verses; he was the disciple of poet "Shahbaz" and the author of Life of Nazeer (n.d.). Abul Fatah Sharfuddin often went to Delhi, Agra and Lucknow and as a result, developed a deep friendship with notable personalities like Altaf Hussain Hali, Nawab Sail Dehlavi, Arzoo Lucknavi, Safi Lucknavi, Bekhub Dehlavi, and such.
I grew up hearing from my father, late Syed Faizul Hussaini, that Sharaf's poetry was characterized by brevity and the application of metaphors. In the abovementioned 'Shayari', Sharf tried to express the interconnection of life till death. His devotion to Islam and belonging to the Shia sect led him to dedicate numerous Salams (salutation), Nauhas (eulogy on the martyrs of Karbala), and Musaddas and Rubai (four lined poetry) to Allah, Prophet Muhammad, the Panjatan and the Imams.
The writer's first collection of poems was published by Sitar-e-Hind Press in Beniapukur, Kolkata: Gulistan-e-Sharaf (1937), his Persian poem "Sair-e-Kolkata" included in it.
 "The anthology shows that the poet has the ability of expressing himself in all forms of poetry", Allama Arzoo Lucknavi wrote of the book. "Study of the entire anthology reveals [...] Sharaf's taste and temperament continued to change to fit in with the revolutions taking place in the country. [...] His poems manifest the gradual evolution of his poetic genius from preliminary stages to the stages of perfection and consummation."
The anthology was published during his lifetime and the compilation of his second anthology, Dabistan-e-Sharaf, had also been completed. He put it together himself and had it penned by a calligrapher; its Foreword was written by the late Sher-e-Bangla Maulvi A.K Fazlul Huq.
Gulistan-e-Sharif has been the mirror in which his poetry's progress has been thoroughly reflected from the beginning.
When my father told me stories about his grandfather, I could see a look of pride on his face, "Great men are not born, but shaped by their fathers and fathers before them" they say, and I've always known my magnificent grandfather as not only a great poet, but also as a great father, brother, and grandfather. As early as I can remember, I've seen my father singing a specific Nauha penned by his grandpa throughout the day. It is called "Shaha Boley". In the piece, poet Sharaf imagines the grandson of Muhammad, Hussain, having a conversation with his sister, Zainab, in the plains of Karbala,
Poet Syed Abul Fatah Sharfuddin Sharaf Al Hussaini died on March 30, 1960, at the age of 84. His grave resides at the Begum Bazar family cemetery, in the backyard of his home. I was never able to meet my great grandfather as he had passed away before I was born. But, in my lifetime, I have met his son, Syed Manzur Hussain, and his grandson—my father—Syed Faizul Hussaini, and I wonder how magnificent Sharf himself could have been,  since these two people are the best human beings I had ever known. 
Syed Zafrul Hussaini, one of his grandchildren, and Syed Faizanul Hussaini, one of his great grandsons, are currently attempting to assemble and reprint his works in order to replace the absence of Urdu poetry in Bangladesh. To connect with the present world, Sharf's work, Gulistan-e-Sharaf, needs tighter editing, as well as translation and transliteration in English.
Syed Faizanul Hussaini is the great grandson of poet Syed Sharfuddin Sharf Al Hussaini. He is undergoing his Bachelor's degree in Independent University, Bangladesh (IUB).