Sun, surf, and soul searching
'The Soulmate' by Sally Hepworth (Hodder & Stoughton, 2023)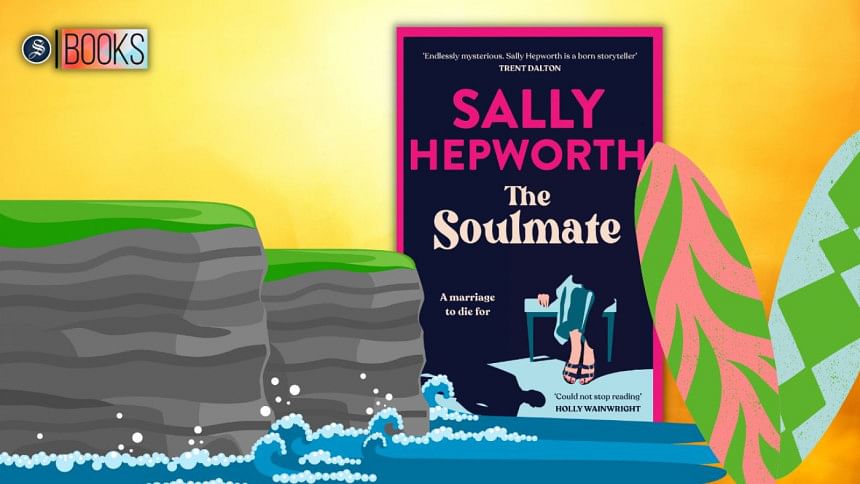 In recent years, the thriller genre has transformed itself to re-emerge in a multiplicity of styles and forms that render its one-time avatar, the spy story—dominant for so long—now merely one of many players in a crowded field.
Perhaps the greatest beneficiary of these changes has been the rise of one particular genre, the category of psychological thrillers. These are novels where the suspense is often drawn from the subtleties of character development, which become more evident as the story unfolds. Thus, the reader is gradually introduced to unexpected or conflicting aspects of the protagonists' personalities, alongside the events that transpire within the broader plot.
Interestingly, many of these stories are set in the domestic sphere and raise the question of how well we know those whom we often (and unquestioningly) consider to be our nearest and dearest. As a memorable quote I once came across stated, "Inside every person you know, is a person you don't know." To this, I would add, "Just hope you never have to meet that alternative version of them!"
One of the reigning queens of domestic suspense is the Australian author, Sally Hepworth. A series of successful novels has firmly established her reputation in this regard, and her book The Soulmate (Hodder & Stoughton, 2023), releasing in the UK on April 6, is one of the hottest properties currently featuring in book-related posts on Instagram. The buzz around the book effectively bumped it to the top of my To Be Read list, and I was keen to see if the book would live up to the hype. After receiving an Advanced Reading Copy from Netgalley, I got started.
I will confess to a slight worry at the possibility of being disappointed by a novel surrounded by  such a lot of hype, but I finished the book in a day and a half—which is particularly surprising given that it was actually a very busy day and a half for me on the work and personal fronts, and I didn't have much free time to read!
The book tells the story in "before and after" timelines, sharing the experiences of two very different couples, their marriages, and the connections that bind them together.
Pippa is married to charming and handsome Gabe, with whom she is raising their two little girls. She considers herself fortunate because she has loving and supportive parents, and a married sister, who have all moved closer to spend more time with Pippa's little family after Pippa and Gabe buy their new house and move out of the city.
The only problem appears to be the house itself, which is located at the edge of a cliff, a spot dubbed The Drop, because of the number of suicides and attempted suicides that have taken place there.
It is after Gabe fails to successfully persuade the 8th person not to do so that things begin to unravel. Because it turns out that Gabe actually knows this woman. So why does he hide that from the police?
As Pippa becomes increasingly suspicious about her husband's behaviour, the unfolding of the back story gives the reader greater clarity on what is actually taking place. 
Amanda, the woman who dies that day, gets her own chance to tell her story—as well as the story of her marriage to Max. As the plot unfolds in multiple points of view, Pippa and Amanda tell their parallel stories, and a number of clever twists emerge.
This is a well-told story by a skilled writer, and I found it a very easy read. It addresses issues of the secrets that we keep in order to protect our relationships, as well as the lies that we tell ourselves (in addition to those that we tell each other). Issues of fidelity, diversity and mental health challenges are neatly woven into the narrative, but the latter may be triggering for some people. I greatly enjoyed the book, and recommend it to readers who enjoy suspenseful, character-driven stories that offer plenty of surprises.
Farah Ghuznavi is a writer, translator and development worker. Her short story collection Fragments of Riversong was published by Daily Star Books in 2013. 
An earlier version of this review appeared on the reviewer's Netgalley profile.