Shaheen Akhtar and Shabnam Nadiya's 'Beloved Rongomala' to be published by Eka, Westland Publications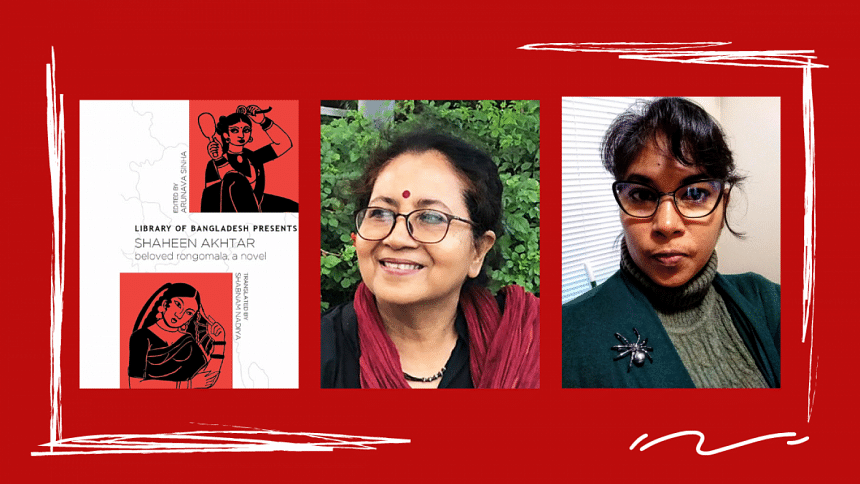 Shaheen Akhtar's Beloved Rongomala, translated from the Bangla novel, Shokhi Rongomala (Bengal Publications, 2015), by Shabnam Nadiya, will be published by India's Eka imprint of Westland Publications in January 2022. 
The novel tells the story of Queen Phuleswari, a child bride, and of Rongomala, a woman of legend—a low caste mistress to the king who protested the limits to which her rights were confined by the class and caste prejudices of 18th century southern Bengal. She fought for freedom in love, in her right to command her own space and wealth, and was murdered when she tried to dig a lake under her own name. 
"But she lived on in the memory of the people. Songwriters wrote about her. Poets wrote about her. I'm thrilled that Rongomala and her love story will reach non-Bangla speaking readers through Shabnam Nadiya's translation", author Shaheen Akhtar said in a press release. 
With the translation first published in Bangladesh in 2018 by Bengal Lights Books as part of their Library of Bangladesh series, the new edition by Eka will make Beloved Rongomala available to readers beyond Bangladesh. 
"They're going to keep the same team in place, which is great", author-translator Shabnam Nadiya told The Daily Star, speaking of her experience of working with Eka while translating Leesa Gazi's critically acclaimed Hellfire (2020). "The editor in particular, Minakshi, is an unsung hero of translated literature. Previous to Hellfire (and now Rongomala), she also worked on Mahmudul Haque's Black Ice (Kalo Borof) when she was at HarperCollins."
An author and development worker whose novel, Talaash (Mowla Brothers, 2004), portraying the lives of Birangonas, won the Prothom Alo Book of the Year Award in 2004 and the 3rd Asian Literary Award 2020, Shaheen Akhtar has gone on to write about the Mughal court in her novel Moyur Shinghashon (Prothoma, 2014) and about the 1947 Partition in Oshukhi Din (2018).  
Shabnam Nadiya is a Bangladeshi writer and translator based in California and a graduate of the prestigious Iowa Writers' Workshop, having previously contributed to the Library of Bangladesh series with her translation of Moinul Ahsan Saber's The Mercenary (2016). She is currently working on a translation of Mashiul Alam's fiction with the support of a PEN/ Heim Translation Grant 2020. 
"I knew on my first read that I had to translate [Shokhi Rongomala] and I also knew what an arduous yet joyful challenge this would be. And I am delighted that—thanks to Westland and Jacaranda Literary Agency—this superb novel will finally reach a wider world", Nadiya said.   
For more book-related news and views, follow Daily Star Books on Facebook, Instagram, Twitter, and LinkedIn.